Russia-NATO Relations: Normalization Of Ties Highly Unlikely, Russian Envoy Says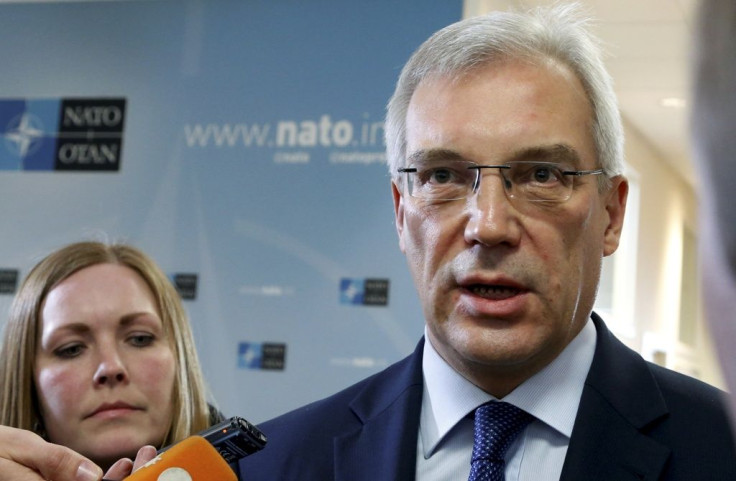 The likelihood of normalization of ties between NATO and Russia is bleak, according to Russia's Permanent Representative to NATO, Alexander Grushko, Tass news agency reported Saturday. The comments come amid rising tensions between the two parties as the military alliance's expansion right up to Russia's doorsteps has angered the country.
"I will confess honestly, I don't know what our interlocutors mean by 'business as usual' when they say cooperation as earlier is impossible," Grushko said late Friday. "From today's meetings we only realized that on the one hand, we are called upon to return to the strategic partnership policy with the West, but NATO is saying cooperation with Russia is impossible."
Russia attracted criticism from NATO and the United States after it annexed the Crimean Peninsula in March 2014. Since then, Moscow has completed a military base in the Arctic Circle and deployed troops near the borders of some of the Baltic states, while regularly carrying out air drills near northern European countries such as Finland.
Grushko noted that "NATO unilaterally severed and terminated all cooperation projects that really strengthened the security of both NATO countries and Russia."
"There are no signs yet that NATO is ready to return to normal interaction that would give added value to the security of NATO countries and Russia. And this, of course, narrows the opportunities for political dialogue," Grushko said, according to the Russian news agency.
On Friday, Russia also denounced NATO's invitation to Montenegro to become its 29th member, saying the move could further heighten tensions in Europe. To join the military alliance, Montenegro must get approval from the legislative bodies of all 28 nations in NATO, including the U.S. Senate.
"In general, our stance is that NATO's further expansion is a negative process," Kremlin spokesman Dmitry Peskov said. "This process yields nothing from the point of view of European security."
"On the contrary, this process risks further increasing tensions on the continent," Peskov added.
© Copyright IBTimes 2023. All rights reserved.