Russia Says It Repels New Belgorod Border Incursion Attempt, Partial Evacuation Underway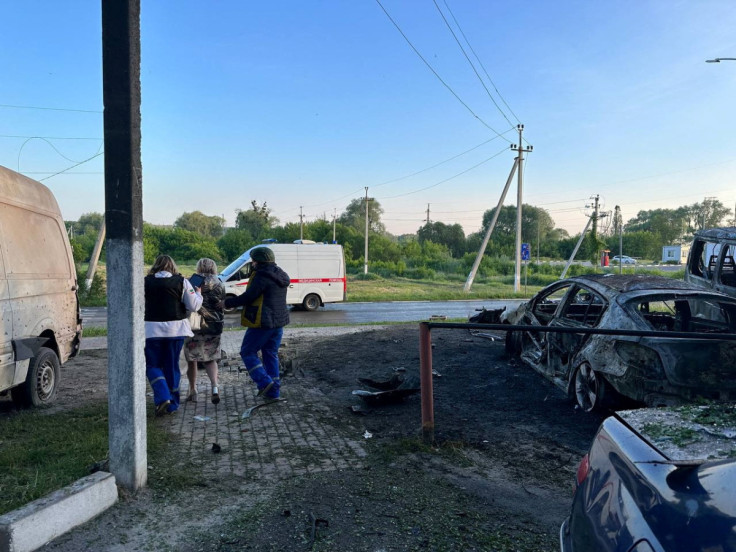 Russia said on Thursday it had repelled an attempted incursion along its border with Ukraine by what it casts as pro-Ukrainian militants, while heavy shelling prompted a partial evacuation of civilians from the area.
Ahead of an expected Ukrainian counter-offensive in the 15-month war, Russia has come under repeated attack in recent days, with a major cross-border incursion and, earlier this week, the biggest ever drone attack on Moscow.
Settlements in the Russian region of Belgorod, which borders Ukraine, were briefly seized by pro-Ukrainian forces last week during the incursion.
Russia's defence ministry said it had repelled three cross-border attacks on Thursday near the town of Shebekino, and it accused Ukraine of using what it cast as "terrorist formations" to carry out attempted attacks on Russian civilians.
Ukraine says the incursions into Belgorod have nothing to do with its military and are conducted by Russian volunteer fighters.
"The selfless actions of Russian servicemen repelled three attacks by Ukrainian terrorist formations," the Russian ministry said. "No violations of the state border were allowed."
The ministry said Russian army units, border guards and units of the Federal Security Service repelled the first attack at around 0100 GMT as two units with vehicles and tanks tried to penetrate the border near Novaya Tavolzhanka and Shebekino.
Russia said its forces repelled three attacks from Ukraine. More than 30 Ukrainian fighters had been killed, along with four armoured vehicles destroyed, the ministry said.
Reuters was unable to immediately verify battlefield accounts from either side.
The Kremlin said President Vladimir Putin was being regularly briefed on the situation and noted that Western powers have refrained from condemning the attacks on Russian territory that it said Ukraine had carried out.
"As before, there is not a single word of criticism for the Kyiv regime - or any condemnation," Kremlin spokesman Dmitry Peskov said.
The attacks on Belgorod, Peskov said, would have absolutely no impact on the course of what the Kremlin calls the "special military operation" in Ukraine.
Separately, the Kremlin said the head of Shebekino's local administration had been awarded the Order of Courage, one of Russia's highest honours. It gave no further details.
EVACUATION
Earlier, the Russian Volunteer Corps (RVC), a far-right paramilitary group of ethnic Russians that supports Ukraine, said it was fighting on Russian territory.
The group said it had advanced to the outskirts of Shebekino, though Reuters was unable to verify that independently. The group posted footage of its fighters firing weapons and photographs of armed soldiers inside a building.
Another group, known as the Freedom of Russia Legion, posted footage of armed soldiers and vehicles.
Moscow blames Ukrainian "terrorists" for targeting Russia's western border, but Kyiv says anti-Putin Russian volunteers are acting there. Kyiv has denied any involvement but Russian officials say the group of fighters is a proxy run by Ukraine.
Belgorod Governor Vyacheslav Gladkov said Ukraine's armed forces had repeatedly shelled Shebekino with Soviet-designed Grad 122 mm rockets, setting alight a dormitory and damaging an administrative building.
At least nine civilians were injured in shelling across the region, he said.
In unverified video posted on social media, plumes of smoke were shown rising above a large building in Shebekino as flames licked through the destroyed roof.
Gladkov said the evacuation of residents to temporary accommodation would resume when the fighting calmed down.
"The main issue, of course, is helping people, supporting the resettlement of those who need or want it," the Kremlin's Peskov said.
Gladkov said hundreds of children, women and the elderly were already leaving the area, adding that he had given Putin an update on the situation.
© Copyright Thomson Reuters 2023. All rights reserved.