Russia Unemployment Soars Under Putin Amid Sanctions, Falling Oil Prices: 4.1 Million Out Of Work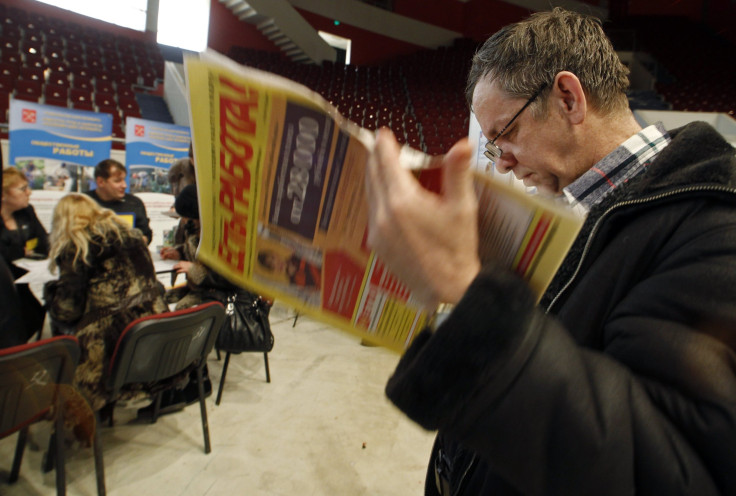 Add rising unemployment to the growing list of issues on Russia's plate. Amid international sanctions, dropping oil prices, a conflict in Ukraine and deepening involvement in Syria's ongoing civil war, 4.1 million Russians are now out of work. The August figures represent an increase of 13.5 percent year-on-year, Rosstat, the country's official statistics service, said Wednesday, Russian state news agency Tass reported.
Russia's economy is heavily dependent on oil, with oil and gas accounting for roughly 70 percent of its income from exports. Oil prices have taken a tumble in recent months, with Brent crude dropping to below $50 a barrel after hovering above $100 a barrel from 2010 until the middle of 2014. Although the World Bank has said the drop in prices could lead Russia's economy to contract by 0.7 percent or more this year, the Kremlin has refused to cut oil production in order to bolster prices.
Also choking Russia's economy are international sanctions, first imposed in 2014 and extended at the beginning of September, on a number of Russian companies and individuals. The sanctions are rooted in Russia's involvement in the ongoing conflict in Ukraine, where it supports separatist rebel groups, and its annexation of Crimea in March 2014. Under the sanctions, imposed by the European Union and the United States, senior Russian officials have been blacklisted, along with state banks and firms, including arms companies.
Although the sanctions make it more difficult for Russian companies and banks to access capital in the European Union and the U.S., it particularly hurts Russia's economy, accelerating capital flight to havens outside the country and depressing wages. In response to the sanctions, in August 2014, Russia imposed a "full embargo" of its own on food imported from the West, including fruits, vegetables, meat and dairy, the BBC reported.
The number of unemployed people decreased by 0.2 percent from July to August, Rosstat said. In August, a state survey found more and more Russians reported their friends and family were losing jobs, the Moscow Times reported. Wages also fell the fastest in August, compared to all other months of the year, Russian state data showed.
© Copyright IBTimes 2022. All rights reserved.
FOLLOW MORE IBT NEWS ON THE BELOW CHANNELS