Russian Air Force Sends 14 Advanced Su-27 And Su-30 Warplanes To Belbek Air Base In Crimea
Correction: An earlier version of this story described the city of Sevastopol as the capital of Crimea, which is in fact Simferopol. The story has been amended.
Russia has moved more than a dozen advanced warplanes to Belbek, an air base on the outskirts of the Crimean city of Sevastopol, adding significant airpower in the Black Sea peninsula it took over earlier this year.
Capt. Vyacheslav Trukhachev, a spokesman for Russia's Black Sea Fleet, told Russian news agency RIA Novosti the planes included 10 Sukhoi Su-27SM fighters and four Su-30 fighter-bombers, among the most modern in the Russian air force.
The move could be seen as further encircling of Ukraine by Russia with advanced armaments. It comes days after Russia sent its most advanced interceptor, the Mikoyan MiG-31, to an air base on its territory very close to Ukraine, from where the planes can easily control the airspace over east Ukraine where Russian-backed separatists are fighting a war with the government's army.
Most U.N. member nations do not recognize Crimea as being part of Russia, and have rejected as illegitimate a plebiscite that sanctioned the peninsula's annexation from Ukraine.
According to Russian news agency Tass, the planes flew to Belbek from Krasnodar, in southern Russia, on Wednesday. The Russian air force unit at Belbek will have 24 warplanes and six training combat aircraft, and training flights will begin Dec. 1.
The Su-27SM is a modernized version of the Su-27 fighter, a large, extremely agile fighter known for its long range, which would enable it to patrol ample swaths of the Black Sea and the region. The Su-30 is a two-seater variant of the Su-27, adding ground attack capabilities as well as the ability to attack ships using long-range missiles -- a relevant addition for planes to be based by the Black Sea. Both are known as Flanker under the NATO code name system for Russian, and formerly Soviet, military hardware.
Belbek was seized in March by Russian forces in a bloodless takeover after a brief siege. Before Russia annexed Crimea, the base housed a unit of MiG-29 fighters of the Ukrainian air force. According to one source, there may have been as many as 45 MiG-29s at Belbek, making it a sizable chunk of the Ukrainians' air capabilities. In a Google Maps screen capture taken Thursday, based on satellite images clearly taken before the Russian takeover, at least 25 MiG-29s could be seen in the open; more may have been in hangars and covered shelters.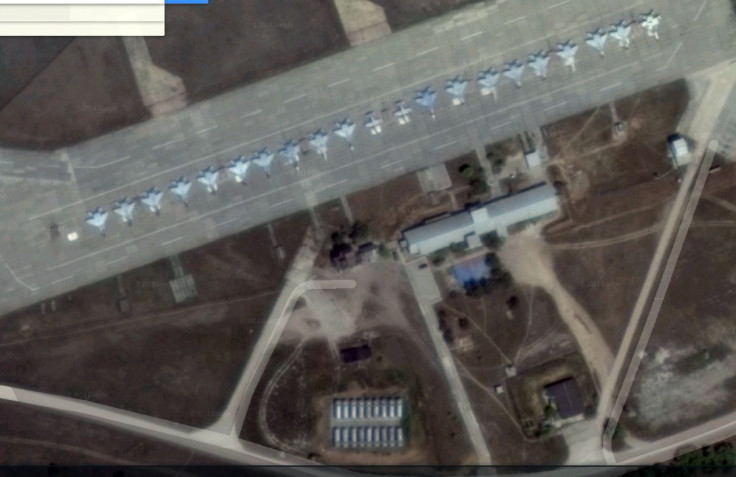 At least some of the Ukrainian MiGs based at Belbek were returned by Russia in pieces by land, according to several sources. Some of those may have been rebuilt to airworthy status -- but the Ukrainian air force, although large by number of aircraft, is still woefully underfunded and ill-equipped to fight, particularly in terms of training.
© Copyright IBTimes 2022. All rights reserved.
FOLLOW MORE IBT NEWS ON THE BELOW CHANNELS