Russian Army Threatens To Blow Up Melitopol Buildings If It's Forced To Retreat: Mayor
KEY POINTS
Melitopol Mayor Fedorov said Russians now hold the entire infrastructure in the city
Fedorov said the Russian army is constantly moving from one building to another
The Russians are positioning themselves near residential buildings to prevent Ukrainian shelling
The Russian military is now threatening to destroy infrastructure in the city of Melitopol if the Ukrainian army forces it to retreat from its positions, according to a report.
Melitopol Mayor Ivan Fedorov detailed the threat he received in an exclusive interview with Interfax-Ukraine, which was published Monday.
"It is worth noting one thing that I have heard from more than one person. The occupiers say that if they leave Melitopol, and the fact that they are already implying this is good, they say: 'If we leave the city, everything is mined, everything will be destroyed.' And this is definitely not about ensuring the security of our infrastructure," Fedorov said.
In the interview, Fedorov also revealed that the Russian military now holds the entire infrastructure of the city, adding that the Russian forces constantly move from one building to another.
"Today they can be in one school, tomorrow they will be in another, and they don't care," the mayor added.
Fedorov noted that Russian soldiers in the city are positioning their military equipment and facilities near residential high-rise apartment buildings to prevent the Ukrainian army from shelling Russian positions.
Melitopol was one of the first areas in Ukraine that fell to the Russians within a week of their invasion. Since then, the Russian army has been working to strengthen its defenses in the city in preparation for a counteroffensive by the Ukrainian army.
"The pseudo head of the Health Department, assigned by the [Russians] in Melitopol, has called a meeting. He has told all collaborators and those in charge of healthcare institutions to lay in food and water stocks and to seal the windows," Fedorov said at a briefing on July 13.
The Russian army is also said to be rebuilding the runway of the airfield at the former base of the 25th Transport Aviation Brigade and use it as a base for long-term firing points, according to a Telegram post from the Main Directorate of Intelligence of the Ministry of Defense of Ukraine. The Russian military is reportedly working with a local concrete production plant to complete the restoration.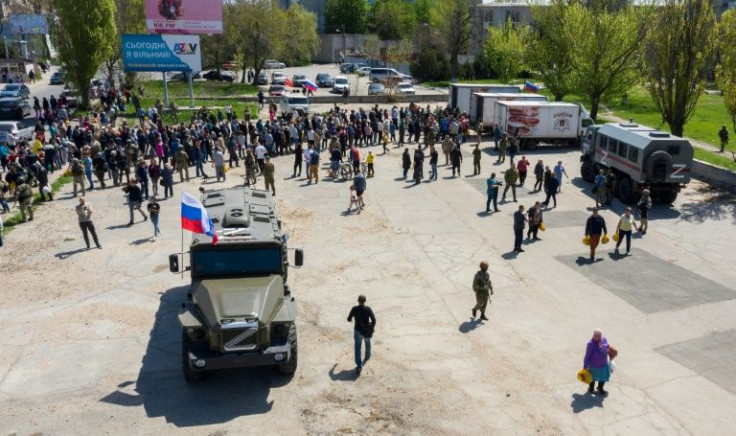 © Copyright IBTimes 2023. All rights reserved.
FOLLOW MORE IBT NEWS ON THE BELOW CHANNELS