Russian Bombers Crossed Into Belarus Airspace, Fired Five Rockets Into Ukraine: Report
KEY POINTS
The missiles were launched between 7:29 and 7:39 pm, local time
Additional missile launches could be heard over Turov and Mozyr
All five Russian aircraft returned to Russia between 7:44 and 7:53 pm
As Russian missiles continue to rain down on Ukraine, a report from a Belarusian monitoring agency has claimed that at least five rockets that pummeled Ukraine on Sunday came from Belarusian territory.
According to Belaruski Hajun, an independent military monitoring media outlet, the missiles were launched between 7:29 and 7:39 pm, local time. The telegram post by the agency said at least five Russian military aircraft, including hypersonic Tu-22M bombers armed with missiles, entered Belarusian airspace from Mstislavl in Russia. The Russian aircraft then flew over Rogachev and the Aktsyabrski district of Gomel Oblast in Belarus.
"The route of the aircraft passed through the city of Rogachev and Oktyabrsky in Gomel Oblast, Belarus. The first launch was recorded at 19:29 over the Oktyabrsky district towards the Southwest region. After that, the plane immediately turned around in the direction of Russia, the post added.
Rockets were also launched at 7:32 pm over the Petrikovsky district, 7:35 pm over the Oktyabrsky district, and at 7:38 over the Petrikovsky district. Additional missile launches could be heard over Turov and Mozyr. In total, at least 5 rockets were launched between 7:29 pm to 7:39 pm, the agency added.
The Belaruski Hajun also obtained information that five explosions or missile launches were heard over Belarusian regions of Mikashevichy, Luninets, and Stolin between 7:38 and 7:40. pm. It added that these sounds might have accompanied the earlier launches, though it is also possible that additional missiles were launched then.
All five Russian aircraft returned to the Russian Federation via Mstislavl between 7:44 and 7:53 pm.
Russian forces carried out missile attacks on a military infrastructure target in the city of Sarny in Rivne Oblast. According to Vitalii Koval, Head of the Rivne Oblast Military Administration, the recent air-raid siren was followed by missile strikes on Rivne Oblast. "Early reports [indicate] no casualties. Military infrastructure facility in the Sarny district [was under fire]," he added.
Meanwhile, Ukraine has alleged that Kremlin was using cluster munitions to fire on Kharkiv's residential neighborhoods on Monday morning. According to Ihor Terekhov, Mayor of Kharkiv, the Kyivskyi district of Kharkiv has been under Russian fire since Monday at 6 am. "They are using cluster munitions to target private residential houses. As of now, we have no information about casualties or fatalities," Terekhov posted on his Telegram account.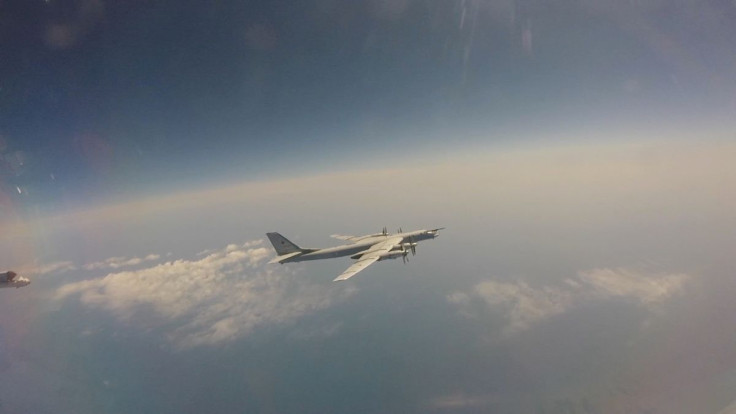 © Copyright IBTimes 2023. All rights reserved.