Russian Companies Strengthen Financial Ties With China As Western Sanctions Over Ukraine Crisis Intensify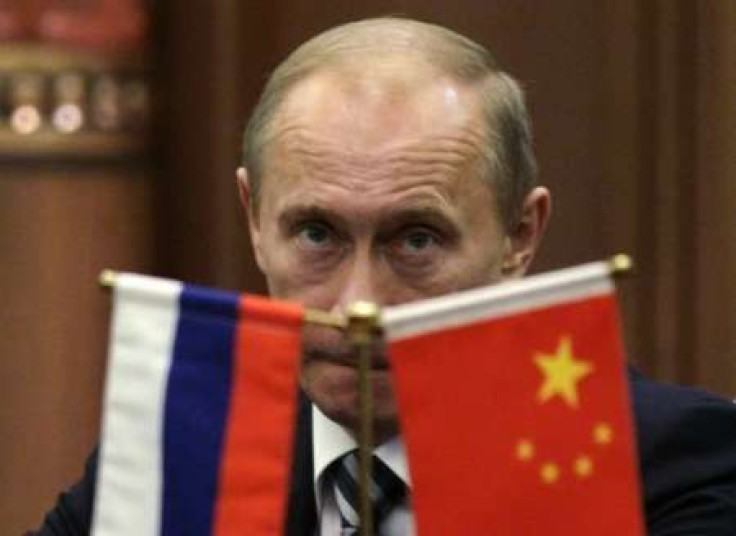 The latest U.S. and EU sanctions against Russia may have American and European companies fearing for their business there, but Chinese firms see an opportunity. The Ukraine crisis seems to be pushing the Kremlin into closer financial and trade ties with China, drawing the two nations closer than they've been in decades.
Last week the U.S. froze the assets of seven powerful Russians close to President Vladimir Putin, and imposed sanctions on 17 companies, the latest in an escalating series of steps against Moscow. The European Union, Canada and Japan have similarly placed sanctions against Russia. But China has stood apart, with Foreign Ministry spokesman Qin Gang recently stating that sanctions will only "escalate tensions" and suggesting a cautious approach.
"We don't have any problem with Russia," one senior executive with a mainland Chinese bank in Hong Kong, who declined to be named, told the South China Morning Post on Monday. "If American banks can't take any Russia-related clients, then I will definitely welcome them to do business with us."
At least three major Chinese banks are already operating in Russia. Last summer, China's second largest bank by assets – China Construction Bank -- opened a subsidiary there in a bid to expand its Russian business. Other banks operating in the country include Bank of China (Eluosi) and Industrial and Commercial Bank of China.
Even before the latest measures, major U.S. banks have been scaling back dealings with Russia. Citigroup (NYSE:C) said in a filing that its Russian exposure fell 9 percent in the first three months of the year, while JPMorgan Chase (NYSE:JPM) and Bank of America Merrill Lynch (NYSE:BAC) cut exposure by 13 and 22 percent respectively in the same period, the Financial Times reported.
In sharp contrast, the Chinese have been deepening economic ties with Russia steadily, as a number of major deals show. Chinese companies may be involved in building a bridge from mainland Russia to Crimea, a vital transportation link for the Kremlin since it took over the peninsula in March, reports Kommersant. The state-owned China Railway Construction Corporation may help construct the 4.5-kilometer car and rail bridge across the Kerch Strait, with financing from the private China International Fund, according to the Russian paper.
Novatek, Russia's second-largest natural gas producer, in late April secured financial support from Chinese investors for its $27 billion Yamal liquid natural gas project, after losing the backing of the U.S. Export-Import Bank, according to Reuters.
"We believe that there is adequate financial support for the Yamal LNG project from the remaining export credit agencies, as well as positive comments from Chinese financial institutions regarding their commitment to provide a substantial portion of the total financing package," Novatek Chief Financial Officer Mark Gyetvay said at the time.
China and Russia are also expected to sign an agreement for joint construction of a $1.3 billion transport corridor to Crimea via the Black Sea's Kerch Strait, during Putin's visit to Shanghai next week, according to the Brics Post, while Russia's biggest gas producer, Gazprom, hopes to pump 38 billion cubic meters of natural gas per year to China starting in 2018.
Russia appears unimpressed by Western sanctions thus far. Sergei Glazyev, one of Putin's economic advisers, said in a statement -- which the Kremlin later claimed to be just his personal opinion -- that Russia will "find a way not just to eliminate our dependence on the U.S. but also profit from these sanctions," according to the Voice of Russia.
In response to the first round of U.S. sanctions, which led to Visa Inc. (NYSE:V) and MasterCard Inc. (NYSE:MA) halting services to four major Russian banks including Bank Rossiya, the head of the Parliament's Financial Markets Committee, Anatoliy Aksakov, told Prime News that banks may respond by moving to the China UnionPay system, China's domestic bank card organization.
© Copyright IBTimes 2023. All rights reserved.