Norwegian Land Up For Sale Could Be What China Needs To Access The Arctic
China Can Afford This Norwegian Fjord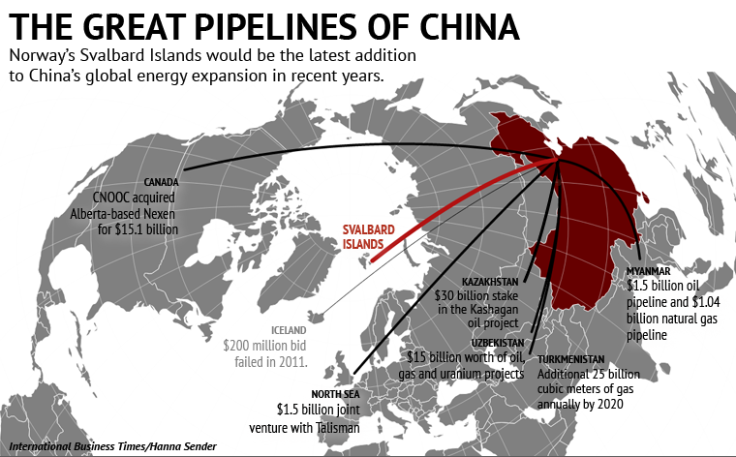 After a decade of looking westward to Central Asia to secure access to energy supplies, China is shifting its gaze to the north, where it may buy a piece of land from Norway to gain access to the region's rich resources and convenient shipping lanes.
China may not be the only entity interested in purchasing the land, a fjord that's roughly three times the size of Hong Kong, in the Norwegian archipelago of Svalbard, which was recently put up for sale by the Norwegian government, the South China Morning Post reported on Wednesday. The privately owned fjord, still undeveloped, could potentially have 20 million tons of coal reserves.
"Arctic hydrocarbons constitute the final frontier of oil and gas development," Emily Stromquist, an energy expert with the Eurasia Group, a political and economic risk consultancy, told International Business Times. "China's rapidly growing energy demand, coupled with interests in more efficient Arctic shipping routes, have driven Chinese companies to seek new Arctic energy projects."
But more important than potential coal reserves, simply owning the Svalbard property could give China, or any non-Arctic state, a platform for launching long-term Arctic exploration operations, as well as a permanent foothold in the region, said Willy Østreng, vice-president of the Norwegian Academy of Polar Research and a former director of the Fridtjof Nansen Institute, according to the South China Morning Post.
China's bid, if it it occurs, would not be unprecedented. In 2011, A Chinese property tycoon, Huang Nubo, tried to buy an even larger plot of land in Iceland in 2011, but his $200 million bid was blocked over Iceland's concerns that too much of the island would be in foreign hands. The China National Offshore Oil Corporation, a major state-owned enterprise, has also partnered with Iceland's Eykon Energy firm to explore for energy resources off Iceland's southeast coast, according to the Diplomat.
China is not alone in its drive to enter the resource-rich region, which contains more than 20 percent of the undiscovered global hydrocarbon reserves. Among the eight member-states of the Arctic Council, Russia is a key stakeholder in the region, as the Russian Arctic has been responsible for about 10 to 15 percent of Russia's gross domestic product, or GDP, and 25 percent of its foreign exports. The European Union nations, where 25 percent of all Arctic oil and gas is destined, and the U.S., have also emerged as major players in the region, according to a paper from the Finnish Institute of International Affairs.
China has expanded its operations in all directions around the globe in recent years to secure the energy supplies needed to fuel its rapid industrialization and growth. Chinese companies have invested heavily in foreign energy projects, including Sinopec's investments in Canada and the North Sea, CNOOC's acquisition of Nexen, and a Chinese-backed pipeline from Myanmar.
"Chinese state-owned companies have loomed large in auction processes for a number of years, particularly in the energy sector, and their success has resulted in considerable international expansion," Darren Spalding, the energy partner at the law firm Bracewell & Giuliani, told IBTimes.
In recent years, many of China's energy and resource investments were made in Central Asia. On a recent tour of the region, President Xi Jinping signed a number of significant energy deals, including one that will increase China's gas supply from Turkmenistan by 25 billion cubic meters annually. Another investment in the region gave China an 8.33 percent stake, which amounts to $30 billion, in an oil project in Kazakhstan, and another one secured nearly $15 billion worth of oil, gas and uranium projects from Uzbekistan, according to the Huffington Post.
© Copyright IBTimes 2023. All rights reserved.