Russian And Saudi Arabian Officials Meet In St. Petersburg, Raising Questions About Possible New Alliance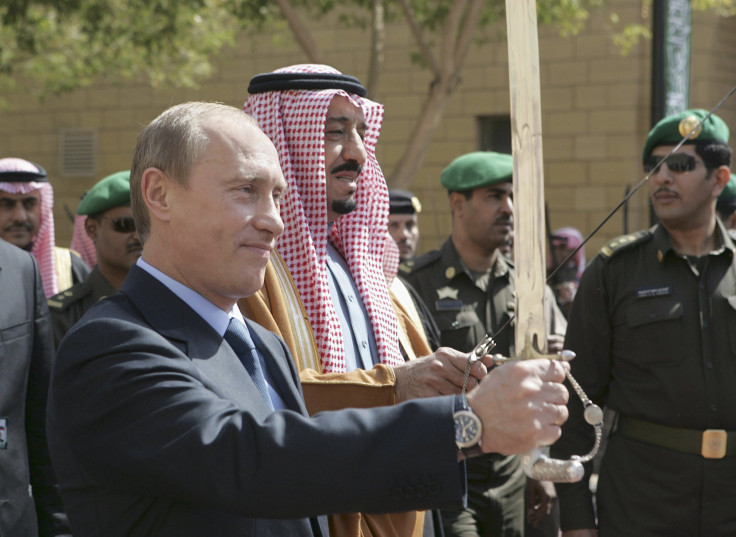 Saudi Arabian and Russian officials took part in a series of high-level talks this month, something which analysts say raises questions about a possible new alliance between Saudi Arabia and Russia -- a close American ally and its old, and re-emerging, geopolitical foe. A close relationship between Riyadh and Moscow also could hinder U.S. and European efforts to punish Russia with economic sanctions for its intervention in Ukraine.
The two countries' oil ministers met Thursday in St. Petersburg to discuss a broad cooperation agreement. The Al Arabiya News Channel reported that Saudi Arabia and Russia also signed six agreements about the peaceful use of nuclear technology. The deal came hours after Muhammad bin Salman, the Saudi deputy crown prince and defense minister, met President Vladimir Putin in St. Petersburg.
This week's talks between Saudi Arabia and Russia come after several other communications between Putin and the prince's father, King Salman. The two leaders spoke by phone in April, and on May 27, a Russian special envoy met with the king the day before the new Saudi ambassador presented his credentials in Moscow.
The Saudi royal court said in an official statement that Muhammad bin Salman's trip to Russia was intended "to discuss relations and aspects of cooperation between the two friendly countries." According to Simon Henderson, an expert at the Washington Institute for Near East Policy, a U.S. think tank, the meeting probably included discussions about oil prices, whose fall has hit Russia especially hard, and the war in Yemen, where Saudi Arabia is waging a campaign of airstrikes.
Saudi Arabia is the top producer in the Organization of the Petroleum Exporting Countries and the world's top oil exporter. The country is pumping oil at record levels even as global oil prices plunge, creating even more downward pressure on price. Saudi Arabian officials have said repeatedly that the oil price drop is not hurting their economy and that they will not cut back production unless other OPEC countries do so too.
Oil prices slid to $45 a barrel in January but have rebounded to almost $65 a barrel. Despite the increase, the pricing debacle is shaking Russia's economy. Russia, which is not an OPEC member, is the second-biggest oil supplier to the global markets. The country's output hit a high of 10.71 million barrels per day in April.
WTI Crude Oil Spot Price - 1 Year | FindTheData
Any cooperation or agreement between Saudi Arabia and Russia about oil production and export could improve Russia's economy in the medium term, putting a dent in the U.S. and European Union's push to punish via sanctions Russia for its intervention in Ukraine.
The discussions in Russia on Thursday will also likely focus on the situation in Yemen.
Saudi Ambassador to Russia Abdulrahman Al-Rassi said Moscow has an "important" role in implementing a U.N. Security Council resolution on Yemen, the state-run Saudi Press Agency reported Thursday. Saudi Arabia is currently leading an air campaign to target Iranian-backed Houthi rebels in Yemen.
It is still unclear how the Saudi-Russian meetings will affect not only the situation in Yemen, but the wars in Iraq and Syria.
Russia is largely aligned with Iran, Saudi Arabia's political archrival in the Middle East. Any cooperation or partnership between Russia and Saudi Arabia could tip the scales in the wars in Iraq, where Iran is backing Shiite militias fighting the Islamic State group, and in Syria, where Iran is aiding President Bashar Assad's military.
© Copyright IBTimes 2023. All rights reserved.