Russian Su-24 Jet Attack: Moscow Has Proof Downed Jet Posed No Threat To Turkey; Black Box Damaged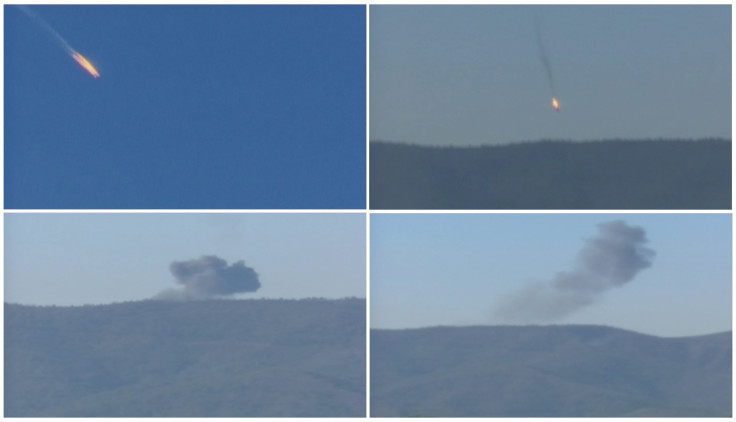 Russia said Friday that its Sukhoi Su-24 bomber, which was downed by Turkish Air Force's F-16 fighter jet last month, posed no threat to Turkey. Tensions between the two countries had escalated after the Russian jet was shot down on Nov. 24 in northern Syria.
Sergei Dronov, the deputy head of Russian Aerospace Forces, reportedly said during a briefing that Russia has proof that the Su-24 jet did not violate Turkish airspace. The comments come just a day after Russia said that Turkey must pay compensation over its actions and guarantee that a similar incident would not happen in the future.
"At present we can say that we have all the necessary info at our disposal: we do have proof that the Russian Su-24 did not violate the Turkish air space," Dronov said, according to Sputnik News.
Dronov also said that the flight data recorder of the downed jet is damaged, and "deciphering flight data will be held with use of special equipment. Until now no work has been done with the black box. It is in the same condition as it was found at the crash site."
Three of eight chips from Su-24 jet's flight data recorder were completely damaged due to the Turkish F-16 missile strike, Sputnik News reported citing the Russian Aerospace Forces.
Russian defense ministry reportedly said Friday that it had invited 14 countries to participate in analyzing the black box of the downed Su-24.
Sergey Baynetov, the deputy head of flights safety service of Russia's armed forces, said that investigators will begin the analysis of the black box Saturday and the results will be released on Monday, local news network Tass reported.
Russian President Vladimir Putin had described the downing of the jet as a "stab in the back" carried out by "accomplices of terrorists." One of the plane's two pilots was killed by rebel gunfire from the ground after they ejected, while the other was rescued.
Dronov reportedly said that specialists from China and the U.K. have agreed to take part in the investigation of the death of the Su-24 pilot.
"In order to ensure maximal transparency and openness, we addressed foreign experts from 14 countries with an invitation to take part in the work [investigation] as observers. However, many specialists refused to participate in the investigation citing various reasons, excluding only Liu Chang Wei from China and Jonathan Gillespie from the United Kingdom," Dronov said, according to Tass.
© Copyright IBTimes 2023. All rights reserved.