Russian Su-24 Plane Live Updates: Turkey Destroys Jet, Syrian Rebels Fire At Pilots [VIDEO]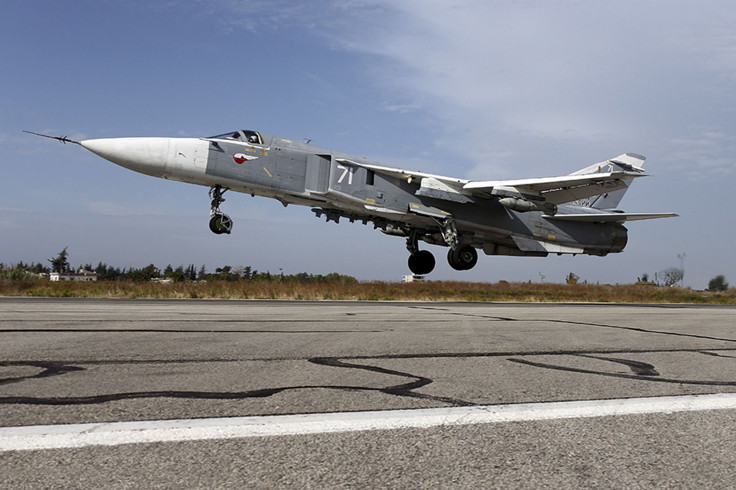 UPDATE: 3:12 p.m. EST -- The Guardian asks: Is Vladimir Putin right to label Turkey "accomplices of terrorists"? The analysis notes: "Many, if not most, of the estimated 15,000-20,000 foreign fighters to have joined Islamic State have first flown into Istanbul or Adana, or arrived by ferry along its Mediterranean coast."
Meanwhile, Russian media defended Moscow Tuesday night as state-controlled reporters described the attack.
"There are many cases when a plane of one country violates the airspace of another country," said a reporter on state-owned Channel One. "To shoot a plane down you have to want to shoot it down."
And Turkey started to trend Tuesday in the U.S., but not just because of international news:
UPDATE: 2:24 p.m. EST -- Some journalists questioned Tuesday whether any information about Turkey downing a Russian fighter jet was shared with the Turkish press before the attack.
UPDATE: 1:35 p.m. EST -- A Russian soldier was killed during an attempted rescue mission related to the Russian jet that was shot down Tuesday by Turkey. A helicopter was conducting the search for the two pilots when it was fired upon by a Syrian rebel, resulting in the Russian soldier's death, reported the Mirror.
UPDATE: 1:15 p.m. EST -- NATO stands "in solidarity with Turkey and support[s] the territorial integrity of our NATO Ally, Turkey," Anders Fogh Rasmussen, the NATO Secretary General, said in part following the unprecedented impromptu NATO meeting called Tuesday by Turkey following the downing of a Russian fighter jet that allegedly invaded Turkey's sovereign air space. Rasmussen's full statement follows below:
The North Atlantic Council has just held an extraordinary meeting and we have been updated by the Turkish ambassador.
I have also spoken to Prime Minister Ahmet Davutoglu.

Turkey informed Allies about the downing of a Russian Air Force plane violating Turkish airspace.

I have previously expressed my concern about the implications of the military actions of the Russian Federation close to NATO's borders.

This highlights the importance of having and respecting arrangements to avoid such incidents in the future.

As we have repeatedly made clear, we stand in solidarity with Turkey and support the territorial integrity of our NATO Ally, Turkey.

We will continue to follow the developments on the South-Eastern borders of NATO very closely.

I look forward to further contacts between Ankara and Moscow and call for calm and de-escalation.

Diplomacy and de-escalation are important to resolve this situation.
UPDATE: 12:45 p.m. EST -- U.S. President Barack Obama hosted French President François Hollande Tuesday at the White House to discuss the recent terror attacks in Paris, but each was asked afterward by the media about their thoughts on the day's developments with the Russian jet that was shot down by Turkey near Syria's border. Russia's jet had violated Turkish air space, Turkey has maintained for the events leading to the shooting.
"Turkey, like every country, has a right to defend it's territory and air space," Obama said, before adding some words of caution: "I think it's very important for us right now to make sure both the Russians and the Turks are talking talk to each other to find out exactly what happened and take measures to discourage any kind of an escalation."
Obama, who said he expects to be in communication with Turkey President Recep Tayyip Erdoğan in the next several days, said the incident between Turkey and Russia could have been avoided if Russia's military mission in Syria was more clearly spelled out. "If Russia was directing its energy toward Daesh and ISIL, ... the potential for mistakes and escalation are less likely to occur," Obama said, referencing alternate names for the so-called Islamic State militant group, the target of multinational air strikes.
"We don't have all the information yet, Obama said when asked if he thought Russia invaded Turkey's air space.
"We must prevent an escalation. That would be extremely damaging," Hollande said. "The only solution is to fight against terrorists and Daesh."
UPDATE: 12:20 p.m. EST – Stock markets in Europe closed Tuesday with falling rates following news of the Russian jet that was shot down by the Turkish military. The STOXX 600 index, which represents companies in 18 European countries, was down 1.3 percent, and both France's CAC and Germany's DAX indices finished down more than 1.5 percent, reported CNBC.
UPDATE: 11:50 a.m. EST – The two Russian pilots who ejected from a fighter jet Tuesday after the aircraft was shot down by Turkey's military are reportedly alive. Previous news reports indicated other possible outcomes for the duo, including that one was killed after a rough landing while the other had been taken hostage. A video surfaced online after the plane was shot down showing an apparently dead person purported to be one of the pilots.
Meanwhile, Russia's airstrikes in Syria will continue regardless of the incident with Turkey, a spokesperson for the Kremlin said Tuesday, reported ITV. In Syria, Russia has been targeting both the Islamic State militant group and rebel opposition groups against Syrian President Bashar Assad, who Russia calls a loyal ally.
UPDATE: 11:25 a.m. EST -- The emergency NATO meeting called by Turkey Tuesday has begun, according to a tweet from NATO. The meeting follows the Tuesday shooting and downing of a Russian jet by Turkey's military, which has maintained that the Russian fighter breached its air space prior to being shot down.
UPDATE: 11:04 a.m. EST -- A protest Tuesday outside of Turkey's embassy in Moscow has been growing in response to news of a Russian jet being shot down by Turkey, which claimed the Russian aircraft had encroached on its sovereign air space. Protesters, who were there to condemn the military actions, were carrying signs emblazoned with anti-Turkey phrases.
"The attack on Russia's military jet angered me," one protester told Russian news outlet Tass. "I want to say to Turkish authorities that they will have to bear responsibility for all actions."
UPDATE: 10:35 a.m. EST -- The Russian pilots flying the jet that was shot down Tuesday by Turkey military did not acknowledge any of the multiple warnings given to them, according to an unnamed source in the U.S. military.
"The data we have is very clear. There were two planes approaching our border, we warned them as they were getting too close," a Turkish official told Reuters.
In the wake of the Russian plane being shot down, a Russian travel agency has stopped offering package deals for vacations to Turkey, according to a tweet from Natali Tours, one of Russia's biggest tours operators.
Germany's foreign minister reportedly announced Tuesday that he hopes the news that a Russian plane was shot down by Turkey would not distract from attempts to establish peace in Syria. Frank-Walter Steinmeier previously said Russia was willing to work with Western countries to bring about a peaceful resolution in Syria, where the Russian military had been launching airstrikes apart from the U.S. military coalition targeting the so-called Islamic State militant group in the Middle Eastern country.
UPDATE: 10 a.m. EST -- Russia's Minister of Foreign Affairs Sergey Lavrov has recommended that Russian nationals refrain from visiting Turkey, according to a tweet from Russian news outlet LifeNews.
Earlier Tuesday, Lavrov canceled a planned visit to Turkey that was scheduled for Wednesday, citing the threat of terrorism.
UPDATE: 9:45 a.m. EST -- The head of the Russian parliament's international committee, Alexi Pushkov, wrote on Twitter Tuesday: "Ankara clearly did not consider the consequences of its hostile acts for Turkey's interests and its economy. The consequences will be very serious."
UPDATE: 9:41 a.m. EST -- Turkish President Recep Tayyip Erdoğan has reportedly called an emergency security meeting with his top generals and intelligence chiefs, as well as Prime Minister Ahmet Davutoğlu and other senior officials.
UPDATE: 9:33 a.m. EST -- Turkey's military attache was summoned Tuesday to the Russian Defense Ministry in Moscow over the downing of a Russian jet near Syria, Reuters reported. Russian President Vladimir Putin has warned the incident will have "significant consequences" for Moscow-Ankara relations.
UPDATE: 9:26 a.m. EST -- A Russian lawmaker has asked the head of the Federal Aviation Agency to consider banning flights from Russia to Turkey, following Tuesday's downing by Turkey of a Russian fighter jet, according to the state-owned Tass news agency.
"I am asking you to consider total and immediate termination of air communications between Russia and Turkey until exhausting measures are taken to get rid of any possible sources of terrorist threat at Turkish airports," said Nikolay Levichev, deputy speaker of the Russian State Duma lower house.
UPDATE: 9:22 a.m. EST -- Turkmen rebels claimed they shot dead two Russian pilots who ejected from their warplane with parachutes Tuesday, after Turkey shot down the Russian-made Sukhoi Su-24. Turkmen deputy commander to the 2nd Coast Division, Alpaslan Çelik, told Turkey's Doğan News Agency that both crew members were killed and they have captured the bodies.
"We shot the pilots while they were landing with parachutes. Their bodies are here," Çelik reportedly said.
UPDATE: 9:12 a.m. EST -- Turkey's currency weakened Tuesday, after the nation said it shot down a Russian fighter jet near the Syrian border. The Turkish lira fell nearly 0.8 percent, as the country's main stock guage headed for its largest drop since August. Meanwhile, Russia's ruble weakened more than 0.4 percent, Bloomberg reported.
UPDATE: 9:03 a.m. EST -- Russia's ambassador to NATO, Alexander Grushko, reportedly canceled a meeting in London at the Royal United Services Institute for Defense and Security Studies that was scheduled for Wednesday, following Turkey's downing of a Russian warplane.
UPDATE: 8:56 a.m. EST -- Turkish Prime Minister Ahmet Davutoğlu has declared his support behind Ankara's downing of a Russian warplane near the border with Syria. Davutoğlu said Tuesday that international law provides Turkey the right "to take all kinds of measures" against border violations and that Ankara has a "national duty" to take all steps to defend the country's territory, the Guardian reported.
"We want the international community to know that we are ready for any kind of sacrifice when the security and life of our citizens and our border security are concerned. The downing of a jet that had violated Turkish airspace today has to be seen in this context as well," Davutoğlu was quoted as saying. "We do not adopt an approach that impeaches on the sovereignty of any country. But the world needs to know that it is our international right and our national duty to take measures against anybody who violates our borders on the land and in the air, in spite of our many warnings."
The Turkish prime minister also said Tuesday's action was not an aggression against any foreign territory and he called on international leaders to work toward "extinguishing the fire that is burning in Syria," according to the Associated Press. Turkey has maintained that it shot down the Russian jet after it violated Turkish airspace and ignored repeated warnings.
UPDATE: 8:25 a.m. EST -- Activists and a Syrian rebel group said Tuesday a Russian helicopter had been struck by an anti-tank missile in Syria, hours after Turkey reportedly shot down a Russian warplane near the Syrian border. Hezbollah's war media center denied reports that the helicopter was downed, but said the aircraft made an emergency landing and all of its passengers were unharmed, according to Reuters, per the Daily Star.
UPDATE: 8:11 a.m. EST -- Russian President Vladimir Putin warned Turkey of "significant consequences" Tuesday after Turkish fighter jets reportedly shot down a Russian warplane near the Syrian border. Speaking ahead of his meeting in Sochi with King Abdullah II of Jordan, Putin called Turkey "the accomplices of terrorists," according to the Guardian.
"This event is beyond the normal framework of fighting against terrorism. Of course our military is doing heroic work against terrorism... But the loss today is a stab in the back, carried out by the accomplices of terrorists. I can't describe it in any other way. Our aircraft was downed over the territory of Syria, using air-to-air missile from a Turkish F-16. It fell on the Syrian territory 4 kilometers from Turkey," Putin reportedly said Tuesday. "Neither our pilots nor our jet threatened the territory of Turkey. This is obvious. They are fighting terrorists in the northern areas around Latakia, where militants are located, mainly people who originated in Russia, and they were pursuing their direct duty, to make sure these people do not return to Russia. These are people who are clearly international terrorists."
"We will analyze everything, and today's tragic event will have significant consequences, including for Russia-Turkish relations. We have always treated Turkey as a friendly state," Putin added. "And instead of immediately getting in contact with us, as far as we know, the Turkish side immediately turned to their partners from NATO to discuss this incident, as if we shot down their plane and not they ours."
"Do they want to make Nato serve ISIS? I understand that every state has its own regional interests and we've always respected that, but we will never allow the kind of crime that happened to today to take place. And of course we hope that the international community will find the strength to come together and fight against the common evil," the Russian leader said Tuesday, referring to the Islamic State group, formerly known as ISIS or ISIL.
UPDATE: 8 a.m. EST -- The Russian Defense Ministry said Tuesday an attack from the ground was presumably responsible for crashing its warplane. The ministry stressed that its Sukhoi Su-24 fighter jet did not violate Turkish airspace, according to Russia's state-owned news agency TASS.
"A probe is in progress into the circumstances of the Russian plane's crash. The Defense Ministry says the plane invariably stayed within Syrian airspace. Objective monitoring data confirm this," the Defense Ministry reportedly said.
The warplane was at an altitude of 6,000 meters when it came under attack. The jet was part of Russia's air group in Syria.
UPDATE: 7:51 a.m. EST -- NATO announced Tuesday it has scheduled an emergency meeting for the same day after Turkey shot down a Russian warplane along the Syrian border. A NATO official, who spoke on condition of anonymity, told the Associated Press the meeting with the North Atlantic Council, the alliance's chief decision-making body, will be held at Turkey's request.
"The aim of this extraordinary NAC meeting is for Turkey to inform allies about the downing of a Russian airplane," the official told AP Tuesday, adding that the council will meet at 11 a.m. EST.
Original story:
The Syrian rebel group that claims to have captured a Russian pilot whose warplane was shot down Tuesday by Turkish fighter jets over northwestern Syria said the crew member was dead upon landing. The plane's two pilots ejected and tried to land their parachutes in government-held areas, but came under fire from members of the 10th Brigade in the Coast, the group's spokesman Jahed Ahmad told the Associated Press.
Syrian rebels shot one of the pilots who landed dead on the ground. The group released a video on social media showing gunmen standing around a blond pilot who appeared dead. It was not immediately clear what happened to the second pilot.
This is a developing story.
© Copyright IBTimes 2023. All rights reserved.