Russian-Ukrainian Conflict Update: Ukraine Withdrawal Of Light Artillery Begins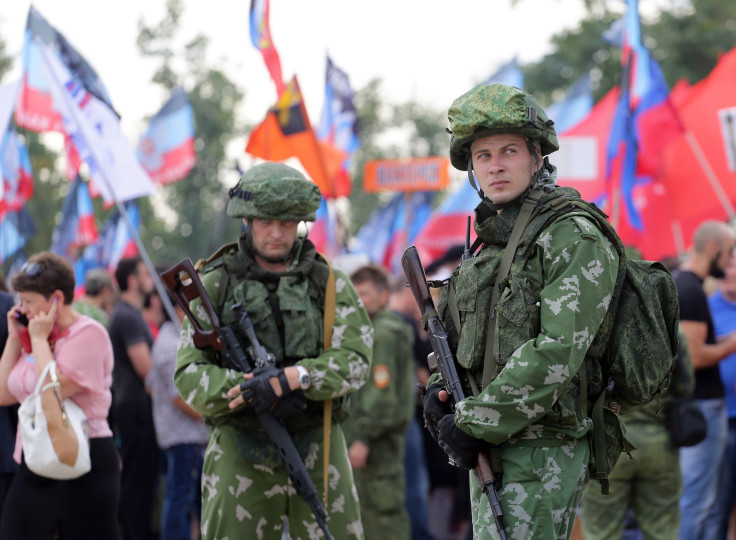 After a year and a half of conflict with pro-Russian separatists, Ukrainian authorities started Monday to withdraw tanks and light artillery from the frontline in the eastern region of Luhansk, local media reported. The weapons pullback follows an agreement between Ukrainian government forces and separatist leaders to continue the withdrawal of weapons in the hopes of ending the war.
"Today at 11.00 in Luhansk region we began a simultaneous removal of T-64 and T-72 tanks and in some places anti-tank artillery D-48 and D-44 and ... mortars," said Ukrainian spokesman Ruslan Tkachuk in a statement posted on social media, Reuters reported.
The withdrawal was expected to take 14 days. Data at the end of August showed that Ukraine had 360 tanks in the area as well as more than 1,000 armored personnel carriers. Separatist leaders said they would wait until Oct. 18 to withdraw their weapons from the area.
The move comes days after Russian President Vladimir Putin and Ukrainian President Petro Poroshenko met in Paris last week. Leaders agreed to the withdrawal of light weapons within 41 days, local media reported. While the Minsk II peace agreement signed in February failed to immediately put an end to the conflict, a more recent ceasefire agreed to beginning Sept. 1 has resulted in fewer violations.
At the same time, the monitoring group the Organization for Security and Cooperation in Europe last week spotted a new deadly Russian weapons system in eastern Ukraine. The TOS-1 Buratino weapons system has the ability to destroy several city blocks.
The conflict in eastern Ukraine began in the spring of 2014 pitting government forces against Russian backed separatists. The war has left more than 8,000 dead and led to the displacement of over 1.4 million people, according to the United Nations. Ukraine's eastern industrial heartland has been devastated by the war. The Russian government continues to deny playing any direct role in the conflict.
With attention turning to Russia's role in Syria, experts have voiced concern that the conflict in Ukraine would fall from the headlines. A recent survey found that the Russian public was torn over how the conflict should end with only 16 percent of citizens wanting the separatist republics of Luhansk and Dontesk to join the Russian Federation.
© Copyright IBTimes 2023. All rights reserved.