Safe Haven From ISIS: Erbil, in Iraqi Kurdistan, Keeps Jihadists Out, Refugees In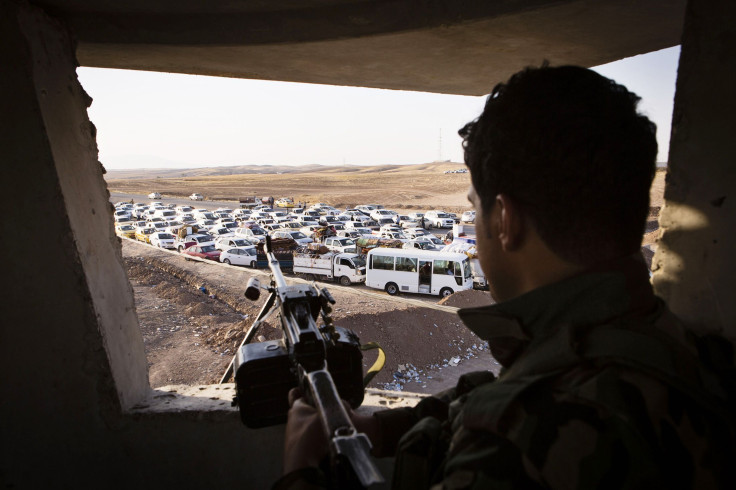 ERBIL, Iraq -- This city in Iraqi Kurdistan sits directly in the middle of two armed conflicts fueled by the most feared extremist group on the planet. Yet it has somehow managed to steer clear of both the Syrian conflict and the deadly advance into Iraq by Islamic State of Iraq and Syria. Here, people are proud of the fact that Erbil is what they call "untouchable."
Erbil is in fact one of the only safe havens in the entire region for those who are fleeing the Sunni-led ISIS as it captures or lays siege to towns and villages on its way to confront Prime Minister Nouri al-Maliki's forces in Baghdad. Reports surfaced Saturday that ISIS militiamen had made it south of Tikrit and were edging closer to the capital.
Yet driving through Erbil one would not know that to the west, east and south, ISIS was waging an insurgency that has, in just one week, forced hundreds of thousands of people to flee their homes and prompted the international community to consider options for intervention.
Within the past week, the Obama administration deployed an aircraft carrier to the Persian Gulf, suggesting the United States could launch airstrikes on ISIS targets; Iran, a Shiite-majority nation allied with the Maliki government in Shiite-majority Iraq, sent special forces from the Revolutionary Guard into Iraq to help defend Shiites.
As soon as the U.S. pulled troops out of Iraq in 2011, ISIS increased its attacks on Iraqi government targets, waging massive insurgencies in places such as Anbar province. In the process, the former offshoot of al Qaeda -- which had expanded into Syria, playing a prominent part in its civil war -- became so brutal, terrorist leader Ayman al-Zawahiri disowned it.
The world is watching now as ISIS creeps closer and closer to reaching its goal of establishing an Islamic caliphate in the Levant. It controls a swath of land that stretches from Aleppo to Fallujah.
ISIS territory comes very close to Erbil, too, but those living here are confident the city will remain a safe zone.
"There is no way they will come here," said Jihan, a prominent human rights activist in the city who did not give her last name for security purposes. "It is so safe here. We have the security other places don't."
Kurdish security forces, which have become a de facto army as Kurdistan has turned into a quasi-independent state following the U.S. invasion, have protected Erbil from the ISIS advance. The "da'ash," as the group is universally called from its Arabic initials, never made it close to the city.
Yet the conflict has forced people in Erbil, who are better off than most Iraqis thanks to oil wealth, to accept new neighbors. During the group's siege of Mosul, Iraq's second largest city, more than 500,000 fled, many to Erbil, and are now living in makeshift camps for internally displaced persons. Those who had the money rented hotel rooms. Others are staying with family and friends.
The city has welcomed, Syrians as well, making Erbil a mixing pot of everything and everyone affected by the militants.
The Syrian conflict, though, has in some ways caused more concern than the ISIS insurgency in Iraq. After the group took over Mosul, ISIS weapons and soldiers began to flow through the border between the two countries. It is thought that most of these weapons have made their way into Iraq and are being used to fight Maliki's forces.
As the conflict in Syria and the ISIS insurgency in Iraq intensify with a now-porous border, Erbil is continuing to act as one of the only safe areas in the region. Whether it remains so for much longer may depend on international intervention.
© Copyright IBTimes 2022. All rights reserved.
FOLLOW MORE IBT NEWS ON THE BELOW CHANNELS