Sahar Tabar's 50 Surgeries To Look Like Angelina Jolie Didn't Really Work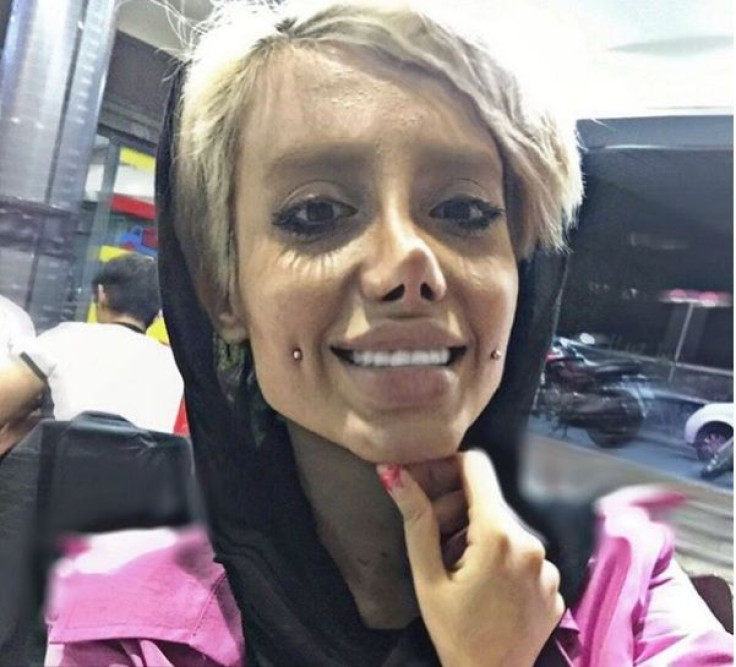 While many aspire for the glamour and beauty projected by movie stars, only some go to great lengths to realize those aspirations. Sometimes with horrible results.
Take the example of Iranian teenager Sahar Tabar — a die-hard fan on actress Angelina Jolie — who has undergone around 50 surgeries in a bid to look like her Hollywood idol, reports said.
According to the Mirror U.K, Tabar has gone under the knife for a complete transformation of her nose, cheeks, and eyes.
However, the results for the 19-year-old from Tehran have been far from flattering, with her looking closer to a character from a Tim Burton movie than the gorgeous Jolie after the surgeries.
Tabar has chronicled her transformation from a normal looking teen to "Jolie" on her Instagram account, which has 323k followers.
According to various reports, her enthusiasm to physically mirror her idol is so high that she has even gone on a diet to maintain her 40 kg (around 88 pounds) weight, which would classify her as unhealthy and dangerously underweight, considering her height is 4.8 feet.
The teen said she "would do anything" to look like the actress, according to Al Arabiya. However, her dramatic makeover has raised eyebrows as many speculate as to her authenticity.
None of the reports were able to confirm the teen's surgeries, which are so dramatic that some are attributing the transformation to prosthetics or special effect makeup and camera trickery.
In an Instagram video post a few days ago, Tabar''s nose doesn't seem to be so dramatically altered and her cheeks look plumper.
However, it was not clear when the video was taken.
Her numerous pictures on her Instagram account has led followers to comment and criticize her look. Some claimed that her nose and cheekbones appeared to be different in different pictures. Some commented the same about her lips.
One of the followers commented that the girl looked like a "zombie," and her pictures were nauseating.
One said in her bid to look like Jolie, Tabar had turned herself into Tim Burton's "Corpse Bride."
"You look like a dead person," one of the followers said.
Another added: "I'm so confused - is this a Halloween costume or filter?"
© Copyright IBTimes 2023. All rights reserved.
FOLLOW MORE IBT NEWS ON THE BELOW CHANNELS