Salmonella Outbreak: Onion Brands To Look Out For
KEY POINTS
Authorities have so far identified two suppliers of potentially contaminated onions
Affected brand names include Big Bull, Sierra Madre and Rio Blue
The products were distributed in dozens of U.S. states as well as Quebec and Ontario, Canada
Authorities have traced the source of an ongoing Salmonella outbreak to onions imported from Chihuahua, Mexico. The products were distributed under several brand names.
Earlier this week, the Centers for Disease Control and Prevention (CDC) identified whole red, white and yellow onions imported by Idaho-based ProSource as the source of the Salmonella outbreak that has so far sickened over 650 people from 37 states. In an update posted Thursday, it further identified Keeler Family Farms of New Mexico as an "additional common supplier" of the restaurants where people ate before getting ill. It is still trying to determine if there are other suppliers and products associated with the outbreak.
In response to the investigation results, ProSource issued a voluntary recall of the products that were shipped to the U.S. from Chihuahua, Mexico, from July 1 to Aug. 31. These onions were sold under the brand names Big Bull, Peak Fresh Produce, Sierra Madre, Markon First Crop, Markon Essentials, Rio Blue, ProSource, Rio Valley and Sysco Imperial, the recall alert posted on the U.S. Food and Drug Administration (FDA) website noted. Photos of their labels are available on the FDA website.
They were shipped in dozens of states, namely Alabama, Arkansas, Arizona, California, Colorado, Connecticut, Florida, Georgia, Iowa, Idaho, Illinois, Indiana, Kansas, Kentucky, Louisiana, Massachusetts, Maryland, Michigan, Minnesota, Missouri, Mississippi, North Carolina, Nebraska, New Jersey, New Mexico, New York, Ohio, Oklahoma, Pennsylvania, Rhode Island, South Carolina, Tennessee, Texas, Virginia and Wisconsin. They were also distributed in Quebec and Ontario, Canada.
The affected onions were distributed to retailers, wholesalers and foodservice customers in different mesh sack and carton sizes. The company clarified that "no fresh onions" from Chihuahua, Mexico, had been imported by the company since the end of August.
"While investigations into various potential sources of Salmonella remain ongoing, to date no onions marketed through ProSource have tested positive for Salmonella," the announcement noted. "This voluntary recall is being conducted out of an abundance of caution in cooperation with the U.S. Food and Drug Administration (FDA), based on reported illnesses which have been associated with the possible consumption of fresh onions that originated in Chihuahua, MX, and shipped to the U.S. during July and August 2021."
Keeler Family Farms had also agreed to recall all its red, yellow and white onions imported from Chihuahua, Mexico, from July to Aug. 31, the CDC noted, adding that "more information regarding their recall will be provided once it is available."
"Do not buy or eat any whole fresh red, white, or yellow onions if they were imported from the State of Chihuahua, Mexico and distributed by ProSource Produce LLC or Keeler Family Farms." the CDC said. It also recommended that businesses avoid serving or selling onions that were imported from Chihuahua and distributed by the two companies.
Affected products may contain stickers bearing the brand and country of origin, but the CDC urges people not to buy or eat onions if they cannot distinguish where they were from.
Those who are infected with Salmonella may experience symptoms such as diarrhea, stomach cramps and fever between six hours to six days after ingesting the bacteria. Although most people can recover even without treatment, some individuals such as older adults, young children and those with weakened immune systems can have a "more severe" illness that would require hospitalization.
In the case of the current recall, 129 out of the 652 who have fallen ill were hospitalized.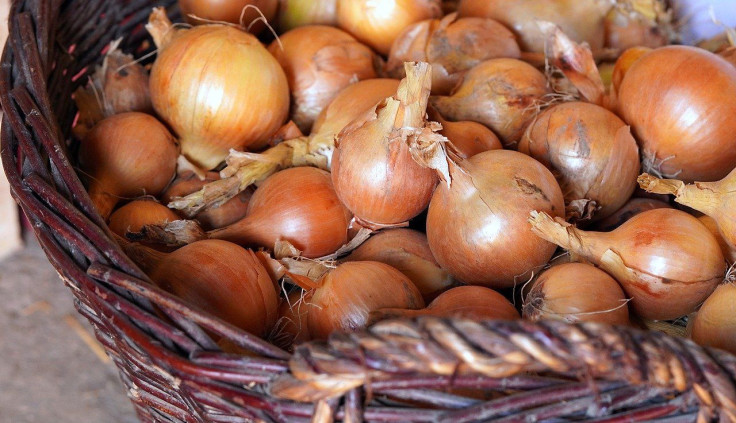 © Copyright IBTimes 2023. All rights reserved.