Samsung Unveils Galaxy Note With New Kind Of Screen That Wraps Around The Edge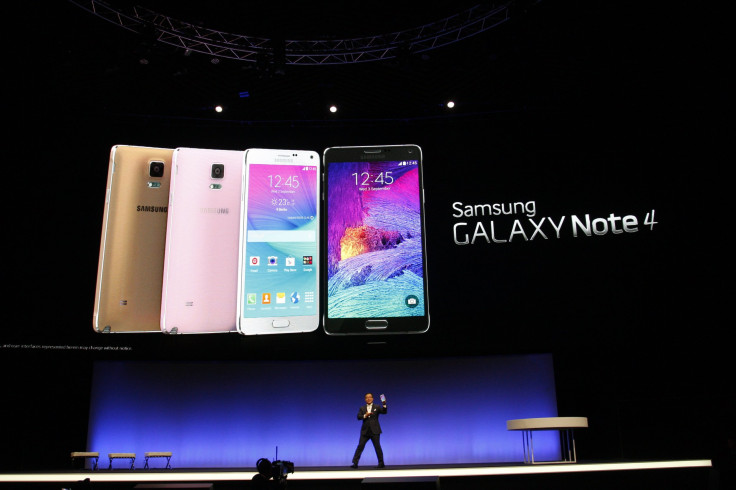 Samsung Electronics Co. (KRX:005930) upped the ante against Apple Inc. (NASDAQ: AAPL) with two new big-screen smartphones Wednesday, including one with a screen that curves around the edge of the phone. The Galaxy Note Edge features interruption-free controls that allow the user to relegate notifications and other functions to the edge screen. When turned off, the edge screen turns into an alarm clock and illuminates at night.
It's the first big shift in form factor in the smartphone world in several years, a departure from the bigger screens and higher resolutions that have distinguished new smartphone models.
Samsung also unveiled the latest version of its high-end big-screen tablet, the Galaxy Note 4. Once, Samsung had the so-called "phablet" (big phone, small tablet) market to itself, and later shared it with a host of competitors also running Google's Android mobile software. But next week Apple is expected to unveil its own entry, a 5.5-inch iPhone 6L, which would split the difference between the current 4-inch iPhone 5 and the 7.9-inch iPad Mini.
The two smartphones were among several unveilings at the company's flagship retail store in the Meatpacking District of Manhattan designed to steal some thunder from Apple's expected unveiling of the iPhone 6 next week. In addition to two new phones, Samsung unveiled a new virtual-reality headset and the next generation of its smartwatch, the Galaxy Gear S.
The manufacturer detailed how it has been the first to introduce several technologies to the market, including LTE connectivity and high-quality, large-screen displays, for "devices that deliver tomorrow's innovations right here and right now," said Ryan Bidan, Samsung's director of strategy and operations.
The Galaxy Note 4 introduces the 5.7-inch QHD (1440x2560) resolution display to Samsung's smartphone line. With a pixel density of over 500 pixels per inch, it allows for sharper images and brighter colors. The display complements the device's 16-megapixel camera, which includes image-stabilization technology, a feature long anticipated for Samsung phones. The Galaxy Note 4 camera also supports 8x digital zoom, another industry first, and includes a 3.7-megapixel front camera, perfect for taking selfies.
Samsung has also updated its S-Pen stylus for the Galaxy Note 4. The stylus acts more like a mouse, allowing users to perform functions like cut, paste and crop with ease.
The Samsung Galaxy Note 4 includes a super-powered battery with Adaptive Fast Charging technology, which allows the device to charge 50 percent in 30 minutes. Its Ultra Power-Saving Mode allows the Galaxy Note 4 to maintain a 10 percent charge for 24 hours.
Samsung also announced its Gear VR headset at the Manhattan event. Developed by Oculus, the device attaches with the Samsung Galaxy Note 4 handset to create a complete virtual experience.
Samsung's new products will be available for demonstration later this week at various locations, including Chicago, Los Angeles, Dallas, New York and San Francisco.
© Copyright IBTimes 2023. All rights reserved.
FOLLOW MORE IBT NEWS ON THE BELOW CHANNELS