San Antonio Spurs Remain Among NBA's Elite, Pose Biggest Threat To Golden State Warriors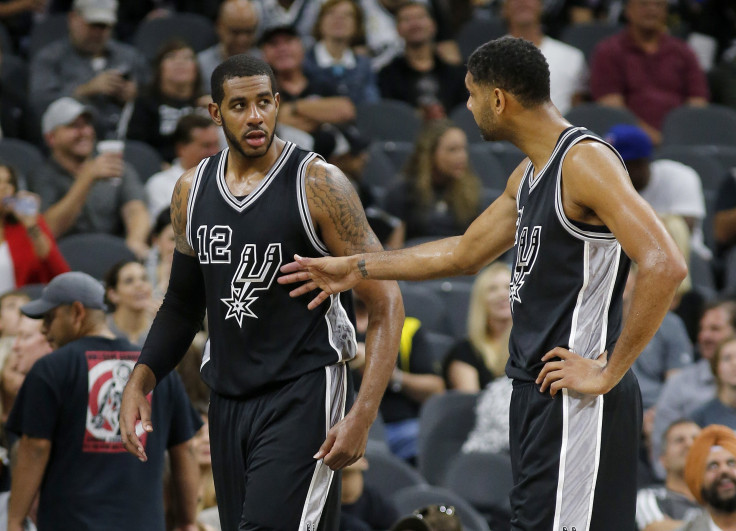 It's easy to overlook the San Antonio Spurs because of the Golden State Warriors' incredible start to the season, but Gregg Popovich and Co. have been as good as ever this year. While the defending champs are the favorites after winning 24 straight games, the Spurs are easily the biggest threat in their quest for a repeat.
San Antonio has won 21 of their first 26 games, holding a 6.5-game lead in the Southwest Division. Their .808 winning percentage has them on pace to finish with a franchise-record 66-26 mark, and the Spurs' 13.2-point differential puts them slightly ahead of the Warriors for best in the NBA.
The Spurs have gotten it done on both sides of the ball, making them incredibly difficult to beat. Defensively, they've been the best team in basketball, allowing just 91.8 points per 100 possessions. Opposing teams are shooting just 41.8 percent from the field against San Antonio, and at a time when the three-point shot is so important to the success of many NBA teams, the Spurs are the best in the league at defending shots from behind the arc.
Offensively, only Golden State and the Oklahoma City Thunder have been better than San Antonio, who scores 105.7 points per every 100 possessions. The Spurs are making 37.1 percent of their three-pointers, which is good for fourth in the league, and they trail only the Warriors in overall field-goal percentage.
The 2015-2016 season is still young, and a lot can happen over the next four months. But San Antonio and Golden State have separated themselves from the rest of the West, and there's a good chance they'll meet in the conference finals.
Exactly how have the Spurs been better than ever this season?
Big 3 Still Getting It Done
The Spurs' core was formed well over a decade ago, and the aging stars have been incredibly efficient while playing reduced minutes. San Antonio made headlines by signing LaMarcus Aldridge in the offseason and finding Tim Duncan's eventual replacement, but they wouldn't be the NBA's second-best team if it wasn't for their veterans
Duncan could very well be playing in his final NBA season, but it's hard to tell by the way he's performing. The Big Fundamental is averaging career lows in points and rebounds, but his 9.0 points, 8.3 rebounds and 2.9 assists are more than enough in just 26.5 minutes per game. His 52.4 percent field-goal shooting is his best since 2006-2007, and he remains an elite defender. In November, Duncan's 40.9 opponents' field-goal percentage at the rim ranked him third in the NBA, and he averaged more than two blocks per 36 minutes.
Tony Parker isn't in the class of Stephen Curry, Russell Westbrook or Chris Paul, but his 57.1 percent field-goal shooting and ability to shut down opponents still makes him a top point guard. Manu Ginobili is playing less than 20 minutes per game, but he's averaging 10.8 points per contest and playing like one of the NBA's best sixth men.
Kawhi Making the Leap
San Antonio wouldn't be where they are without the help of their "Big 3," but the group no longer includes the team's most important player. That title belongs to Kawhi Leonard, who has turned into one of the top players in the entire league.
The rest of the NBA took notice of Leonard when he won the 2014 NBA Finals MVP, and he followed that up by winning last year's Defensive Player of the Year award. But he's taken the next step this season, becoming an all-around great player. In any other year, he would have to be seriously considered among the favorites for league MVP.
Leonard is the team's leading scorer at 20.8 points per game, shooting an incredible 48.9 percent from three-point range. He's also grabbing a career-high 7.6 rebounds per contest, ranking second among all small forwards in boards per 48 minutes. Leonard has also picked up where he left off defensively last year, shutting down elite scorers like Kevin Durant (6-19, 22 points) and Carmelo Anthony (4-17, 19 points).
Playing Big and Slow
In an era where there are few elite centers and teams are relying more and more on three-pointers, the Spurs are bucking the trend. San Antonio has won by slowing down the game and playing a bigger lineup, which might give them the best shot to upset the Warriors.
After losing just once in 25 games, there is growing evidence that no NBA team can beat the Warriors in a seven-game series. It's just about impossible to match Golden State and their fast-paced, small-ball lineup. The way to beat them might be by playing the complete opposite style, and no one does that better than San Antonio.
The Spurs rank 27th in pace, as San Antonio is averaging just 95.7 possessions per game. The Spurs don't rely on three-pointers, ranking 26th in shots attempted from behind the arc. Instead, San Antonio is wearing teams down with their big lineup, using Duncan and Aldridge in the frontcourt at the same time. With their ability to make mid-range shots and play two seven-footers at one time, opposing teams are having trouble matching up with the Spurs.
© Copyright IBTimes 2023. All rights reserved.