San Antonio Spurs vs. Oklahoma City Thunder: Preview, Prediction, And Where To Watch Thursday's NBA Playoff Game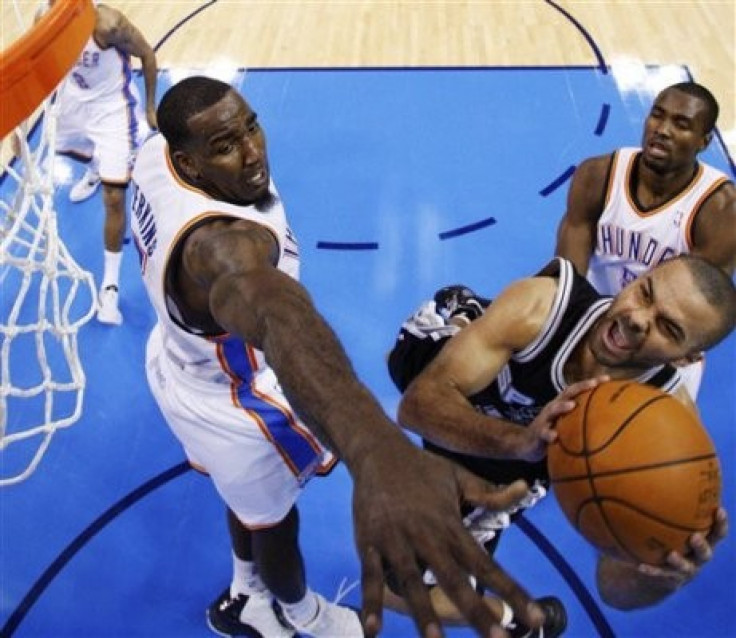 The Oklahoma City Thunder have their backs against the wall in the Western Conference Finals against the San Antonio Spurs.
The Spurs lead 2-0, are on a 20 game win streak, and have only lost twice since April 1. They have dominated the first two games of the series by playing as a single unit. Every player on the floor knows his role and performs it so well as to make their execution seem almost boring.
In game one, San Antonio took advantage of defensive breakdowns in the fourth quarter to close a nine-point gap for a victory.
In game two, the Thunder didn't show up early and paid for it late. They trailed by as much as 22 points in the third quarter, and though the Thunder managed to close within six it was too little, too late.
Oklahoma City turned up the intensity, especially on defense, to close the gap, something that worked for them in game one as well. But the Thunder haven't been consistently physical enough to really effect the Spurs.
If Oklahoma City is going to get back into the series, they will need to come out aggressive against San Antonio from the opening tip. The only chance the Thunder have is to jump up on the Spurs right away, and trust in their youth to overcome the Spurs in an intense game.
Where to watch: The game can be viewed online at FirstRowSports. It will also be broadcast nationally on TNT at 9 p.m. ET.
Prediction: Oklahoma City needs to win this game to have a chance to get back into the series. No NBA team has ever come back from being down 3-0 in a series. They will get off the ropes tonight in front of fans at the Chesapeake Energy Arena.
Predicted Score: Oklahoma City over San Antonio 112-106
© Copyright IBTimes 2023. All rights reserved.