San Bernardino Shootings Put Spotlight On 401(k) Investments In Gun Manufacturers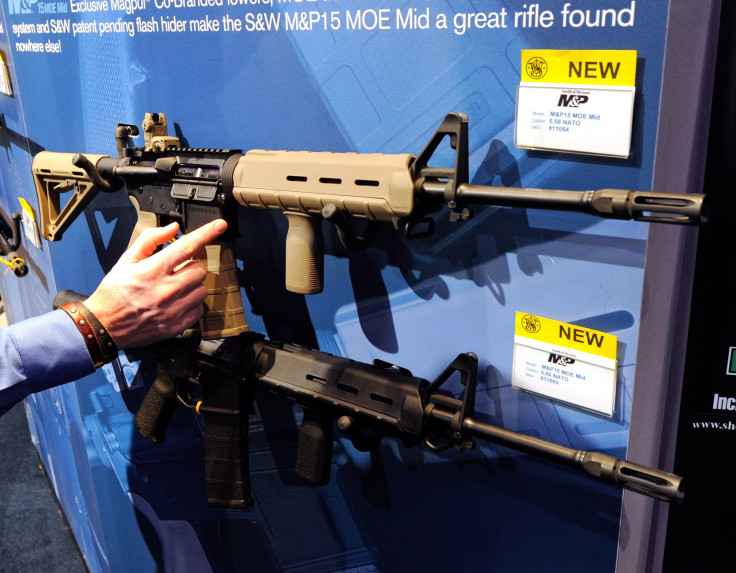 The San Bernardino shootings that claimed 14 lives on Dec. 2 have put the spotlight on whether investors are financially tied to one of the nation's publicly traded gun manufacturers. One of the two rifles used in last week's murderous rampage was a Smith & Wesson M&P 15 that federal investigators say was illegally modified to fire like a military-style automatic weapon.
If you're one of the millions of working-age Americans with a retirement savings account managed by Vanguard, Fidelity, Templeton or another major investment manager, chances are you own stock in one -- or both -- of the makers of the type of rifles used in last week's carnage: Sturm, Ruger & Co., and Smith & Wesson Holding. This means many Americans have a financial stake in the nation's gun policy and in many cases are making money on weapons that are illegal in some states.
Just as with past mass shootings, gun-control advocates are taking an opportunity to advise Americans to look more closely at their investments, and to do more to pressure not just lawmakers, but also institutional investors to steer their investments away from the companies that manufacture and profit from the proliferation of firearms.
"I've received a lot of queries from people interested in efforts to divest from gunmakers. There's definitely a movement," said Leah Gunn Barrett, executive director of New Yorkers Against Gun Violence, one of about 50 groups involved in the Campaign to Unload movement urging divestment from the gun trade. "Divesting from energy stocks is difficult, because so much of our economy is tied to oil and gas, but divesting from these gun companies is not hard."
Barrett, who urges students and alumni to pressure university trustees on the issue, is part of a growing movement that aims to educate investors in how to influence public and private investment practices. Divestment efforts picked up in the wake of Sandy Hook Elementary School shootings in Newtown, Connecticut, in December 2012.
The massacre of 20 children and six teachers led Walmart to take down an informational page about the .223 Bushmaster rifle used in the Sandy Hook shooting, and Dick's Sporting Goods temporarily suspended the sale of sporting rifles. More significantly, the shooting led to the California State Teachers' Retirement System to pull out of investment ties with Remington Outdoor, formerly known as Freedom Group, which makes the Bushmaster rifle.
It seems that the San Bernardino shooting may have a similar effect as fund managers push for progressive investment strategies.
"Socially responsible mutual funds have an obligation on behalf of their shareholders to stop financially supporting companies that help enable the gun violence that has gripped our nation for too long," Jamal Elbarmil, vice president of Azzad Asset Management, said in an email. Azzad is a socially responsible investment fund with $400 million under management and a member of the Accounting and Auditing Organization for Islamic Financial Institutions.

Last weekend, New York City's Public Advocate Letitia James took the unusual step of urging TD Bank to cut its ties to Smith & Wesson. The bank has provided $280 million in loans to the gunmaker, James pointed out in her letter.
"If you want to do business with New York City, you can't be in bed with companies that manufacture the agents that kill our children and families," she wrote.
TD Bank declined to comment to the New York Times on specifics about its relationship to its client.
© Copyright IBTimes 2022. All rights reserved.
FOLLOW MORE IBT NEWS ON THE BELOW CHANNELS