San Francisco Court Dismisses Case To Stop Construction Of US Military Base In Japan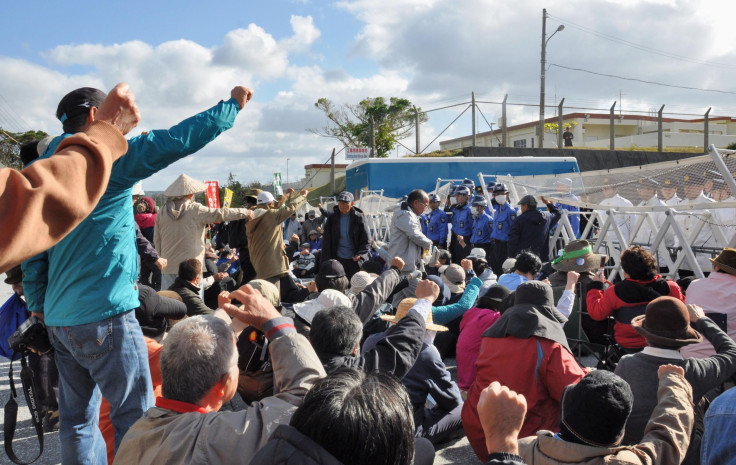 A San Francisco federal judge on Friday dismissed a lawsuit, which had sought to stop the construction of a U.S. military base in Japan. Protesters and environmentalists claim that the construction of the base would harm the Okinawa dugong, an endangered marine mammal.
U.S. District Court Judge Edward Chen said he did not have enough authority to stop the construction of the base off Okinawa.
"Put simply, this court lacks the power or necessary competence to enjoin or otherwise interfere with the construction of a U.S. military facility overseas that is being built consistent with American treaty obligations and in cooperation with the Japanese government," Chen said Friday, according to the Associated Press (AP).
The case, filed by Japanese residents in the area and environmental groups, named former Secretary of Defense Chuck Hagel as the defendant. Among the plaintiffs was Center for Biological Diversity, which plans to appeal the decision, AP reported, citing Peter Galvin, the center's director of programs.
Environmentalists claim that the construction of the aircraft runways on landfill in a bay will destroy the mammal's feeding grounds and habitat. Okinawa dugong is referred to in many Japanese myths and is considered endangered under the U.S. Endangered Species Act, AP reported. About a decade ago, its numbers were expected to be less than 50.
Last month, protesters had gathered in Okinawa making anti-U.S. slogans and holding placards stating: "No new base." They also called to shut down the Marine Corps Air Station Futenma, demanding that the troops be removed off the island. The protests were in response to a controversial U.S. plan to relocate its military base to the region.
Protesters argue that the move has led to harmful presence of the U.S. forces in Okinawa because of the deployment of excessive force to curb the protests, besides causing environmental damage, Press TV reported.
"(The government) turns a deaf ear to the will of Okinawans and forges ahead with the relocation plan," Natsumi Okubo, 28, a company worker from Tokyo's Koto Ward, who participated in the protests, said, according to Asahi Shimbun, adding: "As mainlanders, we want to think about what democracy is all about."
© Copyright IBTimes 2023. All rights reserved.