Santorum Booed: Tricky Rick's the King of Debate 101 [Video]
Humor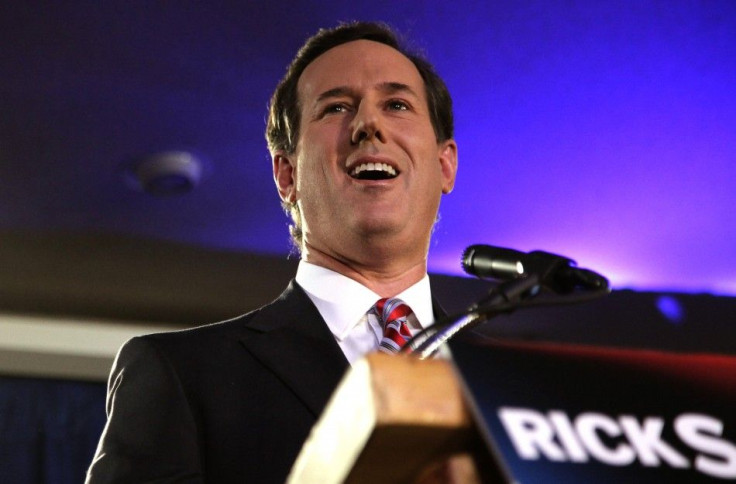 Lucky that A New Yorker's Opinion has an unlimited ability to get to anyone. As a result, I managed this exclusive late-night psychic communique with Presidential hopeful Rick Santorum, a man, and noted lobbyist with American Continental Group, a lobbying firm co-founded by the late Peter Terpeluk, Jr., an ambassador and one-time finance chairman for the Republican National Committee. Santorum is a staunch social conservative famous for wanting the government to keep its hands off the rights, for example, of energy companies, such as Consol Energy Inc., a Pennsylvania firm that describes itself as the leading diversified fuel producer in the eastern United States, responsible for mining more high-quality bituminous coal than any other U.S. producer. But Santorum has been 100 percent for government intervention when it comes to your personal life and is well-known as a devoted opponent of abortion in any circumstances and gay marriage.
Here's how it went (All Santorum quotes are real and sourced):
A New Yorker: So you have a problem with our Supreme Court?
Rick Santorum: If the Supreme Court says that you have the right to consensual [gay] sex within your home, then you have the right to bigamy, you have the right to polygamy, you have the right to incest, you have the right to adultery. You have the right to anything. Does that undermine the fabric of our society? I would argue yes, it does. It all comes from, I would argue, this right to privacy that doesn't exist in my opinion in the United States Constitution. In every society, the definition of marriage has not ever to my knowledge included homosexuality.* That's not to pick on homosexuality. It's not, you know, man on child, man on dog, or whatever the case may be. It is one thing.
New Yorker: But Mr. Santorum, aren't you extrapolating just a bit here?
Santorum: That's what the liberals believe. I have the right to do anything I want as long as it doesn't hurt anyone.
New Yorker: I thought that was what conservatives believed? Have you spoken to Ron Paul lately?
Santorum: Not at all, one of the things that is clear in our founding documents...the fathers of this country had a definition of liberty that meant freedom with responsibility to others: family, neighbors and country, we've lost that edge...[now we have an entire culture that focuses on immediate gratification.
New Yorker: So you should applaud such freedom with responsibility, such as the mercury ruling coming out of the EPA, but you have just come out against the EPA mercury rules to protect pregnant mothers and their unborn children. Aren't they based on a philosophy of responsibility that says...
Santorum: ...We hate carbon, we hate fossil fuels, we hate blue-collar Americans who work in those areas.
New Yorker: Okay. So you are against a woman's right to have an abortion, and also against her right to be protected by industrial pollutants that harm her fetus? But the state has no right to limit a polluting company from polluting?
Santorum: The state has a right to do that, I have never questioned that the state has a right to do that. It is not a constitutional right, the state has the right to pass whatever statutes they have.
New Yorker: So if the people didn't want abortion completely banned and for the government to stay out of a woman's business, you would support that? Because roughly 83 percent of Americans do support at least limited abortion rights now?
Santorum: The idea is that the state doesn't have rights to limit individuals' wants and passions. I disagree with that. I think we absolutely have rights because there are consequences to letting people live out whatever wants or passions they desire.
New Yorker: But not to limit the rights of corporations? Okay. But I'm still a bit confused. I thought you just said the state could pass any law it wanted? Then you argued that it couldn't. That's a bit Romneyesque, no offense meant.
Let me show you what I mean. You argued quite rationally about it with these college students in New Hampshire, and made the point that you think heterosexual marriage is beneficial to society and for raising children. OK, maybe, maybe not. But you also seem to feel that having the executive branch executing laws passed by Congress, turning them into EPA regulations, for example; and courts interpreting those laws is somehow not the intention of the founding fathers, who after all, quite specifically laid out the government branches to do precisely that. Let me replay your meeting with those students for you, including those tricky moves you and dismissive shots you put on that 17-year-old woman with your slick debate chops, like cutting her off when she tries to answer your questions. Nice to see you haven't lost your mad Congressional skills:
Visit msnbc.com for breaking news, world news, and news about the economy
*Not exactly, see brief overview of gay marriage in different cultures and times here.
© Copyright IBTimes 2022. All rights reserved.
FOLLOW MORE IBT NEWS ON THE BELOW CHANNELS