Santorum Sweeps Alabama, Mississippi, Clouding Romney's 'Inevitability' Claim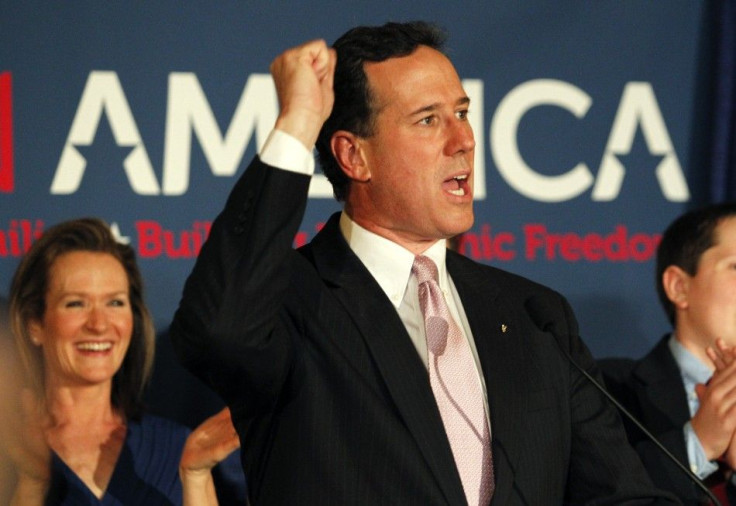 Rick Santorum went 2-for-2 in Tuesday night's Republican presidential primaries, beating presumptive front-runner Mitt Romney in Alabama and Mississippi.
Now is the time to pull together, the former senator from Pennsylvania told supporters in Louisiana after his victories were declared. He urged his party's faithful to unite behind him to defeat Romney in the fight to challenge President Barack Obama in November.
We are campaigning everywhere there are delegates because we are going to win this nomination before the convention, Santorum said, according to the Associated Press.
With 98 percent of Alabama's votes tallied, Santorum beat longtime Georgian Newt Gingrich, 34.5 percent to 29.3 percent, according to Real Clear Politics. Romney finished third with 29 percent, while Ron Paul was fourth place with 5 percent.
In Mississippi, where 99 percent of votes had been counted, Santorum led with 32.9 percent, followed by Gingrich (31.3 percent), Romney (30.3 percent) and Paul (4.4 percent).
In Alabama, exit polls suggested Santorum did particularly well among very conservative voters and women, CBS News reported.
The two-state sweep by the underdog are a serious blow to Romney's campaign, prompting questions about the ability of the wealthy businessman and former Massachusetts governor to unite the Republican Party in the run-up to its national convention this summer.
But Romney issued a statement noting his strong lead in the hunt for delegates, saying, I am pleased that we will be increasing our delegate count in a very substantial way after tonight. Earlier Tuesday, in an interview with CNN, Romney had said Santorum was at the desperate end of his campaign.
He fared far better in Tuesday night's two Pacific island contests, salvaged a win in the Hawaii caucuses and winning all nine delegates at Republican caucuses in American Samoa.
Santorum's claim that he is the true conservative alternative to Romney -- the candidate with the most delegates so far -- was bolstered by his victories Tuesday night.
Gingrich, the former House of Representatives speaker, has only won two primaries so far this campaign -- in South Carolina and his home state of Georgia. Although he vowed again to keep fighting, Gingrich's campaign now seems in doubt.
The latest wins for Santorum came despite his being outspent by Romney and lacking Gingrich's higher profile in the Deep South.
Alabama was the biggest prize for the evening, with 50 delegates at stake compared to 40 in neighboring Mississippi. Both states' delegates are awarded to candidates in proportion to their order of finish in the primaries.
Even though Romney came in third in both states, he will claim about a third, or 21, of available delegates.
The race, now a strictly two-man standoff, turns next to Puerto Rico, which conducts its primary on Sunday.
Santorum flew to the U.S. territory in the Caribbean fresh off Tuesday night's victories, and has events planned over the next two days. Romney was scheduled to fly into Puerto Rico at the end of the week after spending two days in New York City to raise money.
© Copyright IBTimes 2023. All rights reserved.
FOLLOW MORE IBT NEWS ON THE BELOW CHANNELS