Sarah Palin visits Statue of Liberty and Ellis Island after pizza dinner with Donald Trump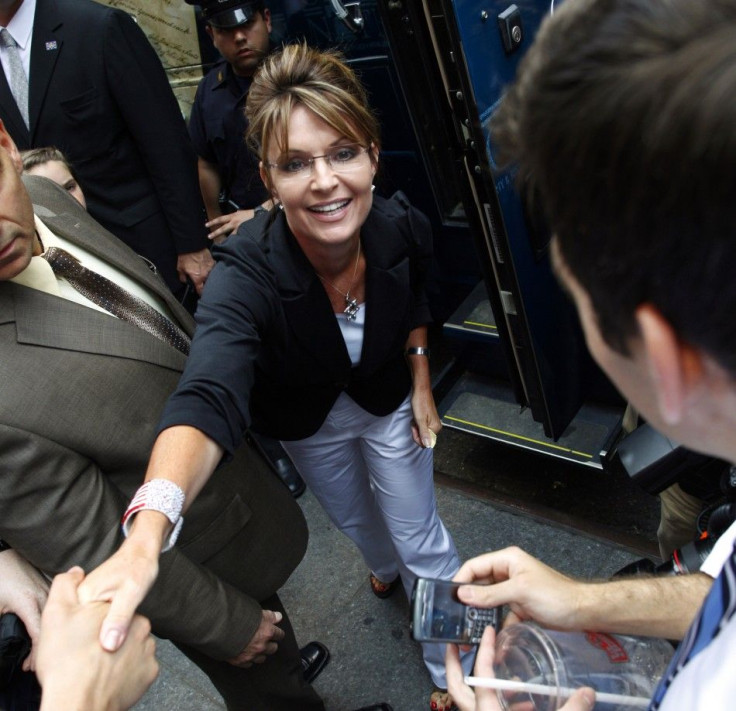 The former vice presidential candidate Sarah Palin continued her tour in New York City today, visiting the Statue of Liberty and Ellis Island for a tour.
Palin tweeted this morning before her departure, We'll highlight the beauty of legal immigrants' work ethic and love of freedom while visiting Ellis Island & Statute of Liberty today.
As a part of her recent East Coast bus tour, Palin arrived at New York City on Tuesday evening, and dined with former presidential candidate Donald Trump at Famous Famiglia Pizzeria, Times Square. Trump admitted he'd love to see her run for president in 2012.
As Palin took a tour in Ellis Island for around two hours interacting with tourists and students, she said to the media that the Statue of Liberty was One of the symbols of our liberty, and it is reminder too hat immigrants built this country so we want to make sure we are highlighting it in our bus tour. She wanted the immigrants and the generations preceding them to know how much we appreciate them for their work ethic, and their love of country and freedom, why whey came here, we want to make sure we are preserving that.
On her website Palin stated, Seeing all the young students on field trips - and generations of families visiting as one - I was reminded of a Ronald Reagan speech from Liberty State Park in September 1980. He spoke of the Americans who passed through Ellis Island and whose first glimpse of their adopted country was the grand statue in New York's harbor. He talked about our shared values and the common thread of the American dream across an endless mix of backgrounds.
After her tour on Ellis Island, Palin headed to Fox News Headquarter to visit her colleagues.
With speculations mounting for her presidential run, Palin embarked on a bus tour on May 27 in Washington D.C., calling it One Nation Tour aimed at raising the profile of America's historical sites that are key to the formation, growth and survival of our country, according to her website.
More evidence is piling up for Palin's presidential bid. RealClearPolitics reported Tuesday that Palin has authorized a full-length, two-hour film focusing on her record as governor of Alaska. Produced by conservative filmmaker Stephen Bannon, the film will premiere in Iowa, New Hampshire, Nevada and South Carolina, or the first 4 states to vote in the GOP Primary.
She is rumored to head to New Hampshire by the end of this week.
© Copyright IBTimes 2023. All rights reserved.