Sarah Palin: What's She up to?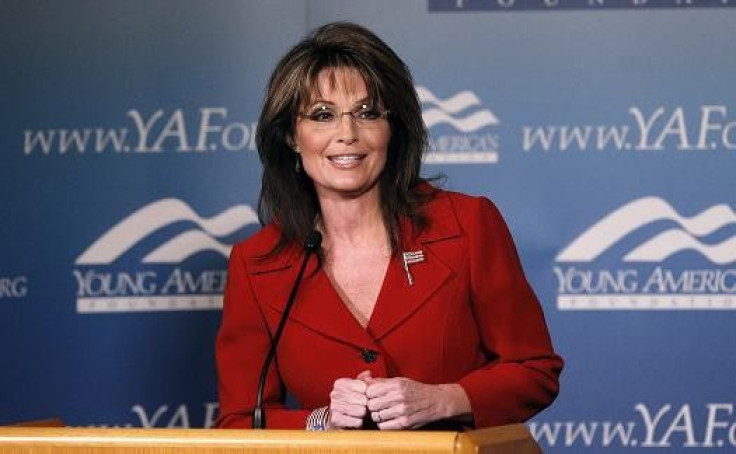 Sarah Palin ended seemingly insatiable speculation earlier this month when she announced she would not, in fact run for President. What's she been up to since then?
Not a whole lot, at least not publicly.
Palin has appeared at two events for the Extraordinary Women's Conference, a Christian's women's gathering--one in Lynchburg, VA on October 7-8 and one in Tupelo, MS on October 21-22.
In Tupelo, Palin alternatively discussed the personal and the political, after starting her speech off with a reference to both Elvis Presley and the blue suede shoes her daughet Bristol got while she was a contestant on the reality show Dancing With The Stars, according to local TV station WTVA News.
Everyone has challenges. Nobody's road is easy. Everyone in your relationships, in your workplace, in your churches, in your neighborhoods, maybe within your own family, a health battle, maybe a battle trying to keep your home. Maybe somebody in your family [is] trying to keep a job, Palin said, according to WTVA. Everybody is going through battles; mine just happen to get exaggerated or just downright made up, and their splashed across a tabloid or [television show].
On the political end, Palin said that even though American's had faith in God, they should be proactive in the direction the country goes.
I do not believe that we shall fulfill our destiny as a nation that puts its trust in God if we just sit back and watch some fundamental transformation of our country. Turning it into something that is good and just and right and free in America [should be the focus], Palin said according to WTVA.
Other than her appearance in Tupelo. Palin has weighed in on the Republican race she opted out of.
After the CNN debate in Nevada, Palin appeared on Fox News and declared former Speaker of the House Newt Gingrich to be the winner.
I think we [Republicans] are more interested in substance and that's why like tonight Newt Gingrich again I think did the best because he seems to be above a lot of the bickering that goes on, Palin told Susteren, according to ABC News. I don't know if he's going to be the one that surfaces as the fortunate candidate who gets to face Barack Obama because unfortunately, in this day and age, sometimes conventional wisdom would dictate that he who has the most money, the campaign dollars, wins. I don't want to believe that this is going to be the case this go-around.
More recently, Palin has been in the news for something she had nothing to do with--comedian Orlando Jones joking on Twitter last week that liberals needed to kill her.
© Copyright IBTimes 2023. All rights reserved.