Yemen Crisis 2015: Trapped Civilians Face Saudi-Led Airstrikes, Houthi Crossfire, Power Shortages And Hunger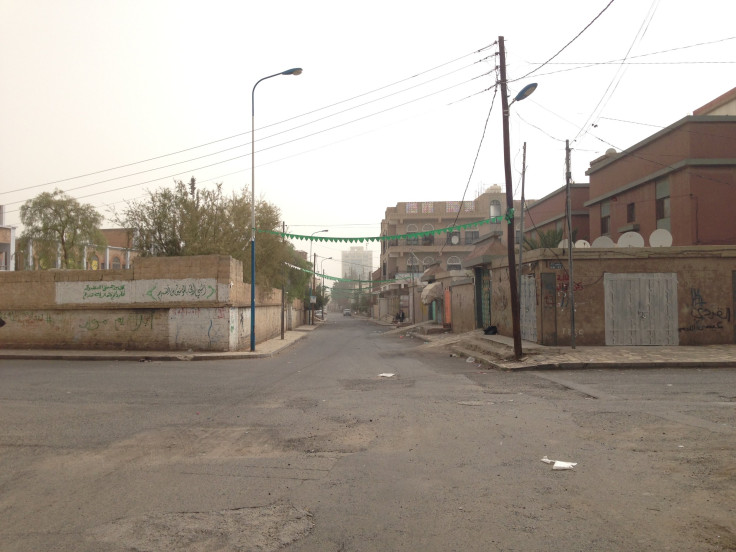 Amar Zabarah, a U.S. citizen from Fairfax, Virginia, drove his family to the Sanaa Airport on March 26 so his pregnant sister and 6-year-old niece could catch an early morning flight out of Yemen. Zabarah and his siblings had left their homes and jobs behind in the United States two years earlier for Yemen to care for their widowed father, who had recently died following a sickness. After parking his car at the airport around 2 a.m., Zabarah walked with his family toward the terminal entrance when an explosion lit up the dark sky, shaking the ground and producing air pressure that nearly knocked them off their feet. An airstrike that blasted the airport's runway less than a mile away was followed by more explosions.
"Another strike hit and another one and another one," Zabarah, 29, wrote in email interviews this month. "I grabbed my sister and niece, and ran to hide somewhere in the terminal. We were trapped there for a while and, honest to God, I thought we were going to die."
Zabarah didn't know it then, but Saudi Arabia and its allies had launched a bombing campaign in Yemen after Shiite rebels overtook the nation's capital of Sanaa and its Sunni-led government. Now, after a month of nonstop airstrikes and fighting on the ground, more than 550 civilians have died from the conflict since that fateful morning, and at least 115 children were among the dead.
But bombing and crossfire are not the only dangers Yemeni residents face. The impoverished Arab country is running out of basic resources like food, fuel, water and medical supplies. "People are dying slowly," Zabarah said. "The outside world needs to understand what is actually happening in Yemen."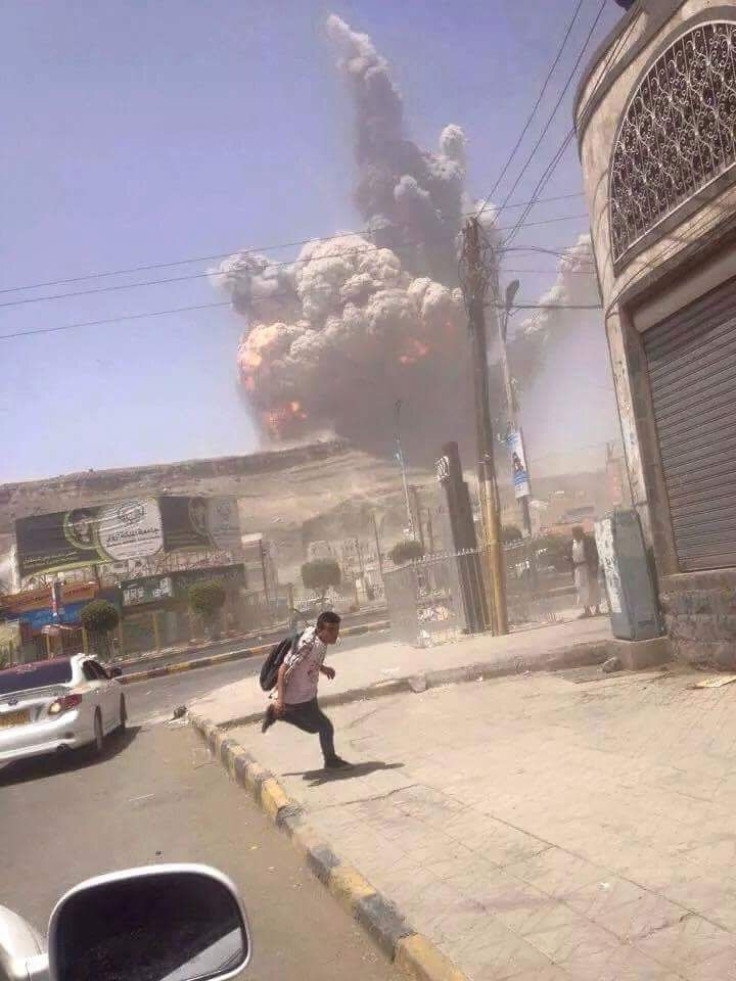 'This War Isn't Accomplishing Anything'
Although rich in natural resources, including oil and gold, Yemen is one of the poorest nations in the Middle East and one of world's least developed nations. The country ranked 154 out of 187 on the United Nations human development index in 2013. Yemen has a population of some 25 million people and more than half live in poverty, the World Bank said. Yemen's already dire humanitarian situation has plummeted further since fighting between Houthi and pro-government forces on the ground intensified and the Saudi-led coalition launched its air campaign.
"If you're not killed by a strike or militia, you will die of hunger," Farea Al-Muslimi, a visiting scholar at the Carnegie Middle East Center who recently left Yemen for Beirut, said in a telephone interview last week. "It's catastrophic what's happening in Yemen."
The Houthis have been involved in a decadelong conflict with the Yemeni government for more control over the group's main stronghold in the northern Saada province. The conflict has essentially pitted rivals Saudi Arabia against Iran in a battle for Middle East supremacy.
"Twenty-five million Yemenis are paying the price for that," said Al-Muslimi, a co-founder and chairman of the Sanaa Center for Strategic Studies whose research focuses on Yemeni and Gulf politics. "No one is safe [in Yemen]," he said.
Yemen is already one of the most food-insecure countries in the world, with more than 10 million people facing hunger, the U.N.'s World Food Program said. The Arab country relies heavily on imports for 90 percent of staple food items. In addition to regular airstrikes, the Saudi-led coalition -- which announced this month an end to its air campaign in Yemen, citing purported military achievements -- has imposed a naval blockade and a no fly-zone over Yemen, which prevents aid groups from delivering life-saving necessities.
"This war isn't accomplishing anything. I don't see that they've reached an agreement or defeated the Houthis," Nabeel Khoury, a senior fellow at the Atlantic Council's Rafik Hariri Center and visiting associate professor of Middle East and North African studies at Northwestern University, said in a telephone interview last week. "The humanitarian situation was awful and this was made worse by all this fighting."
Sanaa resident Osamah Al-Fakih, 27, said fighting persisted on the ground and Saudi-led airstrikes still target locations in Sanaa, Aden, Taiz, Hodaida and Ibb. "The majority of Yemenis I have met or talked to are skeptical. People still stay inside their houses," he wrote in an email interview Thursday.
Both sides in the war have contributed to serious structural damage and civilian casualties in Yemen. But Al-Fakih, co-founder of independent media collective #SupportYemen, said the Saudi-led airstrikes and naval blockade have mainly affected ordinary Yemenis rather than the Houthi targets. Residents are forced to stay indoors due to the fighting and petrol shortages, making it difficult to purchase supplies or flee the country. Laborers who depend on their daily wages are unable to work and have no source of income.
Al-Fakih said he leaves his house only for urgent matters such as stocking up on food. He also rarely visits his family or friends due to a lack of public transportation, and uses water only when necessary. "I'm trying to save water as much as possible. I haven't taken a shower for more than a week. When things have gone worse, I have gone shopping to secure some food for a long time," he said.
Many Yemeni residents are living without continuous power. Al-Fakih said he hasn't had electricity for more than a week and when power does resume, it lasts no longer than a couple hours. "[It] becomes a daily struggle to keep my laptop and my mobile [phone] charged," he said.
Al-Fakih said fleeing the country is not a viable option for him because he is a Yemeni national with no other citizenships. "There is no other place I can go to even in Yemen itself," he said. "I haven't known any international or local effort to help Yemenis escape the violence; only to help foreigners and Yemenis having other nationalities."
A Perilous Escape From Yemen
After surviving three weeks of daily airstrikes, hunger and fear, Zabarah and his family left their father's home in Sanaa and traveled hundreds of dangerous miles to the Red Sea port city of Hudaydah. Zabarah along with his five siblings, their young children and a sister-in-law boarded the Indian vessel INS Sumitra April 15, which was taking civilians to the North African nation of Djibouti. They traveled lightly and left most of their possessions and assets behind, Zabarah said.
The ship was packed with hundreds of passengers from various nations including India, Syria, Iraq and the United States who were also desperate to escape Yemen. Women and children were kept inside the boat's tight quarters, while Zabarah and the other men were outside on the platform for the 18-hour-long journey. Rice and sauce were served with water for lunch and dinner, and toast and hot tea for breakfast. Sleeping and eating were done in the same place, and the ship had just two bathrooms.
"The sun was really hot and the ride was not smooth," Zabarah said. "The whole trip was really painful because we [the men] were at the back of the boat and all the smoke of the burning fuel was hitting our face. My undershirt turned really, really black."
Zabarah and his family are staying at a hotel in Djibouti while waiting to meet with U.S. Embassy officials, in hopes of returning to their separate homes in the United States. Their parents were Yemeni-born but moved to the United States before having children. Zabarah was born in Madison, Wisconsin, but spent most of his life in Virginia, where he graduated from George Mason University and got a job nearby with the Office of the Secretary of Defense at the Pentagon.
"I worked with my country to make things better and safer for our troops and people. And now when I need my country's help, I am being ignored," he said.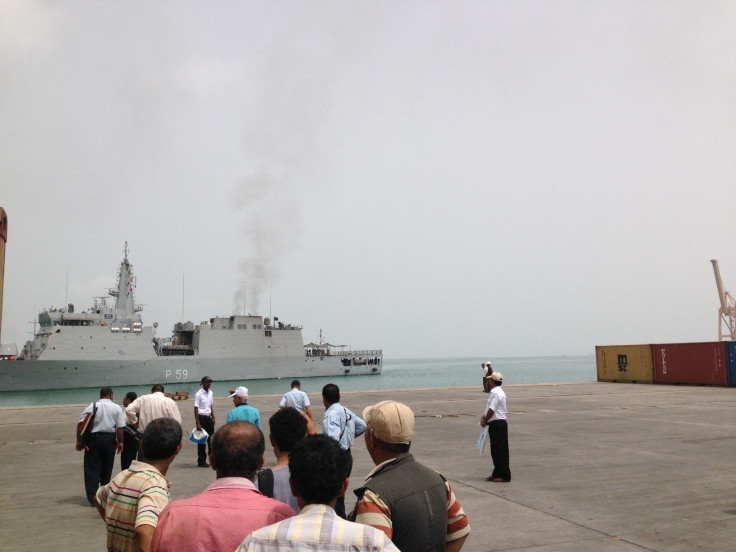 No Evacuation Plans For U.S. Citizens
More than 10,000 people who had fled Yemen by sea arrived in Djibouti, Somaliland and Puntland, the United Nations said Friday. But many American civilians are still stranded in the Arab country. The United States has so far declined to rescue the estimated 3,000 to 4,000 American citizens in Yemen, saying the State Department had urged U.S. nationals to leave the country Feb. 11 due to the deteriorating security situation. The U.S. government has helped Saudi Arabia coordinate its airstrikes in Yemen and has warned Iran against shipping weapons to the Houthis. Meanwhile, President Barack Obama's administration was seeking to sign a nuclear deal with the Iranian government.
"There are no plans to evacuate private U.S. citizens from Yemen. U.S. citizens seeking routine or emergency services should contact any neighboring U.S. Embassy or consulate. We strongly urge U.S. citizens to defer travel to Yemen, and for U.S. citizens remaining in Yemen to depart as soon as it is safe to do so," a U.S. State Department official wrote in an email statement last month.
Zabarah said his family was aware of the Feb. 11 notification to leave Yemen but his father was in the hospital at the time and died 10 days later. "We could not just get up and leave our father behind," he said.
© Copyright IBTimes 2023. All rights reserved.
FOLLOW MORE IBT NEWS ON THE BELOW CHANNELS