Scandal-Embroiled OSI Group Has Long History Of Alleged Labor Violations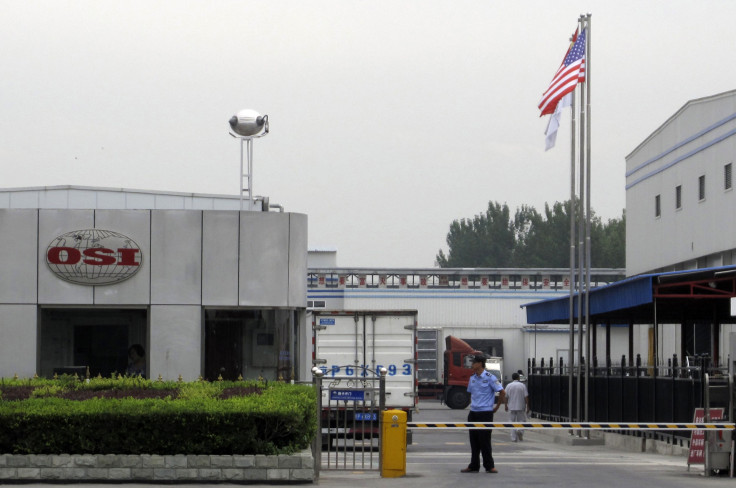 The American meat processing conglomerate at the center of a food safety scandal in Asia that led to recalls of products sold by McDonald's and KFC has for years confronted another challenge at home: a series of allegations that it violates federal labor standards.
OSI Group LLC has been at the center of intense international scrutiny since July 20, when Chinese regulators shuttered OSI's Shanghai Husi Food Co. Ltd. meat processing plant after a local TV station aired an investigation revealing that Shanghai Husi had sold tainted meat to fast-food chains in Asia.
But the Aurora, Illinois-based company's American subsidiaries have long been plagued by lawsuits alleging that it violated employees' rights under the Family and Medical Leave Act (FMLA) by penalizing or firing workers for taking time off to recover from injuries or for maternity leave.
Chinese authorities detained five individuals connected to the company just days after the report revealed that Shanghai Husi sold expired meat and meat that had fallen on the floor to several fast-food chains, including McDonald's (NYSE:MCD) and Yum Brands (NYSE:YUM)-owned KFC, that then distributed the products to restaurants from China to Japan.
The company responded swiftly, posting a July 23 statement on the OSI website in which chairman and CEO Sheldon Lavin apologized for the scandal in China.
"For more than 100 years, OSI has provided safe, quality food and is currently operating at the highest standards in 17 countries serving more than 40 countries around the world," the statement read. The company announced on July 27 that it had recalled all Shanghai Husi products.
On July 23, International Business Times revealed allegations of labor and food safety violations by former employees of OSI's West Chicago, Illinois, meat plant, which reportedly produces more than five million beef patties per day.
In an emailed response, the company said on Friday that the claims were "unconfirmed allegations by someone whom we believe to be a disgruntled former employee; and unconfirmed allegations by an anonymous source." The statement also said that "OSI's West Chicago facility firmly upholds our commitment to food quality and safety. We have zero tolerance for the actions alleged in the IBT story, and will thoroughly investigate the claims."
According to court documents reviewed by IBTimes, the type of labor violation -- particularly failure to comply with the FMLA -- alleged by one of the former West Chicago plant workers has also been at the center of lawsuits against other OSI-operated facilities across the country.
With about 19,500 employees and revenues of $5.9 billion, OSI Group was the 62nd-largest privately held American company in December 2013, according to Forbes.
Its U.S. operations are conducted under the name OSI Industries LLC, and include meat processing plants in Illinois, Iowa, Utah and Wisconsin. OSI's American operations also encompass a number of other subsidiaries, including South Carolina chicken producer Amick Farms.
Over the past 15 years, former employees have filed a number of lawsuits detailing alleged labor violations at OSI Industries and other OSI-operated companies.
One complaint seen in multiple cases is that the company allegedly did not allow an employee to take enough time off to recover from injuries, including those sustained on the job, a type of leave covered under the FMLA.
"In any company of our size, there may be occasions where policies aren't carried out -- even when clear guidance is given," an OSI spokesman said Tuesday in an emailed response to an inquiry about the allegations. "If that happens at OSI, we want to know about it as soon as possible so that we can take corrective action."
In one ongoing lawsuit, former Amick Farms worker Ysrael Julien alleges that the company violated his rights under the FMLA when it fired him for taking time off work to recover from serious injuries he sustained in a June 2013 car accident.
The Delaware man, who worked at Amick's poultry processing plant in Hurlock, Maryland, for 25 years, alleges in the complaint he filed against the company last month that his doctor first ordered him to take five weeks' leave from his job there after the accident.
Amick accommodated the request, but when his physician ordered him to take another two weeks off work at the conclusion of the five weeks because he had not yet been fully rehabilitated, Julien alleges in the court filing that "Human Resources refused to comply and told him to get his doctor to reinstate him immediately. As neither his doctor nor he was willing to put him at medical risk, he stayed off work per doctor's orders, and then, on August 23, received a letter stating he was terminated effective August 7."
Julien alleges that his firing was unlawful under the FMLA, and he stated in the complaint that he has "filed a Charge of Discrimination with the Equal Employment Opportunity Commission ... alleging he was retaliated against in part because of his disability and was denied a reasonable accommodation."
OSI stated in response to an inquiry by IBTimes that "following his termination, some previously unknown facts were brought to light in connection with Mr. Julien's lawsuit. We and Mr. Julien recognized that some miscommunications occurred between the Company and Mr. Julien that would have had a bearing on the Company's termination decision. As a result, the Company and Mr. Julien are currently in the process of resolving this matter and getting him back to work with the Company."
Julien's case, which had not been resolved as of July 30, is not an isolated one, as similar allegations have cropped up both at Amick and a number of other OSI-owned facilities.
Anthony Haupfear, an inmate at Lower Savannah Pre-Release Center in South Carolina, who worked at Amick Farms as part of a prison pre-release work program, filed suit against Amick Farms and its human resources director, Anissa Turner, in February 2009. The case was eventually dismissed without prejudice, but Haupfear's claims were similar to Julien's.
He alleged in a court filing that he badly injured his wrist while lifting an eighty-pound tub of chicken at the Amick facility on Sept. 2, 2008, and was ordered by a doctor not to do any heavy lifting until his wrist healed. But Haupfear alleged he was told that Amick said the injury led directly to his firing and that, "because it was my fault, that [is why] I was fired," concluding that "my job was taken because of my injury."
Haupfear said in his complaint against the company that he hoped his suit would help ensure "that this business will not continue to do people this away (sic.)"
Former West Chicago OSI plant worker Rosa Maria Ramirez said in an interview last week that OSI consistently committed labor violations in order to ensure high productivity at the plant. She echoed Julien and Haupfear's claims, alleging that she was pressured by OSI to work while injured, though she was not fired because she worked through the pain.
"I've hurt myself there multiple times. I did something to my shoulder a couple of times, but they forced me to come back to work," she said. "[OSI's] doctor said I was fine and if I did not come back to work I would be fired. My doctor said I needed surgery."
The extent of alleged FMLA violations by OSI's companies has not been limited to employees being terminated in connection with injuries.
Chicago resident Carla Washington sued OSI Industries on April 13, 2001, alleging that she was demoted by the company after she returned from maternity leave in 1999.
"[O]n September 20, 1999, Carla Washington returned from her maternity leave. In violation of the FMLA, and the regulations enforcing the Act, she was not reinstated to her position of recruiter or an equivalent position," the complaint alleged. Instead, the job had been reassigned to a temporary worker and Washington was assigned a temporary position "learning about the positions of other employees" and doing "clerical work which was not previously a job duty," she alleged in the complaint.
The complaint went on to allege that "[o]n October 19, 1999, Carla Washington was told by her immediate supervisor that she was being discharged" in violation of U.S. code. Court records show that the suit was dismissed with prejudice and without costs in September 2001.
According to an article in Bench & Bar of Minnesota, the Minnesota State Bar Association's official publication, lawsuits claiming FMLA violations are on the decline nationwide.
"In the last decade, the [Department of Labor] has handled between 1,800 and 3,500 FMLA cases annually, with the number generally decreasing," the article states. "The agency finds a violation in roughly half of those cases, resulting in back wages to employees totaling between $1.5 million and $3.7 million per year, trending closer to the $1.5 million figure in the last several years. The downward trend likely reflects a better understanding of the FMLA requirements by human resources professionals and management personnel."
(This story has been updated. An earlier version incorrectly stated that OSI Group operates in 40 countries. In fact, OSI Group operates in 17 countries. In addition, the story originally stated that Fair Oaks Farms was a subsidiary of OSI. It is not, but is instead an affiliated company.)
FOR FREE to continue reading
✔️ Unlock the full content of International Business Times UK for free
offer available for a limited time only
✔️ Easily manage your Newsletters subscriptions and save your favourite articles
✔️ No payment method required
Already have an account?
Log in
© Copyright IBTimes 2023. All rights reserved.