School Stabbings Focus Attention On China's Mental Health Care System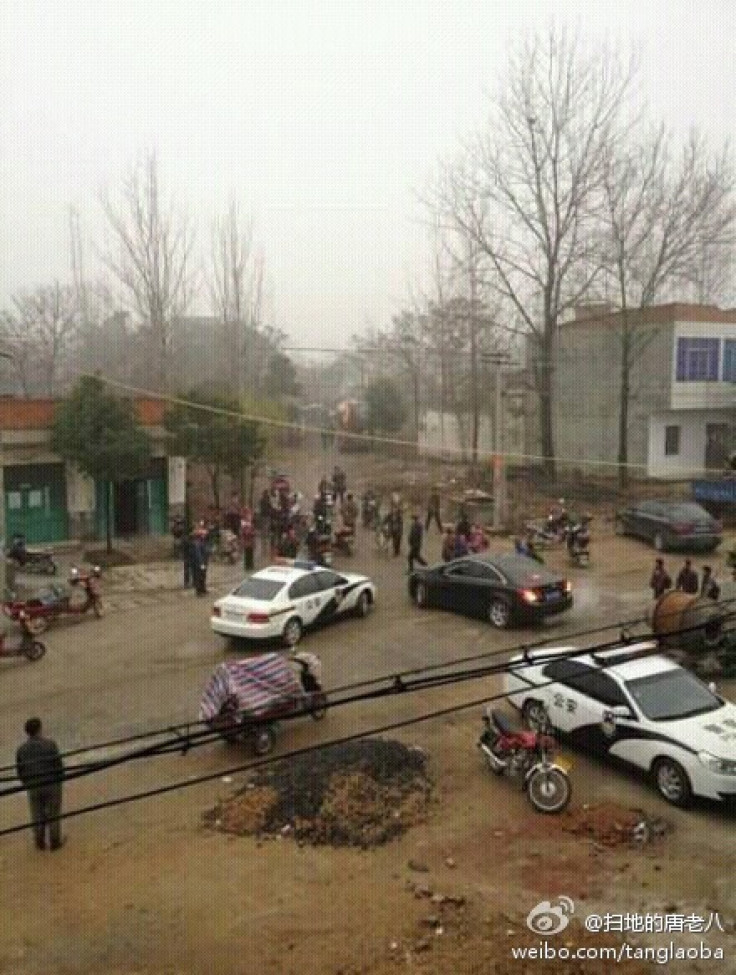 A number of knife-wielding attacks on children in various schools across China have occurred in recent years, underlining the shortcomings of the nation's mental health care system.
State-run news agency Xinhua has reported that Min Yingjun, 36, was arrested after he went on a stabbing rampage that left children and an elderly woman injured as they were walking to school on Friday morning. A post on Weibo, China's top microblogging site that's similar to Twitter, described the "vicious incident" that unfolded.
"One mental patient charged into a group of students on their way to school, hacked and injured one resident and 22 students," the post read.
The man who initially stabbed the elderly resident before attacking the children was eventually stopped by school guards.
No fatalities resulting the incident have been confirmed, an outcome that cannot be said for previous incidents that occurred in 2010 and 2011.
Last August, a daycare facility employee in Shanghai went on a similar rampage, injuring eight children with a box-cutter. The victims were between the ages of 3 and 4 years old, and they sustained injuries mostly to their necks and heads. Most were immediately rushed to the nearby Fudan University hospital for treatment. The woman accused of the attack was 30 years old and suspected of suffering from mental illness.
In March 2010, a stabbing spree in Fujian province made international headlines after a man brandishing a 10-inch knife attacked students at the entrance of their school, killing eight and critically injuring five.
According to China Daily, the attacker grabbed children who were standing in line and started brutally stabbing -- one boy was stabbed to death in front of his mother, who had just dropped him off. The incident reportedly took under a minute, before the attacker, Zheng Mingsheng, was stopped by passers-by and school security. Zheng, who was a former community doctor, was also suspected of having various mental problems and was overheard screaming "they don't allow me to live and drive me crazy. I will not spare them!" during the attack.
Though the reason why children and schools have been the target of these grisly attacks is unknown, the common factor that is the perpetrators' mental illness cannot be ignored. Many of the previous attackers have been diagnosed with dementia, schizophrenia and psychosis. The Fujian school tragedy, and the incidents following, increased national concern about the nation's inadequate mental health care system and its care for those diagnosed as mentally ill.
China's limited mental health facilities and caregivers, official reports acknowledge, are inadequate to provide proper care for the nation's patients.
In 2009, the Ministry of Health's Center for Statistics Information reported that China had a total of nearly 19 million psychiatric patients. Still, there are only 637 psychiatric hospitals and only 88,117 health professionals trained to provide care.
In an essay published in Foreign Policy, in January 2011, Wan Yanhai, a medical doctor and advocate for HIV/AIDS prevention in China, criticized China's conflicted approach to mental health care, and the dangers it can cause.
"I have seen people sent to mental hospitals for being gay, for domestic disputes and for political dissent," he wrote.
"Many whose lives could be improved will never receive medical attention, and many who don't need it are held in confinement in the name of medicine."
© Copyright IBTimes 2023. All rights reserved.
FOLLOW MORE IBT NEWS ON THE BELOW CHANNELS