Scores Of US Troops Reported Exposure To Chemical Weapons In Iraq Since 2003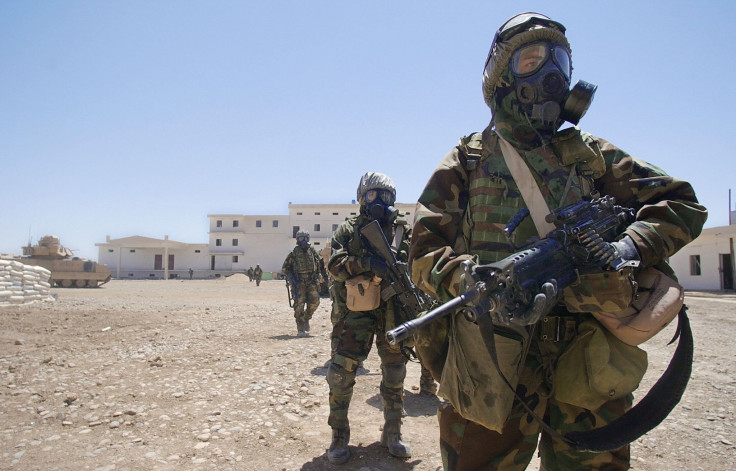 While American troops did not find weapons of mass destruction, more than 600 soldiers since 2003 have reported to military medical staff members that they may have been exposed to abandoned chemical weapons in Iraq, according to a report from the New York Times on Thursday.
Last month, an investigation by the Times initially disclosed at least 17 cases of American service members who were injured by sarin or sulfur mustard agent after 2003. At the time of the investigation, the government's official tally of exposed troops was classified. But an internal review of Pentagon records ordered by Defense Secretary Chuck Hagel revealed that 629 people answered "yes" to the following post-deployment health assessment question: "Do you think you were exposed to any chemical, biological and radiological warfare agents during this deployment?" The same people also filled in the block with information indicating chemical agent exposure, according to the Times.
The new and larger count indicates there could have been more encounters than the U.S. has acknowledged and that others -- including foreign soldiers, private contractors and Iraqi troops and civilians -- may have also been at risk.
Col. Jerome Buller, a spokesman for the Army surgeon general, told the Times Thursday that each person who answered the questionnaire would have received a medical consultation at the end of their combat tour. But the military failed to take further steps. For over a decade, the Pentagon kept this chapter of the Iraq occupation from view. Officials failed to compile the data, track veterans with related medical complaints or circulate warnings about risk to soldiers and to the Department of Veterans Affairs.
Initially, Hagel asked military chiefs and service-branch secretaries to examine the medical care and treatment received by the 17 soldiers disclosed in last week's investigation by the Times; not a formal review or investigation, a senior defense official told Stars and Stripes. Now, Pentagon officials said it will expand outreach to veterans, including a toll-free national telephone hotline for service members and veterans to report potential exposures and seek medical evaluation or care, the Times reported Thursday.
"It's too little, too late," Jordan Zoeller, a former Army sergeant, told the Times on Thursday. Zoeller reportedly served in a platoon that was exposed to sulfur mustard agent as soldiers destroyed buried chemical artillery shells near Taji in 2008. Zoeller told the Times his claims of exposure were denied by the army and never examined, despite being medically retired after developing a series of health problems.
The Times report said that the news of the discoveries was suppressed by the authorities for a variety of reasons and, in a bitter irony, many of the weapons that ended up causing injury to U.S. troops in Iraq were designed in the U.S. and manufactured in Europe.
Maj. Gen. Gary Cheek, deputy commanding general for Army operations, reportedly defended the decision to keep the chemical exposure incidents classified, saying that the military did not want to provide information to insurgents that Iraq's old chemical munitions "could be effective."
© Copyright IBTimes 2023. All rights reserved.