Scott Walker Illegal Immigration Flip-Flop Might Face Scrutiny During Arizona Visit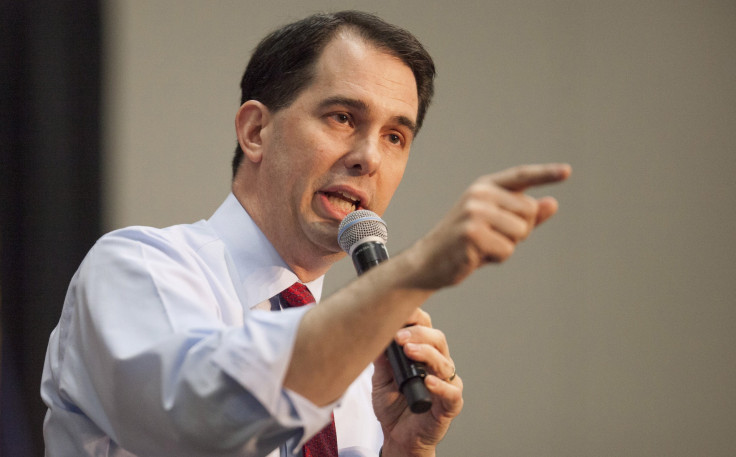 The Arizona sun may not be the only heat Wisconsin Gov. Scott Walker will face on Wednesday as he addresses the Arizona Chamber of Commerce in Phoenix as a possible Republican candidate for president. Earlier this month, Walker acknowledged a change in his thinking on an issue more pressing to Arizonans than residents of his home state: immigration.
In 2013, a Wisconsin newspaper asked Walker if he could envision a scenario where the country's 11 million illegal immigrants received citizenship after waiting a certain amount of time and paying a penalty. "Sure, yeah. I think it makes sense," Walker told the Wausau Daily Herald. When he was the Milwaukee County executive in 2005, Walker supported the immigration reform bill sponsored by U.S. Sens. John McCain, R-Ariz., and Ted Kennedy, D-Mass. The controversial bill would have allowed illegal immigrants to apply for citizenship if they met certain provisions after six years.
In an interview with Fox News' Chris Wallace earlier this month, the Wisconsin governor said that is no longer his view. "I don't believe in amnesty and part of the reason why I've made that a firm position is I look at the way this president has mishandled that issue," he said, referring to President Barack Obama's executive actions on immigration that are estimated to protect some 5 million illegal immigrants from deportation over the next three years. Walker added that he was one of the governors who signed on to a Texas lawsuit that prevented the executive actions from taking place last month. The case has yet to be decided on its merits.
"I think the better approach is to enforce the laws and give employers -- job creators -- the tools like E-Verify and other things to make sure the law is being upheld going forward," Walker said. E-Verify is a system used by 500,000 employers to check whether employee information matches against government records to determine if they're eligible to work.
When asked about the inconsistencies between his previous views and his new statements, Walker said, "My view has changed. I'm flat-out saying it. Candidates can say that. Sometimes they don't."
It's unclear whether Walker will bring up immigration in Phoenix, although it's more likely that he'll talk about the economy and his successful scaling back of union protections in Wisconsin -- a popular issue among the conservatives he'll try to court if he runs for president. But by appearing in Arizona, Walker runs the risk of facing hecklers or protesters in the Grand Canyon State, which has been at the forefront of the immigration debate.
Arizona passed the strictest anti-illegal immigration laws in the country in 2010. The U.S. Supreme Court later struck down most of the law's provisions, but a controversial aspect of SB1070 remains -- the right for authorities to ask for immigration papers from anyone who might be in the country illegally. The measure is seen by critics as an affront to civil liberties that disproportionately affects minorities.
Walker is the first possible 2016 GOP contender to speak before the Arizona chamber's "Leadership Series," which plans on hosting other potential Republican candidates for president. Walker was scheduled to speak before the chamber and nonchamber members at noon local time for the minimum $105-per-head luncheon.
Should Walker run into a contentious situation, he would not be the only prospective Republican candidate to face backlash over their immigration stance. U.S. Sen. Marco Rubio, R-Fla., faced an angry crowd in Florida while on his book tour for his memoir "An American Son," last month. Rubio was part of the so-called "Gang of Eight" that helped craft a Senate-approved immigration reform bill in 2013. The bill was killed by Republicans over concerns it was too lenient toward illegal immigrants. Rubio later tried to walk back from his position at the Conservative Political Action Conference last month, saying the plan wouldn't have worked without tighter border security and that the issue should be solved in pieces instead of a comprehensive package.
© Copyright IBTimes 2023. All rights reserved.