Scott Walker State Address: Jabs Chris Christie, References 2016 Presidential Run, Condemns Charlie Hebdo Attack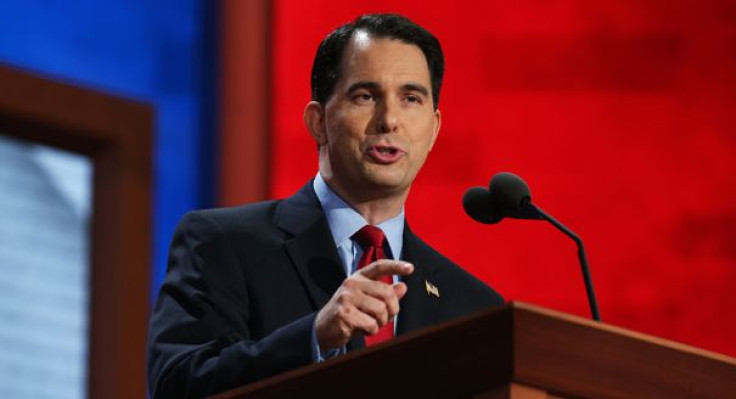 Wisconsin Gov. Scott Walker kept his state of the state address lighthearted and upbeat Tuesday night, making several references to the Green Bay Packers. But the Republican governor also took a jab at New Jersey Gov. Chris Christie and referenced potential White House ambitions, amid talk that Walker will launch a 2016 presidential campaign.
"And how about those Packers?" Walker said just a few minutes into his speech. It was the first of many mentions of his beloved NFL team. "I had plenty of fun hugging owners in the stands at Lambeau," he said, alluding to the ridiculed hug between Cowboys owner Jerry Jones and Christie, who also delivered his state of the state address Tuesday.
Walker, who won reelection in November, condemned last week's terror attacks on the office of satirical newspaper Charlie Hebdo in Paris, France. "Tonight, we must stand together -- Democrat and Republican -- and denounce those who wish to threaten freedom anywhere in this world. We need to proclaim that an attack against freedom-loving people anywhere is an attack against us all. And we will not allow it," Walker said, signaling his stance on the nation's foreign affairs.
Walker boasted a drop of 4 percentage points in Wisconsin's unemployment rate and more than $2 billion in accumulated tax decreases. "Property taxes are literally lower than they were in 2010. How many governors can say that?" Walker said, indicating he was confident he would make a competitive Republican presidential candidate.
Walker also suggested ambitions for a larger campaign, proposing legislation to shrink government. "We have a chance to lead here in Wisconsin. I believe that government has grown too big and too intrusive in our lives and must be reined in, but the government that is left must work. As taxpayers, we should demand that the functions that government must reasonably do, it should do well. We should demand a government that is more effective, more efficient and more accountable to the public," Walker said during his 25-minute speech.
Walker, however, did not address the projected $2.2 billion budget deficit that Wisconsin faces by mid-2017. Top Wisconsin Democrats have criticized Walker's consideration for the Oval Office as a distraction from his duties in Wisconsin. "We know Scott Walker already has his eye off the ball in Wisconsin," Democratic Party Chairman Mike Tate reportedly said in a conference call with reporters, according to the Associated Press.
Walker has said he will not announce a decision on a presidential run until this spring. But last week, he hired Rick Wiley, a national GOP strategist with ties to the Wisconsin Republican Party, to serve as his campaign manager should he run for president, CNN first reported, citing multiple Republican sources.
© Copyright IBTimes 2023. All rights reserved.