Christie And The Cowboys: Watchdogs Demand Investigation By New Jersey Lawmakers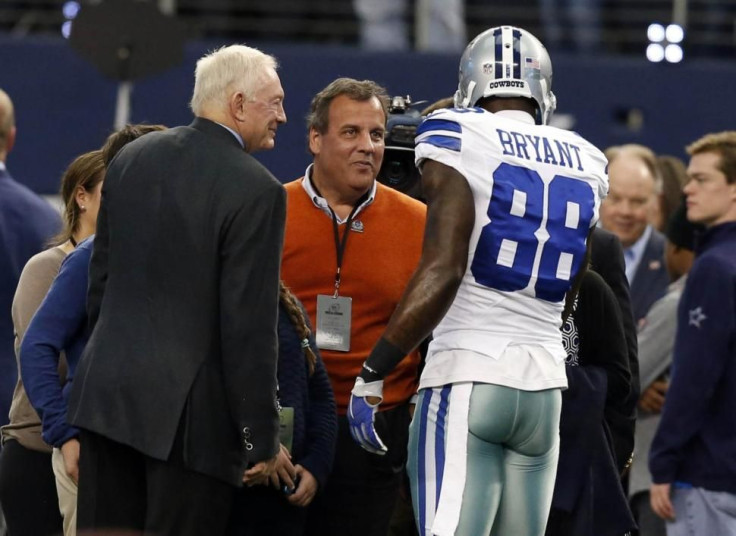 Three major campaign finance watchdog groups today called on the New Jersey Ethics Commission to investigate Gov. Chris Christie for accepting free travel and football tickets from Dallas Cowboys owner Jerry Jones. Despite state ethics rules barring such gifts, Christie accepted the tickets and travel at the same time he oversees his state's business with the NFL and Jones.
Christie has asserted that after taking office in 2010, he became friends with Jones, and that therefore the gifts are allowed under an executive order he signed. But in a letter to the New Jersey Ethics Commission from the Campaign Legal Center, Democracy 21 and Public Citizen, the watchdog groups say that explanation does not stand up to legal scrutiny -- and would set a dangerous precedent.
"A relationship based on the fact that a gift recipient is a governor and the giver has conducted ... business with the state is not a "friendship" under any meaningful definition of the word," the letter states. "To find otherwise would turn every person looking to do business with a state and every lobbyist into a potential 'friend' of any state official they are seeking to influence."
International Business Times first broke the news that Christie accepting the gifts may run afoul of New Jersey's ethics rules, which prohibit public officials from accepting access to entertainment events from any person or entity that public officials "deal with, contact or regulate in the course of official business."
Under Christie, New Jersey has provided major tax subsidies to the National Football League. Additionally, Christie pushed the Port Authority of New York and New Jersey to award a contract to Legends Hospitality LLC, which is part-owned by Jones.
The letter from the watchdog groups cites IBTimes reporting.
"There's no doubt that once he became governor, a lot of people looking to do business with New Jersey wanted to be Chris Christie's friend," said Larry Noble, Campaign Legal Center Senior Counsel. "But that's not the type of friendship that justifies lavishing gifts worth tens of thousands of dollars on the governor. The 'personal friendship' exemption is understood to mean longstanding friendships, not relationships with those who have business with the government which are cultivated only after one is elected to high public office. We urge the State Ethics Commission to quickly launch an investigation to determine whether these actions were appropriate and legal, and we urge the commission to make public its findings and reasoning."
New Jersey lawmakers who conducted the legislature's inquiry into George Washington Bridge lane closures last year have told IBTimes that they are currently considering launching a formal investigation into Christie's decision to accept the gifts from Jones.
© Copyright IBTimes 2023. All rights reserved.