Scott Walker Tenure Controversy: How Wisconsin College Professors Are Reacting To State's Proposed Budget Cuts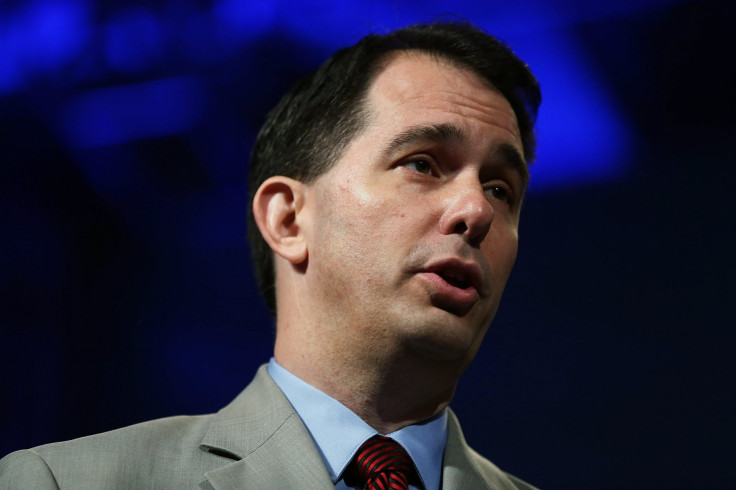 For most U.S. university professors, the summertime typically serves as an escape from the stresses of the school year and can many times be a time to relax, travel and casually prepare for the upcoming fall semester. However, some teaching faculty at the University of Wisconsin-Madison have experienced quite the opposite during the young summer season, worrying that their esteemed employer could lose its competitive edge as one of the nation's best public universities if the state's proposed budget and all of its implications on higher education get approved.
The University of Wisconsin's main campus may be a shining star when it comes to public universities in the Midwest, but all that prestige could be a thing of the past by the end of the month if Gov. Scott Walker signs the state's budget that would significantly alter the structure of the school system's tenure track for professors, some academics said, and professors are adamantly voicing their concerns.
Why Now?
Currently, Wisconsin is the only state to have academic tenure protected by law. However, Walker's budget plan proposal, which has been approved by the GOP-controlled Joint Finance Committee, would shift control of tenure policies from being protected by state statute to the university system's Board of Regents, according to U.S. News & World Report. The proposal also included changes on shared governance, which would eliminate faculty members' deciding power on issues such as curriculum, instruction and personnel matters and instead would give them an advisory responsibility. The proposal has some staff at the UW-Madison asking the same question: Why?
"I was surprised to see the proposal because it does not really have an impact on the budget; fiscally it does not make much sense," Barry Burden, a professor of political science and director of the new Elections Research Center at UW-Madison, said. "I have not seen a coherent justification for this type of proposal, and I haven't seen models in other states that have done things like this. It just seems unnecessary and unrelated to the larger budget."
Donald Moynihan, a professor of public affairs at UW-Madison, wondered why the system needed an overhaul if all indications underscored a general level of success across the board. "We have a world class institution at relatively low cost to the state, low in-state tuition rates, generate a huge economic return on investment, and we regularly rank in the top five among all universities in terms of winning competitive federal research dollars," Moynihan said. "We have been doing really well with the current model, despite declining state support. So what's the problem that needs to be fixed? Which peer institution should we look more like? Those are pretty basic questions that no one has answered."
Moynihan only scratched the surface of UW-Madison's academic, economic and overall contributions to the state: The school has been continuously ranked as one of the top public universities in the country; it is the fourth largest research institution in the nation; it creates 193,310 Wisconsin jobs annually; it accounts for $15 billion in annual donations to the state; it is the only university (public or private) to be ranked in the top five for research spending in each of the last 25 years; it awarded 6,659 bachelor's degrees in 2014; and it has been ranked consistently among the top 50 best universities by U.S. News & World Report. If that wasn't enough, every $1 invested in UW-Madison creates $24.14 in economic activity in Wisconsin.
University of Wisconsin-Madison Profile | StartClass
Despite that, Walker's budget proposal includes a $250 million dollar cut to higher education, which is roughly an 11 percent reduction in state support for the university, according to the Los Angeles Times. Walker -- who attended Marquette University, a private university in Milwaukee, but did not graduate -- was expected to announce his candidacy for the Republican presidential nomination in the near future, and is no stranger to controversy. In 2011, he passed a law that limited the collective bargaining rights of public sector unions, including teachers' unions. In the wake of the racially-motivated Charleston, South Carolina shooting that killed nine people, Walker last week signed two bills into law that expanded gun rights in Wisconsin. Now, with a potential run at the White House looming, Wisconsinites shouldn't be surprised by his latest legislative plan, said Larry Anderson, a political science professor at UW-Whitewater.
"The political scientist in me understands that the governor is attempting to appeal to a certain constituency by proposing this," Anderson said. "As a soon-to-be-declared candidate for the Republican nomination, he needed to appeal to the most conservative element of the Republican electorate. So, really, so much of this is not a Wisconsin budget, but a running for president budget."
The Board Responds
The Board of Regents, whose 16 out of its 18 members were appointed by the governor subject to confirmation of the State senate, said that they have planned a task force to examine how to proceed if the proposals are enacted.
"We are as a board and always have been and always will be supportive of tenure," Regina Millner, the regents' vice president, said in an interview with the New York Times. "Our commitment to tenure, our commitment to academic freedom, our commitment to a strong faculty with secure support for the work they do, it's absolute."
Still, faculty was worried about the relaxed language of another section of the budget bill that was inserted by the Legislature and would make it much easier for faculty members under tenure to be fired. The language in question -- "when such an action is deemed necessary due to a budget or program decision requiring program discontinuance, curtailment, modification or redirection" -- has no actual promise of tenure, critics said, according to the New York Times. Previously, in order for a teacher to be terminated under tenure, a school had to show cause and allow for due process.
Poaching Professors
Another worry of teaching staff at UW-Madison is that their school would become much less attractive to professors looking for work, making some of their most-esteemed colleagues prime targets to be recruited by other schools.
"We are in a very competitive environment for top talent with our peers," Donald Downs, professor of political science, law and journalism at UW-Madison and president of the Committee for Academic Freedom and Rights, said. "My department has 'stolen' four faculty members away from Harvard in recent years. Our ability to compete like this could be seriously harmed, and my University could lose its greatness. That would be a disaster for us and the state."
Senator Sheila Harsdorf, a Republican member of the Wisconsin senate, argued that Walker's proposal would not eliminate tenure. "We are directing the Board of Regents to develop a policy, just as there is in so many states," Harsdorf said. "It's just a matter of recognizing the ability for chancellors and campuses to administer and manage their operations."
Hundreds of faculty members at the university signed a letter opposing the changes, but were aware of the reality that the proposal was still very likely to pass. Downs realized some professors may engage in protests at the Capitol, but he said a different tactic would be more beneficial.
"I think we need to keep the argument on an intellectual level, speaking out but with reasoned argument that is not dogmatic," Downs said. "I also think that we need to look in a mirror and see the ways in which we have contributed to the criticisms against us: the costs of higher education; the lack of intellectual diversity; the administrative overlay that is becoming more and more expensive and repressive. We need to defend our principles and what we are, but we also need to be appropriately self-critical."
Free Speech Endangered?
Losing their competitive edge was not the only thing faculty members in the UW system were afraid of. Downs also expected Walker's proposal to potentially have a chilling effect on academic speech due to a lack of tenure protection. "It is possible that the new proposals would make even more faculty members afraid or reluctant to challenge reigning campus orthodoxies, which would chill the speech of conservatives and libertarians more than progressives for the simple reason that progressives are in the majority," Downs said.
Anderson took a similar stance on the topic. "I think this will devastate free speech," he said. "I suppose that tenure-protected professors feel more free to teach as they see fit. I've never felt this pressure, because I have a very collegial and tolerant department. Still, I think we are potentially entering an environment in which we need to be concerned about the larger political environment of the state. If tenure is gone and one can be let go at will, it will be difficult to teach critical thinking, which, by definition, challenges conventional wisdom and prevailing attitudes."
Stephen Hurley, a non-tenured adjunct professor at UW-Madison's law school and a criminal lawyer who did not choose to comment on Walker's proposal specifically, had a different perspective on what it really meant to be tenured.
"Tenure was something that was devised to ensure academic freedom, so that a professor doesn't have to worry about teaching something that is unpopular because tenure will protect the professor from retribution by the state for that unpopular position," said Hurley, who has been teaching at UW-Madison for 26 years without tenure, and did not believe the lack of protection had affected his teaching.
"Instead, it can be fairly criticized that it has been used as an alternate personnel system as opposed to as a guarantor of academic freedom. If tenure protection is weakened, yes, it could affect people coming to UW-Madison teach, but will it affect the quality of teaching at Madison in the long run? The answer is no, as long as academic freedom is ensured and people are paid well for their work."
More Than Educators Affected
If adopted, the budget would impact the entire UW system -- which educates approximately 180,000 students at 13 four-year universities -- and not just faculty at UW-Madison, where 996 instructors and researchers were tenured, 271 were on tenure track and 391 were not tenured.
"Tenure protections set in law tell the rest of the country that Wisconsin is committed to upholding academic freedom and sees tenure as a crucial asset in attracting the best professionals around the world and keeping them here in Wisconsin," Andrew Austin, an associate professor and chair of Democracy and Justice Studies at UW-Green Bay, said. "Why shouldn't we be a model for the nation? The state is already losing some of its finest faculty, which means an exodus of research moneys from the state. It will lose a great deal more if tenure protections are removed or weakened. If economic and social developments are valuable things to Wisconsinites, then retention of strong tenure language is essential."
© Copyright IBTimes 2023. All rights reserved.