Seahawks vs. Panthers: Will Russell Wilson Or Cam Newton Win The QB Playoff Battle?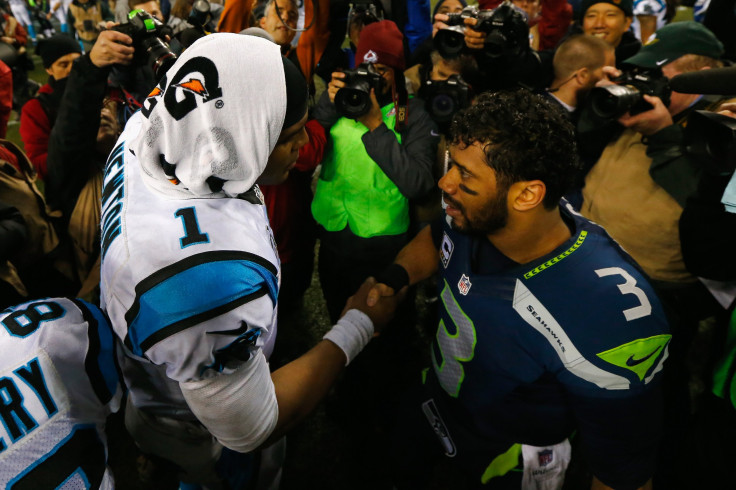 Overpowering running game? Check. Stout and talent-laden defense? Check. Well-versed and experienced coaches? Check. Swagger? Check.
By most every comparison the Seattle Seahawks and Carolina Panthers are so evenly matched that Sunday's NFC Divisional Round playoff may be one for the ages, and the difference between winning and losing will almost certainly come down to the play of their respective quarterbacks, Russell Wilson and Cam Newton.
In recent years, Wilson and the Seahawks have made quick work of the Panthers. Wilson has a 3-1 regular season mark against Carolina and Newton, and claimed last year's postseason showdown 31-17 thanks to a 17-point, fourth-quarter explosion.
But as of right now, based off his play this season alone, it's quite difficult to believe Newton doesn't have the edge in almost every statistical and abstract category.
Both are inreasonably good health, though Newton has taken far less of a beating this season. Carolina's fifth-year passer and the league's presumed MVP took only 33 sacks this season, the lowest total of his career, and he also got to rest up for an extra week while Wilson and Seahawks slogged through the bitter cold in Minneapolis for three hours.
Wilson, on the other hand, took 45 sacks this season, an amount bettered by only two other quarterbacks in the NFL. Despite the beating he took as Seattle retooled its offensive line and much to his credit, the 27-year-old Wilson never appeared on the Seahawks injury report this season and he's never missed a single game since becoming the team's starter back in 2012.
Still, much like we're seeing with the Steelers Ben Roethlisberger and Denver's Peyton Manning, injuries, however minor, can take a toll over time and Wilson's had far less protection than Newton this season.
And with Newton seeming far less banged up, the Panthers shouldn't see any drop-off from his stellar play in the regular season. Guiding Carolina to a 15-1 mark, including one comeback victory over Seattle in Week 6, Newton tallied 3,837 passing yards, a career-best 35 touchdowns to 10 interceptions, a 99.2 passer rating, and led the NFL with four game-winning drives.
That last one is especially telling, and the Seahawks know all about it. Newton's actually gotten better as games wore on this season, rising from an incredible 106.3 passer rating in the fourth quarter to 110.8 if the score is within seven points in the final stanza. There's no better proof of Newton's dominance, even against a stacked defense like Seattle's, than the two consecutive 80-yard drives he slapped together to lead the Panthers to a 27-23 win over Seattle back in October.
Of course, if it weren't for Newton's dominant season, Wilson may too have garnered MVP consideration this season. He also eclipsed many of his previous career highs in completion percentage (68.1), passing yards (4,024), passing touchdowns (34), led in the NFL in passer rating (110.1), and engineered three fourth-quarter comebacks.
But the personnel around Wilson, compared to Seattle's last two runs to the Super Bowl, doesn't appear as strong as Newton's. To his credit, Wilson helped receiver Doug Baldwin post the best season of his career with 78 receptions for 1,069 yards and an NFL-best 14 touchdowns, while Jermaine Kearse and rookie Tyler Lockett helped in spots to provide 11 receiving touchdowns.
Still, a season-ending injury to tight end Jimmy Graham and the disappearance and uncertainty of running back Marshawn Lynch leave Wilson and the Seahawks vulnerable to Carolina's top ranked attack.
Newton has top running back Jonathan Stewart (989 yards, six touchdowns) and first-team All-Pro fullback Mike Tolbert (256 yards, one touchdown) to complement his equally dangerous ground game of 636 rushing yards and 10 touchdowns, helping Carolina form the league's No. 2 rushing attack.
And, following the season-ending injury to receiver Kelvin Benjamin, Newton's also made the most of a patchwork group of wide outs. He got a career year out of speedster Ted Ginn Jr., helped develop rookie Devin Funchess, and veteran Jerricho Cotchery was third on the team with 39 receptions.
The Panthers also have All-Pro tight end Greg Olsen, who may serve as the ultimate equalizer should Seattle's No. 1 rushing and points allowed defense slow the run game. The nine-year veteran totaled 1,104 yards and seven touchdowns, with better than a 10th of those yards coming against Seattle this season.
So while Wilson's gotten the better of Newton in their previous five meetings, the sixth figures to be the charm for Newton and the Panthers.
© Copyright IBTimes 2023. All rights reserved.