Sean McVay Discusses Looming NFC West Title, Rams Welcome Aqib Talib's Return
The Los Angeles Rams are on the verge of winning their second consecutive National Football Conference (NFC) West division title and will have it wrapped up with a win over the Detroit Lions on Sunday.
The Rams are coming into the game after their bye week following their epic 54-51 win over the Kansas City Chiefs in Week 11 of the NFL season. They could have wrapped up the title last week if the Seattle Seahawks had lost, but they ended up beating the Carolina Panthers.
Rams head coach Sean McVay admitted he wouldn't have been upset if they were handed the title by way of a loss for the Seahawks, but revealed that the players do have respect for the Seattle franchise's recent form.
However, they will be favorites when they take on the Lions on Sunday and are almost certain to get the job done and wrap up the NFC West title. McVay though is looking at the bigger picture and wants his team to step up a notch going into the latter part of the season.
Moreover, they will be keen to finish as the top seeds in the NFC in order to have home-field advantage throughout the playoffs, but that privilege is currently with the New Orleans Saints, who have the same 10-1 record, but are ahead on head-to-head.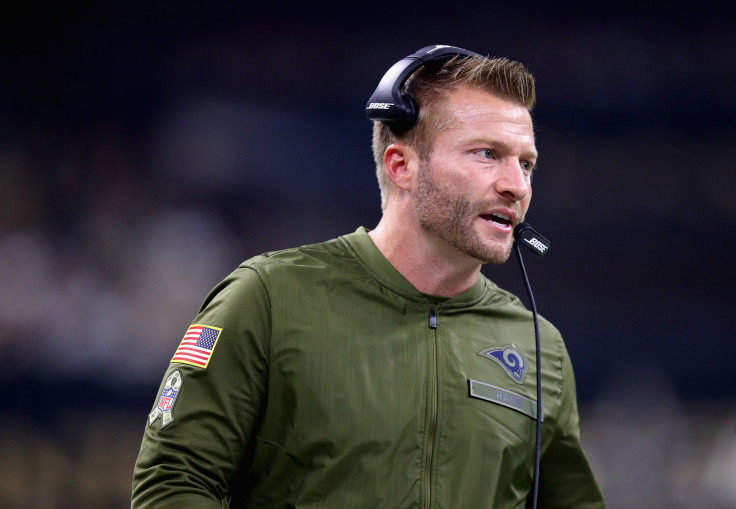 "As far as saying would I have been upset if Carolina won? No, I wouldn't say that," Rams head coach McVay said, as quoted on Sports Xchange. "But the nice thing for us is, I think our guys have earned the right to say, 'Lot of respect for what Seattle has done.'"
"They've done an excellent job winning two big games against the Packers and the Panthers the last handful of weeks. But if we take care of business this week, then that kind of takes care of itself. We've got to find a way to get better. Those good teams really do that," he added. "I think it's a credit to our players, to our coaches to be playing meaningful football this late in the season as you're going into your 12th game to have a chance to, you know, you win it then you end up getting the division title."
"That's certainly something we don't take for granted, but as long as we focus on that daily improvement, that daily excellence, then I think you naturally do kick it up a notch," he said.
The Rams will welcome Aqib Talib back from injury and he is expected to play a part when they take on the Lions on Sunday. McVay is certain the cornerback's return will give a massive boost to the team in the latter stages of the season.
"I know he's excited and just his presence for our team will be a big benefit to us -- having him out on the practice field," McVay said. "He's been around a lot and he's voted a captain by his guys and he's clearly one of the leaders on this football team based on the production and the experience and really, just the way he handles himself. So it's great to have him back out here and we're looking forward to seeing how he does this week."
© Copyright IBTimes 2023. All rights reserved.