Secret Construction Activity Seen At Suspected Chinese Military Site In UAE, Leaked Docs Say
KEY POINTS
American spy services found signs of possible construction in December at a port near Abu Dhabi
The activity was seen a year after the UAE announced halting construction at the site
The U.S. has been keeping an eye on the construction activity with a particular focus on the Khalifa Port
Signs of possible construction activity are observed by American spy services at a suspected Chinese military site in the United Arab Emirates, according to a report.
According to top-secret intelligence documents that were leaked and obtained by the Washington Post, the construction activity was observed at a port near Abu Dhabi in December 2022. This activity was seen about a year after the UAE, a longtime U.S. ally, announced that it was bringing the construction to a standstill after U.S. officials asserted that Beijing would use the port for military purposes.
U.S. intelligence believes the recent activity detected at the site is an outcome of the UAE strengthening its ties with China and also a part of Beijing's efforts to build a global military network with different overseas bases.
The U.S. has been keeping an eye on the construction activity with a particular focus on the commercial Khalifa Port, about 50 miles north of the capital. China and the UAE have always maintained that the port venture is purely commercial.
Following pressure from the U.S., the UAE announced in December 2021 that it stopped construction at the Chinese shipping port. However, the leaked documents reveal that there had been some activity at the Khalifa Port last December, about a year after the 2021 announcement.
The facility "likely was connected to municipal power and water" and "a walled perimeter was completed for a PLA logistics storage site," said one of the classified documents, which were leaked onto the Discord messaging platform, according to The Post.
"The PLA facility" is "a major part" of China's plan to establish a military base in the UAE, a second document warned.
The deepening of the China-UAE relation poses a concern for American officials because the U.S. has enjoyed a strong relationship with the Emiratis over the years, and the UAE has been the third-biggest buyer of American weapons in the world since 2012.
Additionally, the UAE has also been a key security partner to the U.S., which has roughly 5,000 American military personnel posted at an air base about 20 miles outside of Abu Dhabi.
Emirati forces have also helped U.S. troops fight in Syria, Afghanistan and Iraq.
U.S. officials are concerned about the UAE forging a closer security relationship with China because this could jeopardize U.S. interests and also give China an upper hand in trade. A stronger security hold on the UAE would also give China more leverage in the U.S.-China competition for global influence.
One of the documents obtained by the Washington Post reveals that China's latest efforts in the UAE are part of Beijing's larger mission to have at least five overseas bases and 10 logistical support sites by 2030. This mission is called "Project 141" by Chinese military officials, according to the leaked documents.
Liu Pengyu, a spokesman for the Chinese Embassy in Washington, said the concerns that U.S. officials have about China's military facilities abroad are misplaced. "As a principle, China conducts normal law enforcement and security cooperation with other countries on the basis of equality and mutual benefit," Liu told the outlet.
"The U.S. runs more than 800 overseas military bases, which has caused concern by many countries around the world," he added. "It is in no position to criticize other countries."
Some U.S. officials reportedly said they would not allow Beijing to operate a military base in the UAE.
"UAE is a close partner, and we are regularly engaged with its senior leadership on a number of regional and global matters," said a senior administration official, who added that a significant rise in activity would be noticed if a Chinese base was being constructed in UAE.
There are "no current indications," the official added.
While some U.S. officials see the recent activity as manageable, others believe it calls for Washington to put more pressure on the UAE to stop the Chinese military base from being set up.
There are also opposing views on whether the UAE is deepening its ties with China for its own geopolitical agenda or performing a balancing act that would placate both the U.S., its longtime protector, as well as China, with whom the Emiratis seemingly align more in terms of their approach to human rights and democracy, some officials said.
"I don't think that they've gone to the Chinese and said, 'It's over, we're not going to do this,'" an administration official said.
Riad Kahwaji, who heads the Dubai-based Inegma security consultancy, said the UAE might be preparing for an incoming era of China leveling up to the U.S. or even overshadowing the country as a military power.
"The Chinese have managed to replace you in every other thing, so why not security?" Kahwaji told the outlet.
"There are people that believe that this is a very harrowing time in the Middle East, and the most important element of our diplomacy right now has to be a degree of patience," a senior U.S. official said. "But there are debates, absolutely."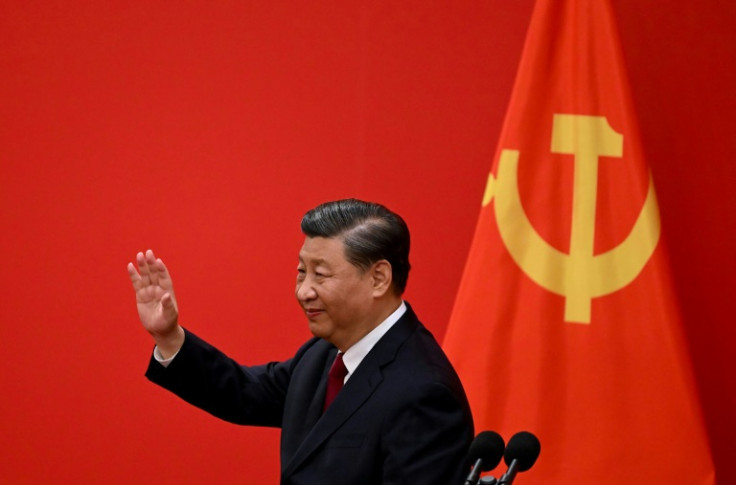 FOR FREE to continue reading
✔️ Unlock the full content of International Business Times UK for free
offer available for a limited time only
✔️ Easily manage your Newsletters subscriptions and save your favourite articles
✔️ No payment method required
Already have an account?
Log in
© Copyright IBTimes 2023. All rights reserved.