Secret Menus Are Real: List Of Restaurants, Fast Food Joints With Not-So-Secret Menu Items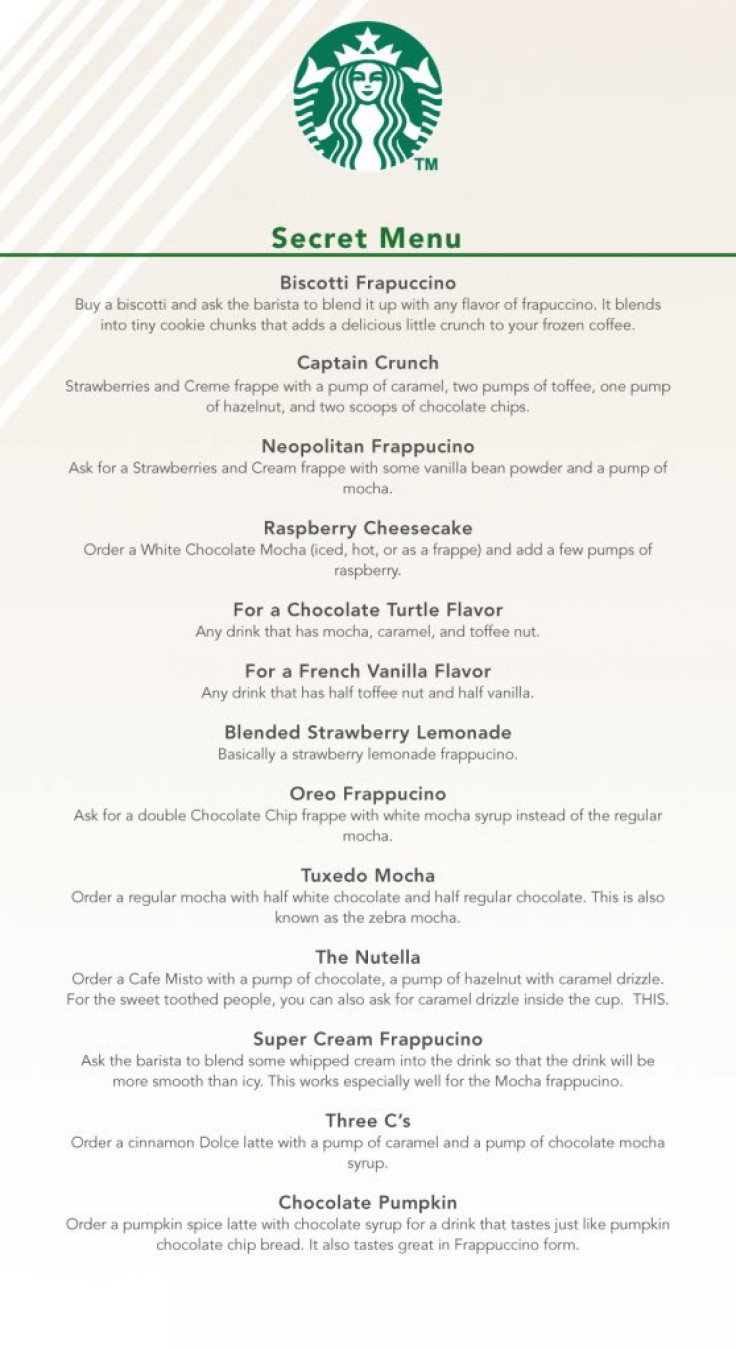 Secret menus at restaurants and fast food chains aren't such a secret anymore, thanks to food writers in the blogosphere who spill the beans.
U.S. News and World Report said in a recent article that secret menu items are becoming a bigger trend and a marketing strategy to help drive sales and attract new customers.
Jonathan Marek, senior vice president of Applied Predictive Technologies, a business analytics software company in Arlington, Va., that works with several fast food chains including Panera Bread, Subway and Wendy's, said that nearly every restaurant has a secret menu.
Marek said many food blogs have catapulted secret menu items to fame, which typically result in happy customers and thriving businesses.
"Many of these food blogs have pushed this trend quite a bit, where you've now got people going through the drive-thrus and thinking of creative ways to put different sandwiches together," he said.
Marek said the movement to include secret menu items was led by In-N-Out Burger, which used the strategy more than 20 years ago.
The West Coast fast food chain boasts on its website:
"Urban myth or just plain excellent customer service? Ok, you've heard the rumors, wondered what was on it, maybe even felt a little left out of the loop. But in reality, we don't have any secrets at all. It's just the way some of our customers like their burgers prepared, and we're all about making our customers happy. So here are some of the most popular items on our not-so-secret menu."
Marek said other restaurant chains have followed In-N-Out's lead over the past five years; some secret menu items are the creations of loyal customers.
"We don't really think of our secret menu as secret," Scott Davis, executive vice president and chief concept officer at Panera Bread, said. "We think of it as hidden. We want people to talk about it."
So which restaurants and fast food chains boast these super-secret menu items? Here's a list of the ones we know for sure. Let us know if we missed any!
In-N-Out Burger Secret Menu
"Double Meat:" two patties
"3x3:" three patties with three slices of American cheese
"4x4:" four patties with four slices of American cheese
"Grilled Cheese:" regular grilled cheese with two slices of American cheese
"Protein Style:" burger wrapped in hand-leafed lettuce instead of a bun
"Animal Style:" burger of your choice with lettuce, tomato, mustard-cooked beef patty, pickle, extra spread, grilled onions
"Fries Light:" softer fries
"Fries Light Well:" slightly crispy fries
"Fries Well:" crispy fries
"Fries Extra-Well:" very crispy fries
"Animal Fries:" melted cheese, spread, and grilled onions
"Cheese Fries:" fries with cheese
"Root Beer floats"
"Lemon-Up:" mix of lemonade and 7 Up
"Arnold Palmer:" a mix of iced tea and lemonade
"Choco-Vanilla Swirl shake:" mix of vanilla and chocolate flavors
"Neapolitan shake:" a mix of vanilla, chocolate, and strawberry flavors
McDonald's
"Monster Mac Burger:" eight-patty burger
"McGangBang:" McChicken sandwich inside of a double cheeseburger
"Mc10:35:" an egg McMuffin inside of the McDouble
"Big McChicken:" McChicken with chicken patties replacing buns
"Land, Sea and Air:" beef patty, chicken patty, and Filet O' Fish in one sandwich, with tartar sauce
Burger King
"Suicide Burger:" four beef patties, four slices of cheese, bacon and special sauce
"Veggie Whopper:" whopper with a veggie patty
"Rodeo Burger:" cheeseburger with barbeque sauce and onion rings
"Frings:" half onion rings, half French fries
Wendy's
"Grand Slam" or "Meat Cube:" four meat patties
"Barnyard Burger:" spicy chicken sandwich with layers of beef, bacon and ham interspersed with cheese
Jamba Juice
"White Gummi Bear:" mix of raspberry, pineapple and orange sherbet, peace juice, soymilk and frozen mangoes
"Sourpatch Kid:" mix of sour flavors with lemonade, lime sherbet, pineapple sherbet, blueberries, orange sherbet and raspberry sherbet
"Raspberry Dreamin':" mix of raspberry sherbet, raspberry juice, soymilk and frozen yogurt
Chipotle Mexican Grill
"Quesarito:" a 1,500+ calorie burrito wrapped in a quesadilla
Taco Bell
"Enchirito:" enchilada with beef, beans, cheese and diced onions, covered with red sauce
"Double-Grilled Quesadilla:" extra-crispy quesadilla
Starbucks Secret Menu
"Biscotti Frappuccino:" tiny cookie chunks in any flavor Frappuccino
"Captain Crunch:" Strawberries & Creme Frappuccino mixed with hazelnut syrup
"Neopolitan Frappuccino:" Strawberries and Creme Frappuccino mixed with vanilla bean powder and mocha syrup
"Raspberry Cheesecake:" white chocolate mocha with raspberry syrup
"Chocolate Turtle:" mocha, caramel and toffee nut
"French Vanilla:" half toffee nut and half vanilla
"Blended Strawberry lemonade:" strawberry lemonade Frappuccino
"Oreo Frappuccino:" double chocolate chip frappe with white mocha syrup
"Tuxedo Mocha:" regular mocha with half white chocolate and half regular chocolate
"The Nutella:" café misto with chocolate syrup, hazelnut syrup and caramel drizzle
"Super Cream Frappuccino:" whipped cream in any Frappuccino
"Three C's:" cinnamon dolce latte with caramel syrup and mocha syrup
"Chocolate Pumpkin:" pumpkin spice latte with chocolate syrup
Panera Bread Secret Menu
"Power Steak Lettuce Wrap:" seared top-sirloin, leaf lettuce, cucumbers, diced tomatoes & red onions, basil pesto and finished with fresh lemon juice
"Power Chicken Hummus Bowl:" chicken with cilantro jalapeno hummus, baby spinach, cucumbers, diced tomatoes and red onions finished with fresh squeezed lemon and chopped cilantro
"Power Breakfast Egg White Bowl with Roasted Turkey:" turkey, egg whites, warm baby spinach, roasted peppers, and basil Pesto
"Power Breakfast Egg Bowl with Steak:" eggs, seared top sirloin, sliced avocado and tomatoes
"Power Mediterranean Chicken Salad:" chicken, baby spinach, romaine, tomatoes, apple-wood smoked bacon, diced eggs, fresh squeezed lemon juice, and extra virgin olive oil
"Power Mediterranean Roasted Turkey Salad:" turkey, baby spinach, romaine, tomatoes, red onions, kalamata olives, fresh squeezed lemon juice, and extra virgin olive oil
Subway
"Pizza Sub:" salami, pepperoni, cheese and tomato sauce
© Copyright IBTimes 2023. All rights reserved.