Security Stepped Up At Vatican, As Islamic State May Be Targeting Catholic Pope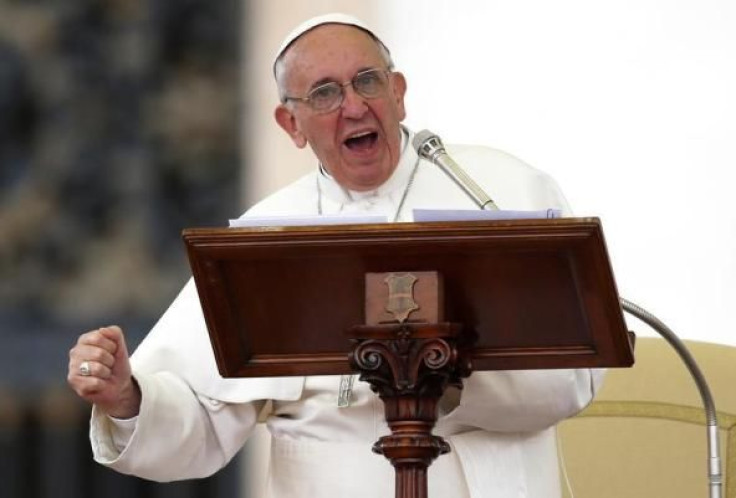 By Tom Porter
Security has been stepped up at the Vatican, after an intercepted communication indicated Islamist radicals planned to strike at the heart of the Roman Catholic Church. The Italian foreign security service revealed the details of a communication between two Arabic speakers that referred to a "demonstrative act, Wednesday, at the Vatican" and was intercepted by a foreign intelligence agency.
On Wednesdays and Sundays, Pope Francis makes public appearances on the balcony of St. Peter's Basilica before thousands of worshippers.
Checks by anti-terrorism police showed one of the men traveled through Italy eight months ago, leading to fears they may be preparing to strike, Italian media reported.
Plainclothes special-operations officers with police dogs will patrol St. Peter's Square, metal detectors will be installed, and hotels will be kept under surveillance, La Repubblica reported.
The Vatican's press representative, the Rev. Federico Lombardi, downplayed the precautions, saying there had been no indications of a "particular threat or cause for concern."
Vatican Attack Threats
Some experts warn the pontiff may have made himself a target for Islamic State group militants, by supporting U.S. airstrikes against the group formerly known as ISIS in Iraq and by condemning its persecution of Christians and Yazidis there.
In social-media postings, Islamic State militants have spoken of wanting to spread the Islamic caliphate to Rome.
Fears were voiced about the pope's security during his visit to Albania next week, when it is believed he could be targeted by militants and terrorists returning from Iraq or Syria. In Albania, the pope plans to travel in an open-topped vehicle and meet well-wishers in the crowd.
In an interview with Italy's La Nazione daily this week, Iraq's ambassador to the Holy See, Habib Al Sadr, said: "What has been declared by the self-declared Islamic State is clear. They want to kill the pope. The threats against the pope are credible. … I believe they could try to kill him during one of his overseas trips or even in Rome."
The ambassabor continued: "There are members of ISIL [Islamic State of Iraq and the Levant] who are not Arabs but Canadian, American, French, British, also Italians. ISIL could engage any of these to commit a terrorist attack in Europe."
FOLLOW MORE IBT NEWS ON THE BELOW CHANNELS