Senate's Reid Uses Jobs Bill To Get Obama Judge Picks Confirmed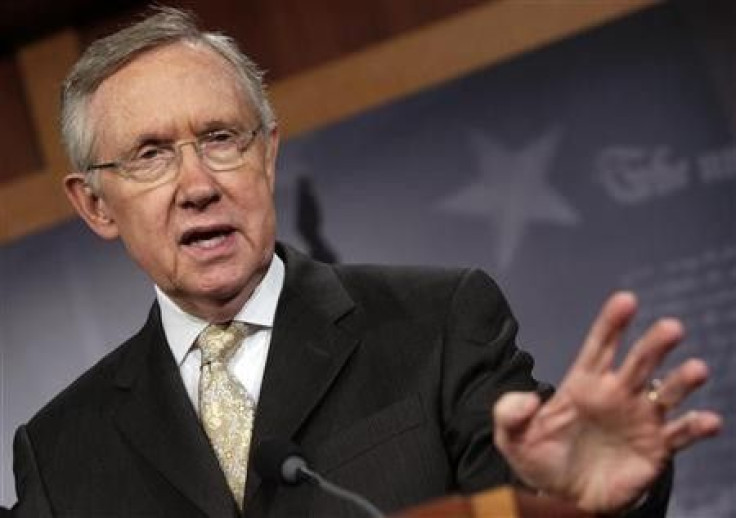 It was a fight over jobs and judges in the Senate on Tuesday.
Majority Leader Harry Reid called for an end to a filibuster of President Barack Obama's noncontroversial judicial nominees so that lawmakers could move forward with a popular, bipartisan bill known as the JOBS Act -- a modest proposal that would remove barriers to capital markets and investment for small businesses.
His Republican counterpart, Senate Minority Leader Mitch McConnell, accused Reid of trying to manufacture gridlock instead of passing a jobs bill that had easily cleared the House of Representatives, 390-23, and has Obama's support.
Both leaders clashed on the Senate floor over the day's business once lawmakers put the final touches on a transportation funding bill later in the afternoon.
Reid stopped McConnell's effort to immediately take up the jobs bill after a vote on the transportation legislation. Instead, Reid called for an up-or-down vote on 17 of Obama's stalled judicial nominees before taking up the jobs measure.
There's no justification for obstruction on matters that ought to be routine, Reid, a Democrat from Nevada, said on the floor. There's too much to do and the Senate simply doesn't have the luxury to waste any more time.
Obama has yet to make his mark on the federal judiciary because of the high number of vacancies and the Senate's slow approval process.
A January report showed that 73 percent of Obama's nominees have been confirmed, which is much lower than the rate for his predecessors. The president's picks have also taken longer to receive confirmation as well, with the process for a district court judge lasting an average of 212 days, with more than half taking more than 180 days.
The problem was exacerbated when Sen. Mike Lee, a Utah Republican, vowed to block votes on judges in response to Obama's recess appointments -- seen by Republicans as legally questionable -- to the Consumer Financial Protection Bureau and the National Labor Relations Board.
With Senate Republicans eager to turn the JOBS Act (Jumpstart Our Business Startups) into law, Reid took the opportunity to get Obama's judicial nominees confirmed.
But McConnell refused to be cowed into confirming new judges, which he acknowledges will get to the bench eventually.
This is not the best time for the debate on the judges, the Kentucky Republican said. We are processing judges. It is highly unlikely any of these district judges are not going to be confirmed.
This is just a very transparent attempt to try to slam-dunk the minority and make them look like they're obstructing things they aren't obstructing, he added.
© Copyright IBTimes 2023. All rights reserved.
FOLLOW MORE IBT NEWS ON THE BELOW CHANNELS