Senator Mark Kirk Released From Rehab Following Stroke, Senate ?Candy Desk? Remains Vacant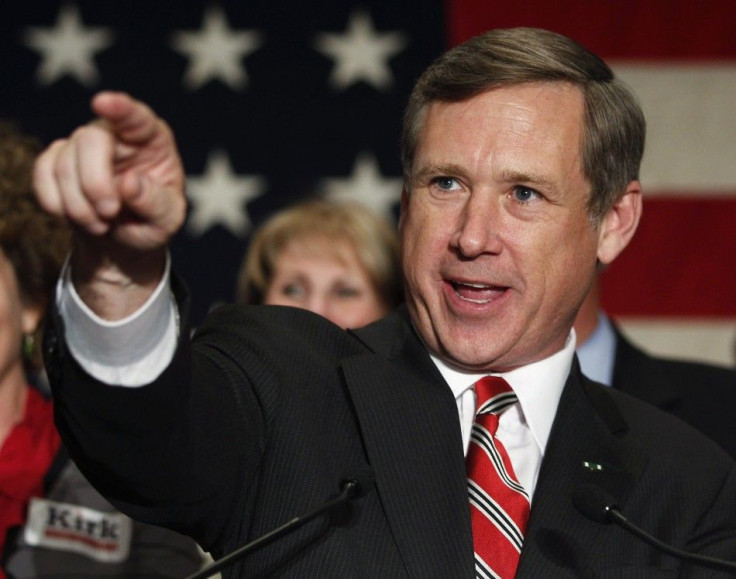 U.S. Senator Mark Kirk, 52, has returned home to be with his family after being released from the Rehabilitation Institute of Chicago where he was recovering from a stroke, according to a statement released on Thursday.
The Illinois Republican won Barack Obama's former Senate seat in a tumultuous 2010 election, but suffered a serious stroke after less than two months in office. He has been recovering steadily since checking himself into the hospital on January 21. No date has been set for his return to Congress.
Back in 2010, Kirk's election campaign was closely watched across the nation. He ran against Democrat Alexi Giannoulias, a friend of Obama's. The fight was bitter and the results were close; exit polls showed that neither of the two candidates had been considered trustworthy by Illinois voters. Giannoulias had ties to a bank that gave loans to mobsters, while Kirk was discovered to have misrepresented his own military record.
Following the embarrassing scandal surrounding former Illinois Governor Rod Blagojevich, who had tried to sell a temporary appointment to Obama's coveted Senate seat, the Kirk and Giannoulias campaigns did nothing to revive public faith in Illinois politics.
Kirk's close November 2010 victory was a significant defeat for Democrats, both practically and symbolically.
But before Kirk could fulfill his campaign promises of cutting federal spending, supporting small businesses and stepping up national defense, the senator checked himself into a hospital on January 21, complaining of dizziness.
Doctors discovered that his brain was swelling dangerously, and Kirk was taken into the surgery room at Chicago's Northwestern Memorial Hospital where a piece of his skull was removed.
Kirk had suffered an ischemic stroke on the right side of his brain. Luckily, the condition was caught in time and doctors expected a full neurological recovery, noting the senator's relative youth and good health.
Today, signs of recovery are positive. Doctors report that Kirk regularly meets with colleagues and staffers to stay up-to-date on current events; he has even taken a phone call from Israeli Prime Minister Benjamin Netanyahu to discuss Iran and other issues.
Physically, however, Kirk may yet have a ways to go. The family statement released on Thursday notes that the senator has begun a rigorous walking study program to further his mobility and independence while maintaining his schedule with staff.
Notably absent from the statement was any hint about when Kirk might return to the Senate floor, where he happens to enjoy a seat at the coveted 'Candy Desk.' It's the only desk in Congress whose drawer is stuffed with sugary sweets, according to a quirky tradition established in 1968.
The statement did include a note of thanks for everyone who wishes for his return to the U.S. Senate as soon as possible.
© Copyright IBTimes 2023. All rights reserved.