Sex Trafficking At The Super Bowl, Does 'America's Dirtiest Secret' Tarnish The NFL's Biggest Event? [PHOTOS]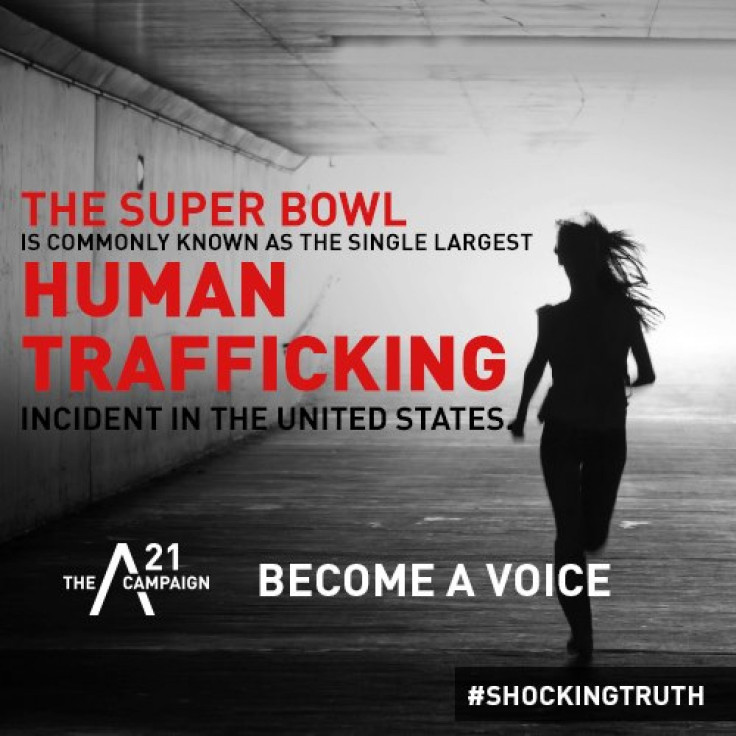 As the Baltimore Ravens were making their way into NFL history, countless people were likely victims to the sex crimes associated with football's biggest day.
Just days before Super Bowl XLVII, New Orleans police arrested eight people and rescued five women from a human-trafficking-related operation, Fox 8 News reported Friday.
It is actions like this that have many, including Texas Attorney General Greg Abbott, calling the sports event the "single-largest human-trafficking incident in the United States."
"The Super Bowl is the greatest show on Earth, but it also has an ugly underbelly," Abbott told USA Today in 2011, when his state hosted Super Bowl XLV, where the Green Bay Packers defeated the Pittsburgh Steelers; 133 prostitution-related arrests were made that year.
It is expected that between 100,000 to 300,000 American women and children as young as 12 years old are exploited in sex trade within the county, according to USA Today. While it is possible for people to be abducted during the Super Bowl, most are likely taken beforehand and used at major, large-scale events like the Super Bowl.
According to the Huffington Post, U.S. sex trafficking, which it dubbed "America's dirtiest secret," garners approximately $9.5 billion a year.
"It's not so much that you become a victim at the Super Bowl but that many victims are brought in to be used for all the men at the Super Bowl," Stephanie Kilper, a representative for Operation Freedom Taskforce in Akron, Ohio, told ABC 5 News.
Such incidents include the estimated 10,000 women and minors that were trafficked in the Miami area during the 2009 Super Bowl in Tampa, Fla., according to the Florida Commission Against Human Trafficking.
The Tampa Bay Times provided details of a trafficker being arrested for offering two girls, one 14 and one 18, for $300 as "a Super Bowl special." The trafficker, Manuel A. Walcott, was apparently advertising the girls on Craigslist and was subsequently sentenced to 20 years in prison. The girls had been held captive as prostitutes for two years.
Clemmie Greenlee, a former victim of sex trafficking, now 53 years old, recalls being abducted and gang-raped by her captors at the age of 12, the Times-Picayune reports.
"When they come to these kinds of events, the first thing you're told is how many you're gonna perform a day," she told the newspaper Friday.
The Nashville native detailed being one of about eight girls that were injected with heroin and handcuffed to beds by a ring of pimps. In one incident, Greenlee was stabbed in the back for attempting to run away.
"You've got to go through 25 men a day, or you're going through 50 of them. When they give you that number, you better make that number," she told the Times-Picayune.
"If you don't make that number [of sex customers], you're going to dearly, dearly, severely pay for it," she continued.
"I mean with beatings, I mean with over and over rapings, with just straight torture. The worst torture they put on you is when they make you watch the other girl get tortured because of your mistake."
Despite growing advocacy movements in recent years, Super Bowl and large-scale-event sex trafficking remains a major yet little-talked-about issue.
Greenlee currently works at Eden House in Uptown New Orleans; opened in October 2012; it is the first shelter for sex-trafficking victims in Louisiana.
This year, law enforcement agencies and advocacy groups collaborated with local businesses in order to spread awareness, including handing out pamphlets to local clubs and bars detailing how to spot and what to do if sex trafficking is suspected, as well as distributing bars of soap to hotels with hotline numbers etched on them to aid victims looking to escape.
USA Today recently ran a full page ad promoting the End It Movement, an anti-human-trafficking campaign launched at the 2013 Passion Conference, in accordance with the Super Bowl.
The A 21 Campaign, established in 2008, released several Super Bowl-related info-graphics about human trafficking this year.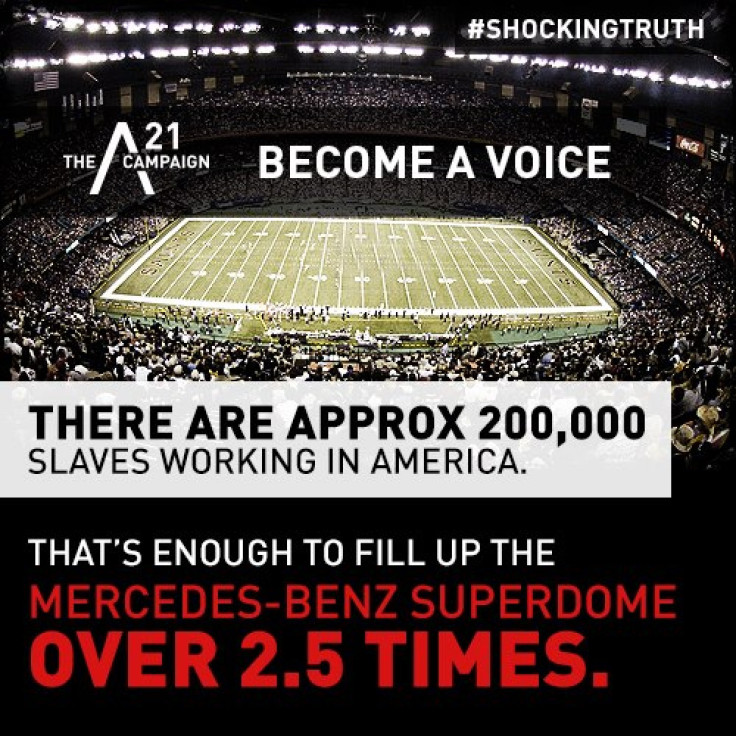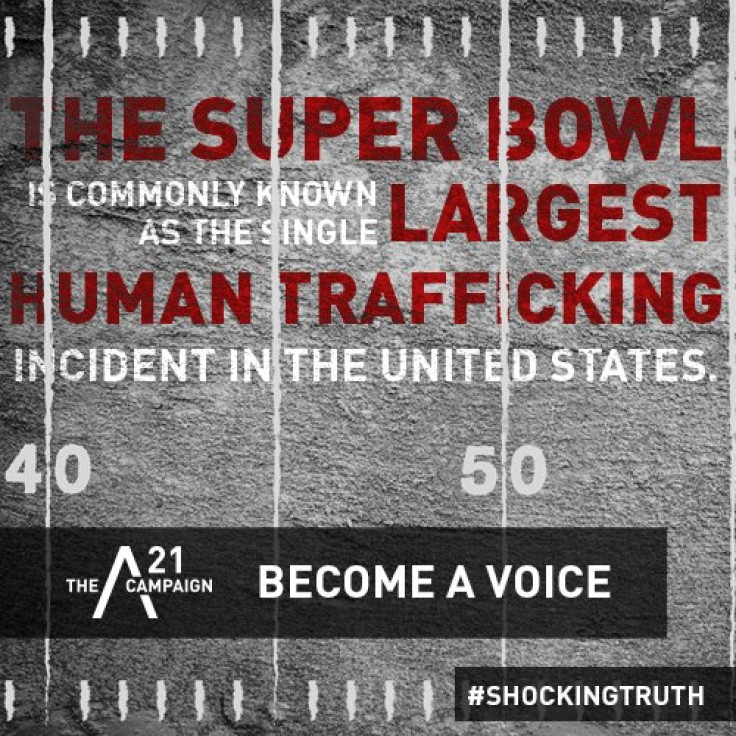 © Copyright IBTimes 2023. All rights reserved.
FOLLOW MORE IBT NEWS ON THE BELOW CHANNELS