Shareholder Proposal To Break Up Bank Of America Wins SEC Approval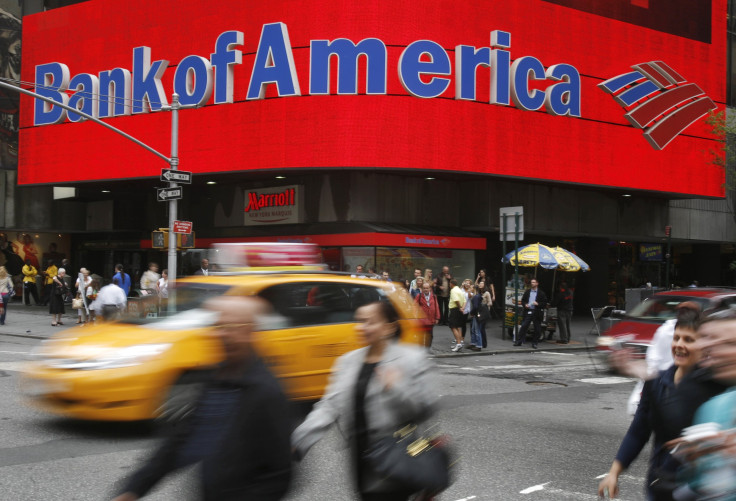 The Securities and Exchange Commission is giving the go-ahead to a shareholder proposal that seeks to break up the mighty Bank of America. Bartlett Naylor, the financial policy adviser for the consumer-rights advocacy group Public Citizen who filed the proposal, said it could be a matter "of galactic proportions for the bank."
The nonbinding referendum is unlikely to lead to major shakeups when shareholders consider it at the next Bank of America shareholder meeting later this year. But the SEC's ruling signals an important shift at the agency, and a strong showing from shareholders in support of the proposal could invite pressure from other activist investors and a larger public broadly in favor of downsizing financial titans.
The proposal marks the first time the SEC has supported a shareholder vote on splitting up a major bank. A round of shareholder breakup bids from labor groups in 2013 failed to win SEC support, as did proposals Naylor submitted to a trio of banks last year. At least seven such proposals have been filed since 2009.
Publicly traded companies can petition the SEC to let them decline to entertain shareholder proposals. In previous bank breakup proposals, the SEC has generally concurred with bank complaints that the motions are overly vague. This year, however, the SEC rebuffed Bank of America's arguments, ruling that Naylor's proposition was clear enough to merit a vote.
An Evolving Approach
"The SEC in previous years had been very restrictive," said Robert J. Jackson, a professor of law at Columbia University. The agency's approach to shareholder campaigns has evolved following the appointment of SEC Chairwoman Mary Jo White and the Trinity Wall Street v. Wal-Mart Stores case, in which shareholders sued the SEC to allow a vote on firearms sales at the retailer. "Under White the staff has been directed to be more permissive," Jackson said.
After his three failed proposals last year, Naylor homed in on Bank of America, outlining a plan for an independent committee to divest all aspects of the firm not related to its core banking operation. The intent is to separate the relatively staid commercial bank -- which is backed by the Federal Deposit Insurance Corp. -- from the institution's riskier arms, particularly the investment division Merrill Lynch, which Bank of America acquired in 2009.
Though splitting up major banks is a policy priority for Naylor and his group Public Citizen, he also says there's economic merit in the proposal. "For shareholders, the bank is struggling to manage a firm this large," he said.
Last week the Federal Reserve released results from its annual stress tests that found Bank of America deficient in its capital planning and internal controls. The Fed required the bank to resubmit its stress test proposals, the only U.S. firm to be sanctioned this year. "The stress test should argue in favor of the proposal," Naylor said.
Calls For Breakups
Calls to break up big banks have been sustained since the 2007-09 financial crisis. The six major U.S. banking firms are still larger than they were before massive taxpayer-funded bailouts, cementing the perception that financial institutions have grown too big to fail.
Speculation over downsizing Wall Street giants hasn't come only from activists. Earlier this year analysts at Goldman Sachs pondered whether JPMorgan Chase should be divvied up into smaller pieces to escape costly Fed requirements that it keep deeper cash reserves. Goldman CEO Lloyd Blankfein recently admitted that certain banks will need to rethink their business mix under increasingly stringent regulation.
Still, under the current regulatory framework it might be difficult to make an argument from strictly market grounds, according to Boston University law professor Cornelius Hurley. "Bank of America is trading above book value," he said, meaning the total value of its shares exceeds that of the underlying business. "They can always claim that the whole is worth more than the sum of the parts."
Though it's highly unlikely that the nation's second-biggest bank would engineer its own dismemberment, shareholder campaigns can still goad firms into making changes. Bank of America gave in to a similar campaign from an interfaith shareholder group in January. In order to avoid a vote over appointing an independent board chair, the bank agreed to conduct a review of its corporate culture and business practices.
A Bank of America representative declined to comment on the matter.
© Copyright IBTimes 2023. All rights reserved.