Shenzhen Mudslide: Chinese Officials Under Criminal Investigation As Government Responds To Public Concerns Over Safety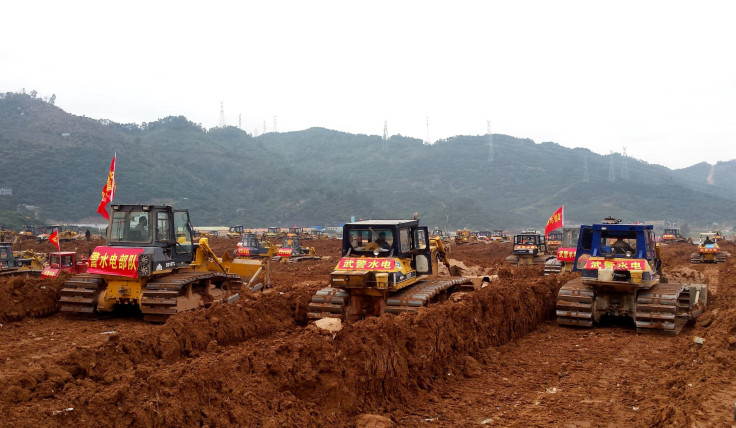 SHANGHAI — Four Chinese local government officials are among 12 people who have been placed under formal investigation for suspected criminal offenses in connection with a massive mudslide at a construction waste dump in the southern city of Shenzhen last month. The disaster, which state media say left 69 people dead and eight others missing, presumed dead, is believed to have been caused by excessive piling of waste at a construction waste dump that had carried on operating despite being ordered to close.
The website of China's top public prosecutor announced that the deputy director of the urban management bureau of the city's Guangming New District, Deng Zhixiong, the deputy director of Shenzhen's municipal service center, Zeng Keting, as well as an official in charge of inspections and an engineer in charge of land resources, were all under criminal investigation, in a move observers said was designed to reassure the public that the government was taking public safety seriously.
The statement said the officials bore an important responsibility for the disaster. It said they behaved irresponsibly, and had committed criminal offenses either through their actions, or their inaction — and bore an important responsibility for the disaster. It also said investigations were continuing into possible bribery related to the incident.
China saw a string of major public safety disasters last year, including a stampede that killed 36 people on Shanghai's waterfront on New Year's Eve last year, the sinking of a cruise ship on the Yangtze river in June that killed more than 440, and a devastating explosion at a chemical warehouse in the northern port of Tianjin in August, which killed at least 173.
Public criticism at the handling of these events and their aftermath — the Tianjin explosion in particular — was a major embarrassment for the leadership of President Xi Jinping, who personally pledged to make public safety a top priority. The mudslide in Shenzhen, one of China's most developed cities, just as the year drew to a close, raised awkward questions for the leadership — particularly when local residents alleged that their complaints about the huge pile of earth and mud had been ignored by officials.
It was later reported that environmental officials had told the company in charge of the dump to close, but had never enforced the measure — leading to the collapse in early December that destroyed some 80 buildings, including factories and workers' housing.
Late last, month Chinese media reported that 12 people had been detained in connection with the incident, but only named four people, all representatives of the company in charge. The criminal investigation of local government officials may be designed to show that the leadership is taking public concerns about safety seriously — late last month, the ruling Communist Party ordered officials to make public safety a top priority.
Soon after the disaster, Shenzhen's Communist Party Secretary Ma Xingrui and senior officials took the unusual step of appearing at a televised news conference and bowing in apology. Ma also pledged to punish anyone found to be to blame or accept punishment.
Another top official of the Guangming New District urban management bureau was reported to have committed suicide a week after the mudslide, though it has not been confirmed if this was connected to the investigation.
No one has faced criminal charges for the stampede in Shanghai, though several people were sacked and officials acknowledged dereliction of duty by police. Similarly, only disciplinary punishments have so far been handed down in connection with the boat disaster on the Yangtze River, though one Chinese media report said prosecutors were still "deciding whether criminal charges should be filed" against the ship's captain, who is accused of faking his qualifications. Officials said the sinking was primarily the result of a tornado, though media reports questioned the shipping company's decision to sail in extreme weather conditions, and others raised questions about alterations made to the boat's structure before the accident.
© Copyright IBTimes 2022. All rights reserved.
FOLLOW MORE IBT NEWS ON THE BELOW CHANNELS