Shinzo Abe Visit To India: India, Japan Set To Sign $15B Bullet Train Deal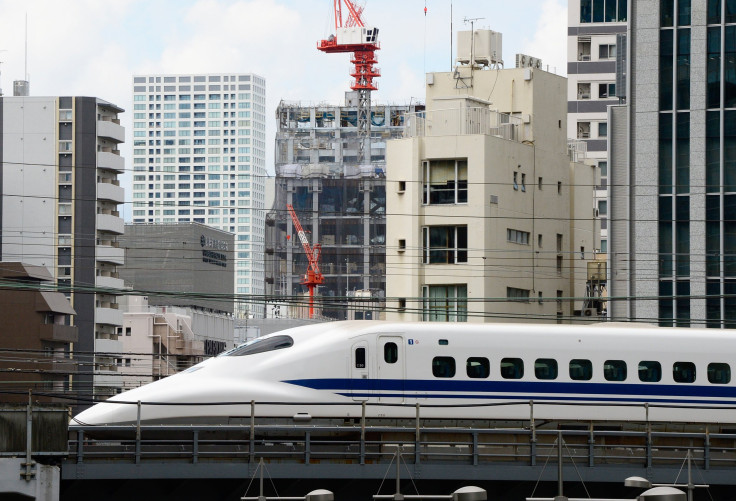 Japanese Prime Minister Shinzo Abe is set to arrive in India Friday for a three-day visit for the ninth annual Indo-Japan summit talks with his Indian counterpart Narendra Modi. A $14.7-billion high-speed train project is expected to be the highlight of the visit.
The summit meeting is expected to be held Saturday, Press Trust of India reported, and Abe is expected to visit the Hindu holy city of Varanasi -- Modi's parliamentary constituency in northern Uttar Pradesh state -- the same day. Modi and Abe will review various decisions taken over the past year to advance the countries' trade and investment sectors. While Modi has struggled to deliver on key reforms promised on the election trail in 2014, Abe is working to revive a stalled economy back home with stimulus measures.
While Japan is aiming to secure a major overseas contract for its high-speed train sector, India is eyeing a civil nuclear deal, which would open the doors to the potential sale of U.S. or European reactors to India. However, the nuclear deal is reportedly unlikely at this summit as Japan holds strong reservations because India has not signed the Nuclear Nonproliferation Treaty whose objective is to prevent the spread of nuclear weapons and related technology.
"Tokyo will want some kind of commitment from India that it will not conduct a nuclear test. But India will have concerns about its strategic autonomy being curbed if it agrees to conditionalities," Lalima Varma, professor of Japanese studies at New Delhi's Jawaharlal Nehru University, told the Associated Press (AP). "While it's unlikely a civil nuclear deal will be signed during this visit, the two sides will air their concerns. That could be construed as progress," Varma added.
In 1998, Japan imposed economic sanctions on New Delhi for conducting nuclear tests. However, Tokyo lifted the sanctions in 2001 and relations between the two Asian economies have warmed since then.
The bullet train deal is crucial for Japan -- it lost a $5 billion rail project in Indonesia to China -- and the country has offered India a loan to cover 81 percent of the cost.
"The Shinkansen is a symbol of Japanese industry," Koji Kobayashi, a senior economist at Mizuho Research Institute Ltd in Tokyo, referring to Japan's bullet train said, according to Bloomberg. "If it is adopted in India, it will be good public relations for the government and will play well with the Japanese public. Particularly after the loss to China in Indonesia, it would be a great souvenir to bring back," Kobayashi added.
Tokyo and New Delhi are also expected to sign an agreement allowing the transfer of defense technology and the co-production of arms and military equipment. India has been trying to enhance its military equipment and a budding defense agreement to sell US-2 amphibious aircraft to India might become Japan's first key military sale after it lifted a ban on the export of defense equipment in 2014. Japan's navy uses the US-2 aircraft for maritime surveillance and search and rescue operations, according to AP.
Abe will also look for some concrete progress on tackling China's increasing assertiveness in the region.
"The relationship between India and Japan is perhaps the best it has ever been, largely because they have prime ministers who look at the region and the world in very similar terms," Harsh Pant, professor of international relations at King's College London, told Bloomberg. "They are very nationalistic, center-right prime ministers who have a certain idea about the rise of China and about its implications for both these states."
At the 2014 summit in Tokyo, the two prime ministers had agreed to advance the relationship to a "special strategic and global partnership."
© Copyright IBTimes 2023. All rights reserved.