Should Quarterback Matt Barkley Leave USC to Enter the 2012 NFL Draft?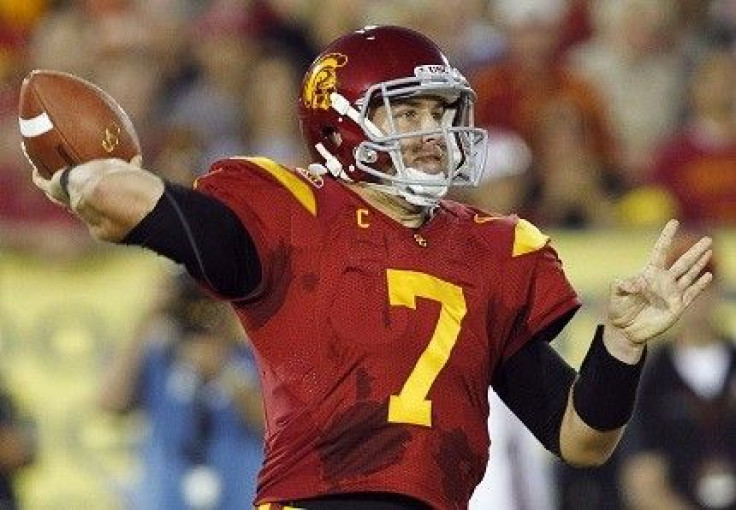 After USC's stunning victory over Oregon on Saturday night, a sobering thought is probably settling in for Trojan faithful: next Saturday's game against UCLA might be the last we see of quarterback Matt Barkley in cardinal and gold.
Considered one of the best quarterbacks in college football, Barkley may skip his senior year and enter the 2012 NFL Draft, where he is projected to be a high first-round draft pick.
Like former USC star quarterbacks from Orange County, Barkley seems like a solid fit for playing on Sundays.
Barkley has shown the humility and dedication to improve year-by-year like Carson Palmer. He has displayed the confidence and throwing accuracy of Matt Leinart. Barkley has also shown the enthusiasm and mechanical delivery of Mark Sanchez.
In a way, Barkley has been somewhat of a hybrid of those quarterbacks. He even has shown some of the patience and vision of John David Booty, a former USC quarterback from Louisiana, who probably deserved more credit than he received after leading the Trojans to two Rose Bowl routes.
USC has a strong record of producing players NFL-ready player since the arrival of Pete Carroll in 2001. Barkley, who was considered the best high school quarterback in the nation before he arrived at USC in 2009, has progressed like many expected him to.
Barkley will have plenty to think about before making his decision, though it seems likely he'll forego his senior year as the Jan. 15 deadline for underclassmen to declare looms.
With Stanford's Andrew Luck expected to be the first overall pick, Barkley is at least considered the second or third best college quarterback. He has a decent chance to be a top-five pick, and a first round selection is almost a given. NFL combines tend to offer a better gauge of a player's value rather than their performance in college, but scouts are well aware of Barkley's talents, though he could perhaps make improvements to his game.
Some NFL teams may consider Barkley a player they want to keep on the sidelines his first season in the NFL so he can learn the team's system and develop under their own tutelage. One year of learning an NFL system might be better for a quarterback than one year as a college starter.
Barkley might want to consider avoiding the fate of Jack Locker. The former University of Washington quarterback was considered a top pick in the 2010 NFL Draft, but stayed for his senior year, and due to a disappointing senior season that was marked by inaccurate passes, Locker fell to the eight overall pick.
Next season may not be as good for Barkley as 2011, considering he may be losing up to two key offensive linemen as juniors Khaled Holmes, and Matt Kalil may move on the NFL. Kalil is considered a top-five pick, so he seems likely to make the jump. Barkley may not have the pass protection to showcase his skills as he's had this season, and might become prone to sacks.
Though Barkley would have a Lloyds of London insurance policy against injury should he stay for his senior year, he would prefer to go into an NFL combine in near perfect health, which is currently the case.
Of course, there is also the huge contract awaiting him as well as fulfilling the childhood dream of playing in the NFL. Like Sanchez, Barkley would be seizing upon the grand opportunity that is awaiting him.
However, there are reasons for Barkley to stay. By sticking around for another season, Barkley would be a Heisman Trophy favorite and go into next season as the clear favorite to be the first overall pick in the 2013 NFL Draft.
Then there are the team achievements. USC will finally be eligible to go a bowl game, and Barkley would have a chance to compete for perhaps the Rose Bowl or the BCS title game.
The Trojans' 2012 schedule should be less imposing, and USC would likely be favored to win the South Division in the Pac-12.
Barkley would also have two excellent targets next season, as star wide receivers Robert Woods and Marqise Lee will return with more experience. Barkley could be throwing touchdown passes left and right with those guys, as well as some other up-and-coming speedsters like George Farmer.
He can also improve his arm strength, timing, and speed with another college football season, while also enjoying a year to mature and prepare for the rigors of a 16-game NFL season. In the process, Barkley could get his college degree, and break some passing records along the way.
But Barkley already has the tools to be the top pick in the upcoming draft. A coach with a strong knowledge of Pac-12 quarterbacks had high praise for the USC star.
If I'm an NFL coach right now, I would pick Matt Barkley ahead of Andrew Luck, said Steve Sarkisian, a former USC assistant and the current Washington head coach.
More than likely, Barkley will make the leap to the NFL. He could use more time to polish his skills, and it's tempting to enjoy another year walking around sunny southern California as the big man on campus, but the lure of the NFL is hard to resist.
The USC-UCLA game on Nov. 26 should be an interesting experience for Barkley, as well as USC fans, to say the least.
© Copyright IBTimes 2023. All rights reserved.