Showdown In Chavez Country: Will Venezuelan Elections Renew Socialism Or Adopt Reform?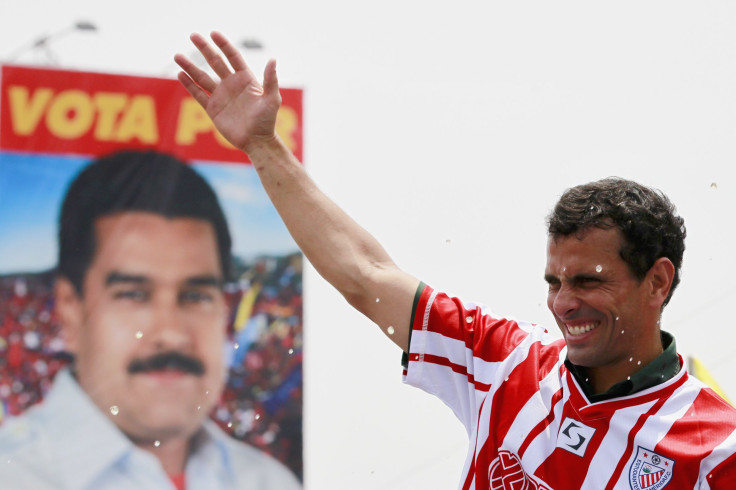 Venezuela is set this weekend to hold its second presidential election within six months, following the death of President Hugo Chavez last month.
Chavez's political heir and acting president, Nicolas Maduro, will face his mentor's last election rival, opposition leader and state governor Henrique Capriles Radonski, at the polls on Sunday.
The snap election will determine whether the majority of voters in the oil-rich nation want to carry on Chavez's socialist vision after his death through Maduro or undergo political and economic reforms under Capriles.
Heading into Sunday's election, Capriles faces an uphill battle with most polls showing him trailing Maduro by 10 percentage points or more, though the gap has been narrowing.
Maduro has garnered a wave of support through his affiliation with Chavez, who had served in office for 14 years and was re-elected in October by an 11-point margin over Capriles despite failing health.
Many of the top issues in the last election remain -- particularly rampant crime, rising inflation and food shortages -- but the atmosphere in this election has been even more vitriolic and focused on personal attacks, said Dan Hellinger, professor of political science at Webster University and expert on Venezuela.
"Clearly, this is a highly polarized electorate," Hellinger said. "It was that way under Chavez, and I'd say now even more so after his death."
This polarized environment has essentially sidelined the substantive issues.
In the last election, Capriles presented himself as a left-of-center candidate who would address the nation's challenges without compromising the popular social welfare programs -- particularly subsidized housing, education and health care -- implemented under Chavez.
Additionally, Capriles restrained himself from making personal attacks against Chavez due to the fervent cult of personality that surrounded the socialist leader. Further polarizing the electorate would have hobbled his campaign message of unity and moderate change.
This time around, Capriles has not held back attacks on his opponent's character and visa versa, but he has also framed himself as better suited than Maduro to preserve and carry on Chavez's social policies.
"Both are trying to convince the electorate that [they] will carry on the social mission," Hellinger said. "But Capriles has a much more difficult task."
The main issue for Capriles, Hellinger added, is convincing the more moderate Chavez supporters that he won't cut state revenues from the nationalized oil industry that fund the social welfare programs.
Capriles has not indicated what his oil policy would be, but many of his close advisers are the same people who crafted Venezuela's market-friendly oil policies before Chavez came to power in 1999.
"He won't be able to keep his promise on welfare programs and reduce [state] oil revenues too," Hellinger said.
Regardless, Hellinger believes that Maduro will most likely win and that what matters most in this election is how the opposition reacts in the event that it loses.
"Capriles might be under pressure [from his supporters] to renounce the entire election," Hellinger said, adding that the opposition would have legitimate qualms about how the election was conducted -- state-controlled media bias and misuse of government funds for campaigning among them -- though outright vote fraud would not be one of them.
"Politically, it [rejecting the results] would be a big mistake" for the opposition, he continued. "It would alienate the voters it needs and create deeper divisions within the opposition."
FOR FREE to continue reading
✔️ Unlock the full content of International Business Times UK for free
offer available for a limited time only
✔️ Easily manage your Newsletters subscriptions and save your favourite articles
✔️ No payment method required
Already have an account?
Log in
© Copyright IBTimes 2023. All rights reserved.