Singapore Bans 'Archie' Comic Book For Gay Themes, Highlighting Anti-LGBT Stance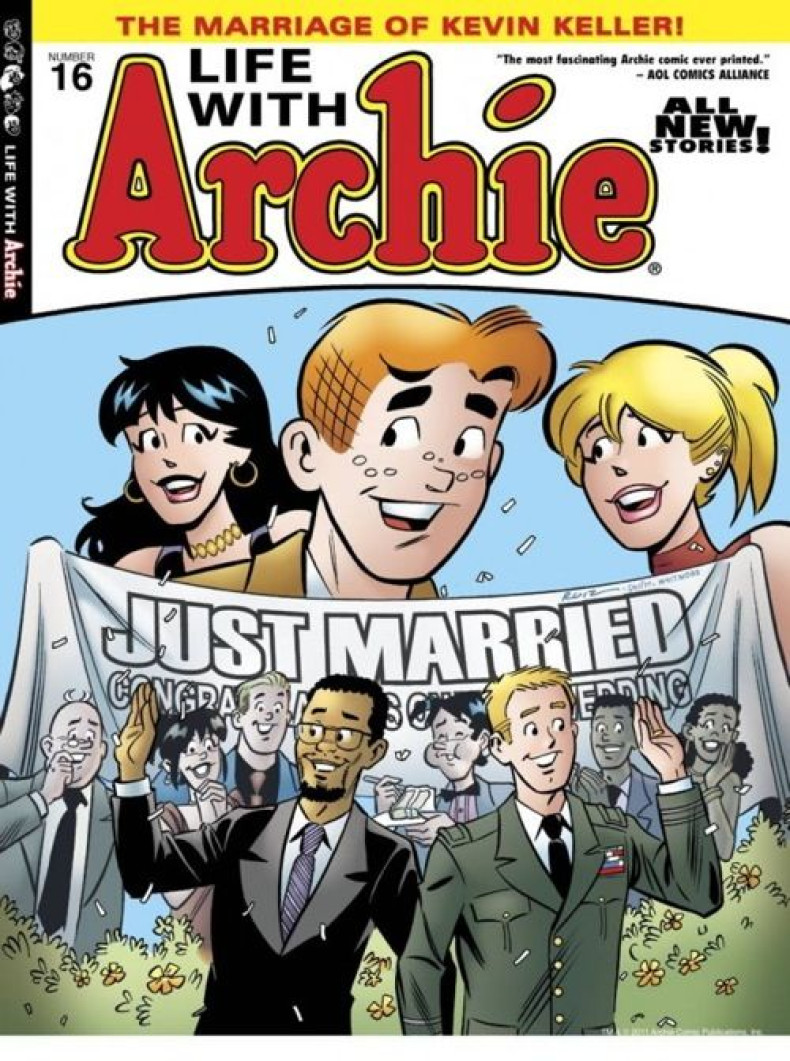 Though Archie Andrews, the title character of the long-running Archie Comic series, dies in the No. 36 issue of "Life with Archie," it's a different Archie comic book that is causing a stir in Singapore.
Earlier this week, Jon Goldwater, co-CEO of Archie Comics Publications Inc., announced that Archie would die at the hands of an armed assassin attempting to kill his friend, Kevin Keller, who is also the comic strip's first openly gay character. While Kevin has developed a fan base of his own, warranting a spinoff comic, Singapore's Media Development Authority is not a fan.
According to Singaporean news outlet The Independent, the Kinokuniya bookstore in Singapore has pulled Volume 3 of the "Archie The Married Life" series, where the Kevin Keller character gets married to his partner Clay Walker, from shelves in accordance to guidelines provided by the MDA. This same issue was also the target of U.S.-based conservative group One Million Moms, which launched a boycott effort of the comic books when it initially came out in 2012.
"We regret that 'Archie The Married Life' is deemed to breach the Content Guidelines for Imported Publications, and removed from sale by notice of MDA. We are not able to sell this title," a spokesperson from Kinokuniya Singapore, a unit of Japan-based Kinokuniya Company, said.
According to MDA's Content Guidelines for Imported Publications, "Publications that encourage, promote or glamourize sexually permissive and alternative lifestyles and deviant sexual practices are generally not allowed."
The ban was discovered by a Singapore comic book artist, Sonny Liew, who made the inquiry to the bookstore about the missing title after some books were pulled by the National Library Board because they were not "pro-family."
Among them was a children's book titled "And Tango Makes Three," about two male penguins raising a baby chick, after receiving complaints that the book's content violated the family values of the country. The book "The White Swan Express: A Story About Adoption," which documents the journey of a lesbian couple adopting baby girls from China, was also removed.
The ban may be surprising to some, considering the country's international reputation as a ultra-modern and successful city-state, but Singapore has long been plagued by controversy surrounding the marginalization of its LGBT community.
On paper, gay sex is considered a criminal offense punishable by up to two years in prison in Singapore, as a result of a law established during the British colonial period. While authorities very rarely enforce the law, anti-LGBT sentiments from religious communities have resurfaced in recent months and are often presented as the majority opinion.
"The prevailing norms, which the overwhelming majority of Singaporeans accept, support teaching children about conventional families, but not about alternative, non-traditional families, which is what the books in question are about," Yaacob Ibrahim, the country's information minister, told the UK's Guardian, regarding the books recently banned from state-run libraries.
An LGBT activist group in Singapore, Pink Dot, hopes to foster a harmonious coexistence while also providing support for the LGBT community.
"Pink Dot recognizes that many Singaporeans are conservative," the organization's website reads. "From a young age, many LGBT Singaporeans struggle with self-acceptance… It doesn't help that most of them have been told only one viewpoint by their parents, educators and society -- that what they feel is wrong."
Signs of support for LGBT liberalization do appear to be mounting, at least when it comes to the censorship of literature. Channel News Asia reported Wednesday that three judges of this year's Singapore Literature Prize have resigned in protest over the National Library Board's decision to withdraw the three children's books with homosexual themes, saying that "censorship has no place in any free and democratic society."