Singapore To Deport 53 Foreign Workers, Almost All Of Them Indians, Over Dec. 8 Riots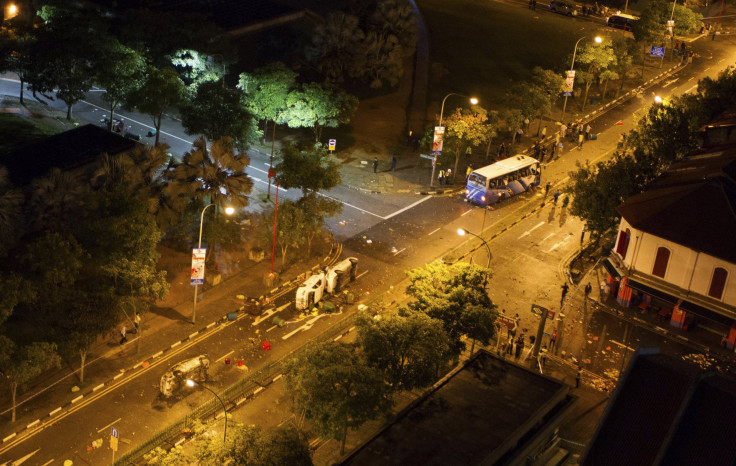 Singapore will deport 53 foreign workers and issue criminal charges against 28 others for their involvement in a riot on Dec. 8 in the Little India precinct, which was the country's worst in more than 40 years, and stirred intense debate over Singapore's policy on foreign labor.
All the men facing deportation are Indians, except for one Bangladeshi national, and they have been charged with threatening public order and will be barred from returning to Singapore. Twenty eight other workers who are facing criminal charges have been accused of violence, damaging property, defying police orders and inciting others to do so, as well as attacking law enforcement personnel and police vehicles, during the riot, which erupted after an Indian national was run over and killed by a bus, Singapore's Ministry of Home Affairs said, in a statement, on Tuesday.
"There is no justification for the lawless behavior that night which disrupted public order and posed a danger to life and safety," Teo Chee Hean, deputy prime minister and minister for home affairs, said in the statement. "We have taken strong and decisive action to charge, and to repatriate those who took part in the riot to send a strong signal that we will not tolerate actions by anyone which threaten law and order in Singapore."
About 200 others who were present at the scene were issued a warning, but they will be allowed to stay and work in the city-state. No more arrests or deportations linked to the riot are expected, but the government has suspended shuttle-bus services for workers who live on the outskirts, and banned the sale of alcohol in Little India temporarily.
More than 18 people, including policemen, were injured in the riot, during which about 400 workers took to the streets damaging property and vehicles. In the public debate that ensued, many Singaporean citizens expressed displeasure over the growing number of foreign workers who constitute nearly a fifth of the population of about 5.4 million, according to Reuters.
Workfair Singapore, an activist group working toward the improvement of labor conditions in Singapore, said "the arbitrary deportation" of 53 people without trial raises "grave concerns."
"We call on the Minister for Home Affairs to stop the deportation and either submit these accused to trial or issue them with warnings as has been done with 200 others whose involvement was deemed to be "relatively passive,"" Workfair Singapore said in a statement on their website.
© Copyright IBTimes 2022. All rights reserved.
FOLLOW MORE IBT NEWS ON THE BELOW CHANNELS