Singapore Has Ambitious Plans To Revamp Its Landscape And Make The World's Best Airport Even Better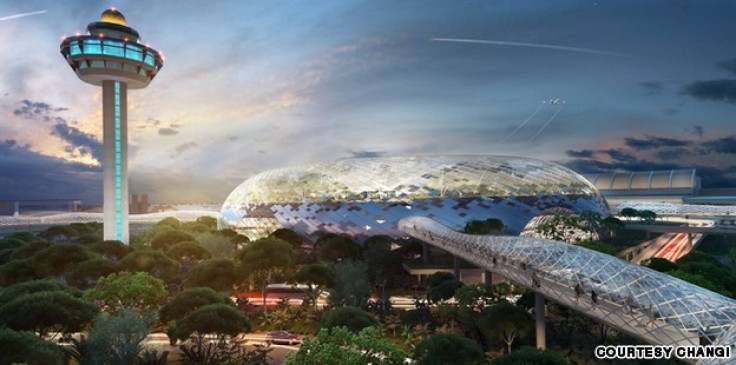 Singapore plans to make broad brushstrokes across its small but highly developed landscape by doubling the capacity of Changi Airport, which has been consistently voted the best airport in the world; building a new waterfront city; moving its port, the world's second-busiest hub for container shipping, as well as relocating a military airbase to free up land for further development.
The projects were announced by Prime Minister Lee Hsien Loong in an annual National Day address. Discontent among citizens of one of the wealthiest nations in the world has been mounting over an influx of foreign workers and expatriates, who are blamed for a range of problems from strained infrastructure to sky-high living costs, according to Reuters.
Lee attempted to allay those fears by elaborating on a number of long-term plans intended to alleviate a growing voter backlash against his party, the People's Action Party (PAP), which has ruled Singapore for more than half a century.
Moving the busy seaport to a new location in Tuas in western Singapore from 2027, will allow the current land in Tanjong Pagar, next to the central business district, to become a sprawling new waterfront city, Lee said. A fourth runway is planned at Changi Airport, which will then allow the government to move a military air base in central Singapore to Changi, freeing up 1,980 acres of land for other uses.
In addition to those moves, Singapore will also make changes to its health care and education systems.
"This is how we can stay the hub in South-East Asia and create many more opportunities for Singaporeans," Lee said, citing competition from Kuala Lumpur and Bangkok.
Government plans announced in January that intended to lift the population of the country, currently 5.3 million, by as much as 30 percent by 2030 through foreign workers to offset a low birth rate, were met with criticism in online forums. Debates have been ongoing over how many people can fit onto an island half the size of London and whether the national identity will become diluted, according to Reuters.
Changi Airport is getting more than just the new runway, however. The world's best airport, as crowned at the 2013 Skytrax World Airport Awards in Geneva, announced plans to add a mixed-use architectural looker that will feature shops, restaurants and a huge indoor garden with its own waterfall, slated to open in 2018, according to CNN. The project, codenamed Project Jewel, will boost Changi's capacity to 85 million passengers per year, from 66 million currently.
© Copyright IBTimes 2023. All rights reserved.
FOLLOW MORE IBT NEWS ON THE BELOW CHANNELS