Singapore Recession: Economy Shrinks By 41%, Worse Than Forecast
KEY POINTS
Singapore's GDP plunged 41% in the second quarter of 2020 after shrinking 0.3% in the first
No full recovery from the ravages of COVID-19 is expected until the normalization of global travel and trade
Four massive stimulus packages failed to save Singapore from a recession
Singapore fell into recession in the second quarter with its economic growth plunging a record 41.2% from Q1 despite four massive stimulus packages. Its economy contracted 0.3% year-on-year in Q1 and 3.3% quarter-on-quarter, meeting the definition of a technical recession.
In Q2, manufacturing plunged 23.1% compared to the 45.5% growth in Q1, said the Ministry of Trade and Industry (MITI). Construction took a catastrophic hit, plunging 95.6% compared to the previous quarter. The services sector, which includes airlines, hotels and restaurants, shriveled 37.7%.
The export-dependent country is Southeast Asia's richest economy with a per capita GDP of $56,700 in 2019. By comparison, the U.S. per capita GDP in 2019 came to $60,000.
The sharp GDP contraction was the second consecutive quarter of no growth for Singapore. MITI said the Q2 drop is the biggest quarterly contraction on record. Compared to Q2 2019, the Q2 GDP this year plummeted 12.6%. Bloomberg survey predicted a 35.9% reduction while a survey median placed the figure at -10.5%. The GDP plunge is far worse than economists' forecast of a 37.4% decline in a Reuters poll.
"The road to recovery in the months ahead will be challenging," said Trade and Industry Minister Chan Chun Sing in a Facebook post.
"We expect the recovery to be a slow and uneven journey, as external demand continues to be weak and countries battle the second and third waves of outbreaks by reinstating localized lockdowns or stricter safe-distancing measures."
Analysts point out the COVID-19 pandemic inflicted even more economic damage on Singapore than anticipated. The global business slowdown robbed the country of the exports that power its economy. Consumer spending plunged to record lows with retailers reporting a record decline in sales after partial lockdown measures in Q2.
The recession has led the government to forecast a full-year GDP ranging from -7% to -4%, the biggest downturn in its Singapore's history.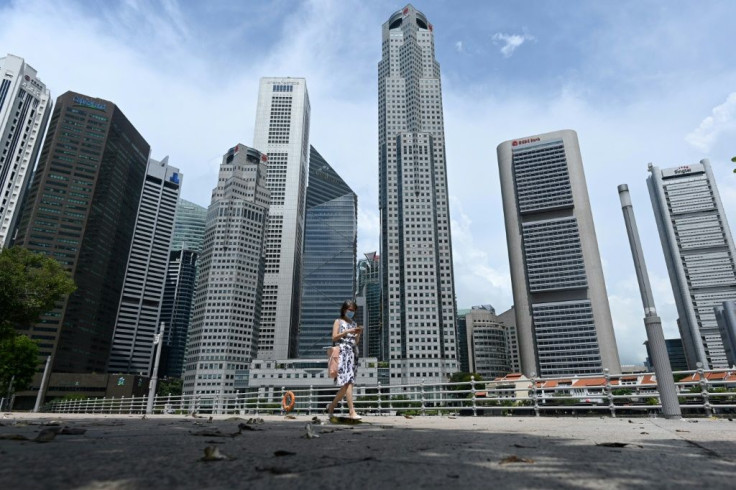 On the other hand, analysts predict a modest GDP improvement in Q3 due to an expected improvement in economic activity. GDP growth, however, will remain negative.
Bloomberg disagrees, however, and only predicts a return to positive growth in Q1 2021. It said Singapore's economic recovery will demand the normalization of global travel and trade.
The government of Prime Minister Lee Hsien Loong implemented four massive stimulus packages in a failed attempt to forestall the recession. The first stimulus package, named the Unity Budget and unveiled in February, was worth $4.6 billion. The second stimulus in March, or the Resilience Budget, was worth $34.7 billion.
The Solidarity Budget in April was worth $3.7 billion. The fourth economic stimulus package was worth $23.2 billion. Like the other packages, this one intended to bolster businesses and households staggering from the massive economic slowdown caused by the pandemic.
© Copyright IBTimes 2023. All rights reserved.
FOLLOW MORE IBT NEWS ON THE BELOW CHANNELS