Singapore's City Of The Future And The Ghost Of Tom Joad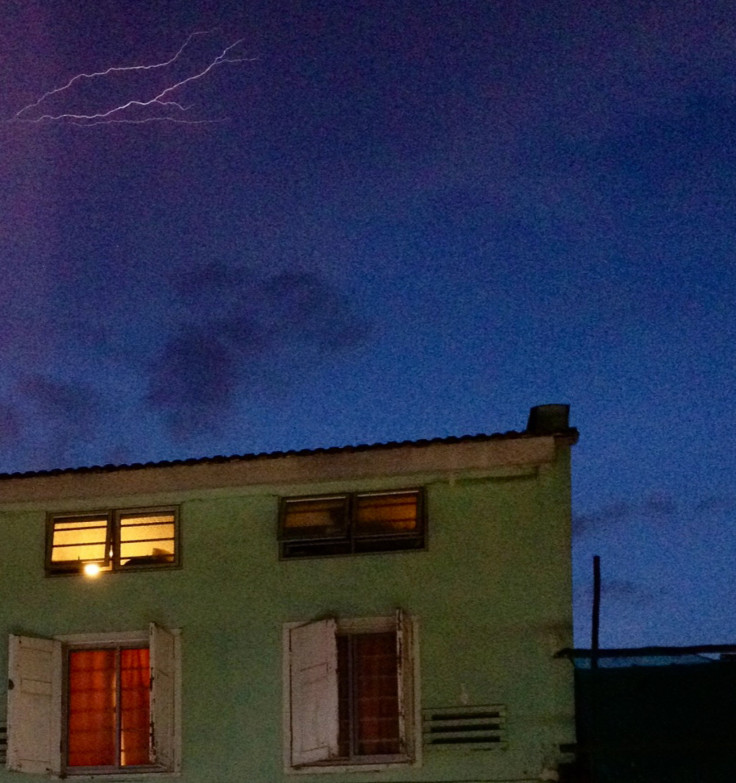 SINGAPORE -- Khan sits in an open-air café in this Southeast Asian island's Little India district, twisting uncomfortably in his chair due to persistent pain from a back injury he suffered on a construction job.
Dressed in a neat patterned shirt and jeans, he stares through the open doors at people hurrying past on Dunlop Street in the darkness and rain, beneath colorful decorations from the recent Diwali celebration. Pink lightning flickers across the evening sky.
Crowded into Alankar's restaurant with Khan are others like him – foreign workers who are stranded in Singapore, unable to work and earn wages due to occupational injuries, unable to pay their health care bills or get further medical attention, and unable to return home or repay the people there who loaned them money to hire an agent for the overseas jobs they no longer have.
Khan (not his real name) is 35 years old, from a small village in Bangladesh, and had been working in Singapore for more than two years when he was injured. He has not seen his wife or two children, ages four and 10, since September 2011, and doesn't know when he will again, or when he'll be able to send them the money they desperately need.
He looks and sounds dejected, and with good reason.
"After all this time," he says, "my wife wants to cry, cry."
Khan's story is a modern version of a tale that has been told throughout human history, in which the economically dispossessed struggle against exploitation by the powers that be. It is a story made famous in John Steinbeck's novel "The Grapes of Wrath," personified by the character Tom Joad, a hard-working American farmer whose land is foreclosed on during the Great Depression. Joad uproots his family in search of work, then is inspired to fight for his rights and for those of his fellow migrant workers.
Joad explains his actions this way: "Takes no nerve to do something, ain't nothin' else you can do."
When Khan set out from his own home on the 2,500-mile trek to Singapore, he hoped only for a stable income to support his family. In exchange for a $4,200 recruiter's fee (in Singapore dollars; in U.S. currency, about $3,300), he was placed in a construction job that was supposed to pay $27 per day. Once he arrived in Singapore, he was told his salary would be $14 per day, and because he had no written contract, he felt he had no choice but to acquiesce. In September, he fell from a roof on the construction site of a new school and injured his back, and his employer let him go.
"The company – they not let me see a doctor," Khan says. "My friend took me to the hospital." X-rays revealed a damaged vertebra, but his employer refused to pay for treatment, so he borrowed money to pay a portion of the bill. "Fifty dollars, I give to the doctor," he says. Unable to work, he can't pay off the balance.
When he was employed, Khan slept at a company work site with 160 other laborers who shared nine toilets. "I feel like, 24 hours, I am working," he says. Now he lives in an upstairs shop-house in Little India with other workers who don't charge him rent because they know he cannot pay.
Beside him in the café sits another Bengali worker, Arjan, a welder who has twice been hurt on the job and has one arm in a cast as a result of a fall. Like Khan, Arjan borrowed money from friends and family members to pay a job-recruitment agent, also in Bangladesh, and after being laid off due to injury cannot afford the $500 in medical bills that remains. Neither can he pay for food for his wife and 2-year-old daughter back home, and he cannot leave Singapore while the complaint that he filed with the Ministry of Manpower is under review.
Arjan's meal at Alankar is paid for by Transient Workers Count Too (known as TWC2), a local migrant worker advocacy group that advises workers who are involved in employment disputes or for other reasons are stranded, and pays for them to have up to three meals a day during the week and lunch on Saturdays at two restaurants in Little India, including Alankar. The service, under what's known as the Cuff Road Food Programme, has provided more than 350,000 meals to stranded migrant workers since its creation in March 2008.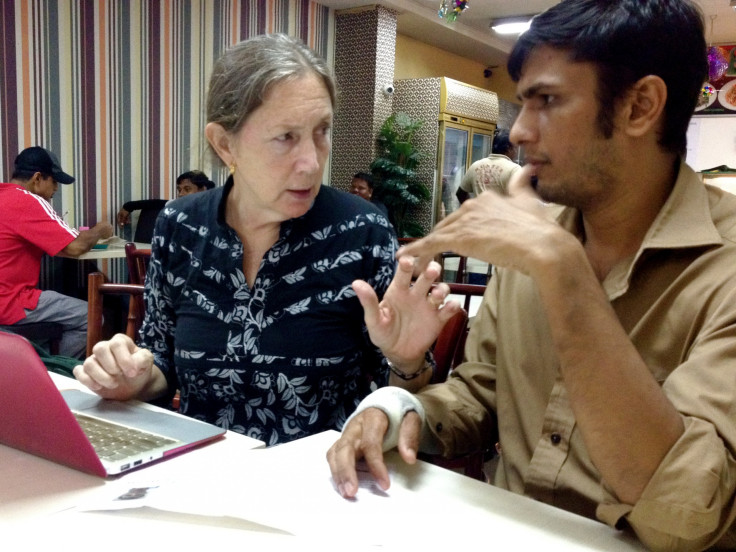 Dunlop Street, like others in Little India, is lined with small markets, cafes, curry houses and upstairs apartments known as shop-houses, through the shuttered windows of which one occasionally glimpses the crowded bunk beds where groups of migrant workers sleep. The neighborhood's colonial architecture evokes the Singapore of old, when wealthy Britons occupied luxurious private estates and Indian, Chinese, Malaysian, Filipino, Sri Lankan and Singaporean workers crowded into tenement houses and waterfront slums.
Singapore as a whole is vastly different today. The geographically small city-state is among the world's wealthiest nations, and is a remarkably efficient and self-sustaining metropolis -- more like the setting for a futuristic science-fiction movie than an old noir film. Its wealth and continuing economic growth are what brought Khan, Arjan and an estimated 1 million migrant workers to the country from depressed cities and villages across Asia.
Aside from its parks and nature areas, Singapore is intensively developed, and due to the shortage of land, is building up, down and on manmade islands and landfills. Buildings of 40 or more stories are common; escalators descend to underground street crossings, parking garages and shopping malls; and moving sidewalks transport pedestrians through gleaming subway stations. Local boosters like to say that Singapore has no ghettos, no poverty, nor even any litterbugs (littering is punishable by a $500 fine), which is largely true if you ignore the world inhabited by migrant workers, as Singaporeans routinely do, and take into account the fact that Singapore has no official measure for poverty.
The downtown waterfront glitters. Tourists and well-heeled locals gamble at glitzy casinos, shop on tony Orchard Road and ply the Singapore River in fake "bumboats" reminiscent of those that local slum-dwellers once used to transport their wares. The waterfront skyline is dominated by the absurdist architecture of the Marina Bay Sands Hotel – three tall towers surmounted by what appears to be a full-sized ship floating in the sky. Like so much in Singapore, admission to the Marina Bay's casino is hierarchical: Free for anyone with an international passport, costly for locals, off-limits to migrant workers altogether. Beyond Marina Bay, hundreds of ships lie at anchor in the vast, deep harbor, evidence of Singapore's status as one of the world's busiest ports.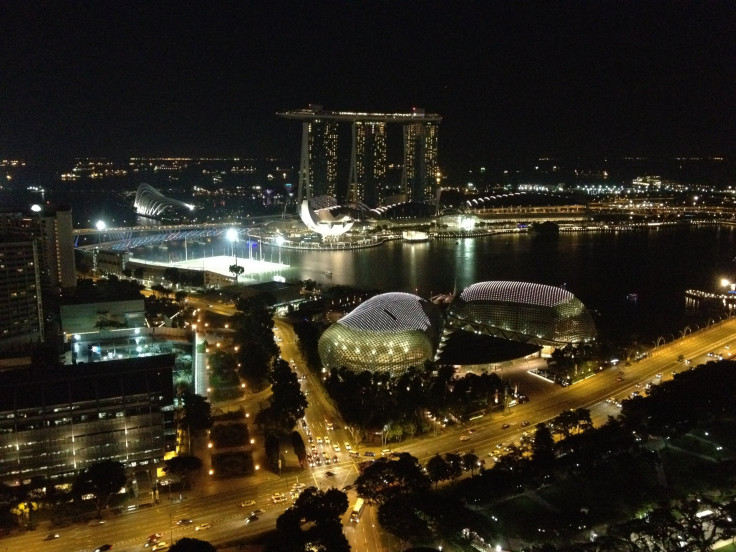 Most of the skyscrapers have been built since the 1990s, a period when Singapore was transformed from a Third World nation to the third-wealthiest in the world, based on per capita GDP. More high-rises are under construction in seemingly every district, built by foreign workers who earn low wages and typically live in substandard housing -- company dormitories, crowded shop-houses in Little India or the Chinese and Arab quarters, or converted shipping containers down at the docks. They are the human underpinnings of Singapore's phenomenal growth, as they are in other global boomtowns – notably, Dubai, in the United Arab Emirates, and Doha, the capital of Qatar – but also in less economically volatile regions, such as rural Italy. Like their predecessors throughout world history – indentured servants and slaves -- migrant workers are a crucial component of the global economy, yet tend to elicit little concern from the people who benefit from their labor. When advocates in Singapore raise concerns about their welfare, the common refrain is that the workers "aren't Singaporean."
Though marginalized, these are not the kind of migrant workers who take to the sea in crowded boats or drift illegally across international borders on foot or hidden in trucks. They pay thousands of dollars to recruiting agents for jobs abroad, and they are legion -- the International Organization for Migration estimates there are 105 million foreign guest workers in the world today. Notably, the number of migrant workers in Singapore is roughly equal to the number of Singaporeans who are millionaires – one in six. In Saudi Arabia, the numbers are even higher – 9 million foreign workers among a population of 30 million. And in Qatar, they represent a staggering 88 percent of the population.
In the best cases such workers are treated like temps, without job security or benefits, and in the worst, like indentured servants whose movements and activities are restricted. Such workers face swift retribution from law-enforcement authorities if they step out of line, and laws specific to them that govern personal behavior are strictly enforced. In Singapore, for example, female domestics must live with their employers, are prohibited from marrying without government permission, and if they get pregnant, are required to get an abortion or face deportation. Whatever their skill, workers are prohibited from changing jobs without the government's approval.
One worker told IBTimes he went to jail on charges of discarding a cigarette butt – he said it wasn't his own – because he couldn't pay the $500 fine. And he noted that some workers who were seriously injured continued to labor with holes in their skulls bandaged with tape – cases corroborated by photos of the men on the walls of the TWC2 office.
Some migrant workers take jobs far from home and are never heard from again, because they die, are not allowed to leave, or find a new life of their own. The men among them tend to be construction workers; the women, domestics.
The Singaporean government, which represents legal migrant workers in employment disputes and claims of exploitation, requires that they stay in the country until the disputes are settled. If they leave, their claims are closed. There are no government welfare programs to sustain them in the interim. And according to Singapore law, workers who file complaints can be forced to pay their employer hundreds of dollars for the time spent responding to the complaint.
The Singapore Ministry of Manpower contends that about 80 percent of migrant worker injury claims are closed within three months, though TWC2 says that figure "contrasts with our data." On its website, TWC2 notes: "While it is probably true that TWC2 tends to see the more serious cases, the fact remains that at any given time, there are 50 to 80 men with us at the Cuff Road Project who have been stuck in Singapore for more than a year on account of their injuries."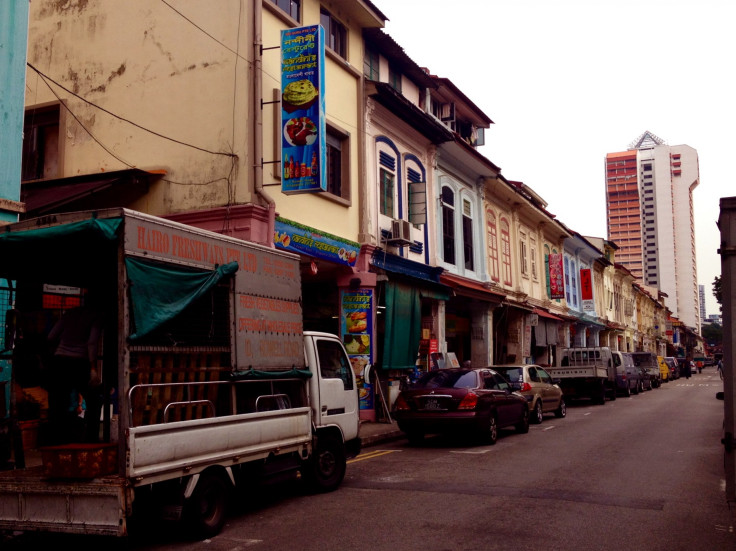 TWC2's office is on Little India's Rowell Street, where a handful of migrant workers are camped on the floor as Debbie Fordyce, former TWC2 director John Gee and a group of local journalists and migrant workers sit at a long wooden table beneath ceiling fans that ineffectually stir the humid evening air. Fordyce, a member of TWC2's executive committee and volunteer coordinator of the Cuff Road program, says workers who complain about their work or living conditions, are injured or for whatever reason do not work out, are seen as dispensable. "It's always more lucrative to bring a new man in," she says.
Though some countries employ more migrant workers than Singapore, and some have worse histories of abuse, there is no question that Singapore is fully invested in the migrant-worker paradigm, with an estimated 900,000 migrant laborers and about 200,000 migrant domestics. Not all are exploited, but all are vulnerable to exploitation; everything depends on the regulation of employment agencies in their home countries and of companies that hire them.
In Singapore, most of the migrant workers come from Bangladesh, India and China. But that's just a small sampling of migrant activity around the world. Poor laborers from all parts of Asia as well as Africa, the Americas and even Europe are transported by plane each day to wealthier nations where low-tier jobs are plentiful; sometimes the travelers board without even knowing their final destination.
Hundreds of Bengali workers have journeyed to war-torn Misrata, Libya, to help rebuild that city's port; thousands of Africans and Southeast Asians labor to construct fabulous skyscrapers in Dubai, where many have fallen to their deaths, succumbed to heat stroke or committed suicide (the Indian Consulate there reports that two Indian guest workers commit suicide each week, on average). The seven workers who died in an Italian textile factory fire on Dec. 1 were Chinese migrant workers; those living in tents and cars in the Italian countryside, where they toil in the vineyards of high-end wineries, are from impoverished areas of Bulgaria and Macedonia. In Southeast Asia, desperate workers are pressed into service aboard Thai fishing boats for years at a time, often prohibited from disembarking in port. Migrant workers from Mexico, Brazil and Colombia are often pressured to take jobs in the United States to provide "remittances" – money sent home – to their families in cash-strapped regions.
Though groups such as TWC2, Human Rights Watch and the International Organization for Migration attempt to aid those workers and draw attention to their plights, it is an uphill battle. "The deaths of hundreds of South Asian workers in Qatar have shone a spotlight on the appalling living and working conditions of low-wage migrant workers in the construction sector," Human Rights Watch noted in a call for reform in the Gulf States issued on Dec. 18. "However, abuses in many sectors persist in Bahrain, Kuwait, Saudi Arabia, Oman, and the United Arab Emirates."
Gee says the Singaporean government has made strides in addressing migrant worker issues, particularly when compared with the Mideast. "You can at least have a dialogue with the government here," he says. "That's not true of the Middle East."
Still, employers in Singapore are rarely prosecuted for infractions, and as Fordyce observes, the combination of high job recruitment fees and charges for food, lodging and equipment imposed by employers means that workers "may work many years and only get deeper in debt."
In Gee's experience, Chinese workers tend to want their employee dispute cases settled quickly. If they aren't, the workers give up and go home – and get placed in new migrant jobs. "South Asian workers," he adds, "tend to believe they have a right to the money they're due, and they stand firm."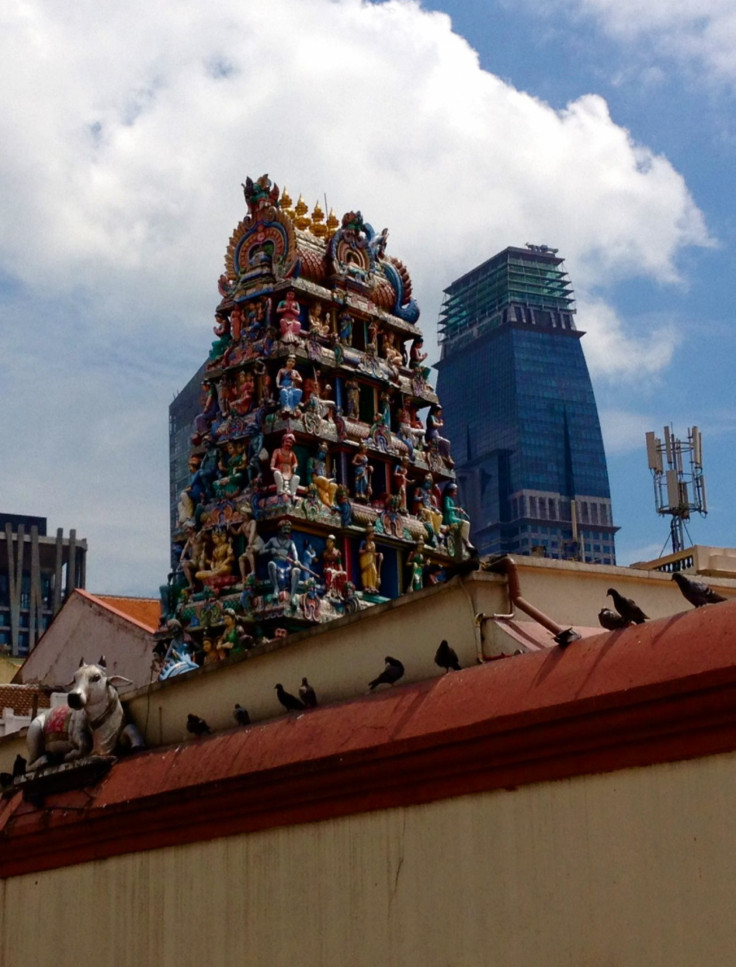 Considering their numbers, one would expect migrant workers to stand out in wealthy Singapore, but aside from public complaints about their crowding of public transit systems, they are largely hidden from day-to-day life. They remained off the average person's radar until a riot broke out in December in Little India – the first in Singapore in four decades. The riot was touched off by the death of an Indian worker who waited 30 minutes, untreated, for an ambulance after being hit by a bus. In the ensuing melee, police cars were torched and overturned and numerous people were injured. Afterward, the government banned the sale of alcohol in Little India and suspended bus service to and from the neighborhood; some firms enforced curfews. The government later reported that 53 workers would be deported.
The Singapore riot took place the same month that Ethiopian migrant workers staged protests in Saudi Arabia over the deportation of more than 100,000 migrant workers there, beginning in November, part of a crackdown aimed at quelling dissatisfaction over the lack of jobs for Saudi residents and the potential for violence on both sides. Returning Ethiopians told of beatings by police and the alleged kidnapping and rape of Ethiopian women by young Saudi men. As in Singapore, many of the Ethiopian workers had paid traffickers or agents for their jobs, only to lose them when they were deported.
The irony is that many of the countries where migrant workers claim they are being exploited were originally settled by immigrants – in Singapore's case, by people from China, the Indian subcontinent and the archipelagoes of Malaysia and Indonesia. Singapore has always been multicultural, even after it was conquered and occupied by European colonial powers between the 16th and 19th centuries, when Chinese and Indian immigrants labored on rubber plantations and in tin mines. During World War II, the island was occupied by Japan, and afterward reverted to Great Britain; in 1963, it was briefly incorporated into Malaysia as part of a nation-building experiment that ended two years later due to social unrest, after which Singapore was left on its own – at the time, an impoverished, autonomous city-state with few natural resources, high unemployment and limited housing for its burgeoning population.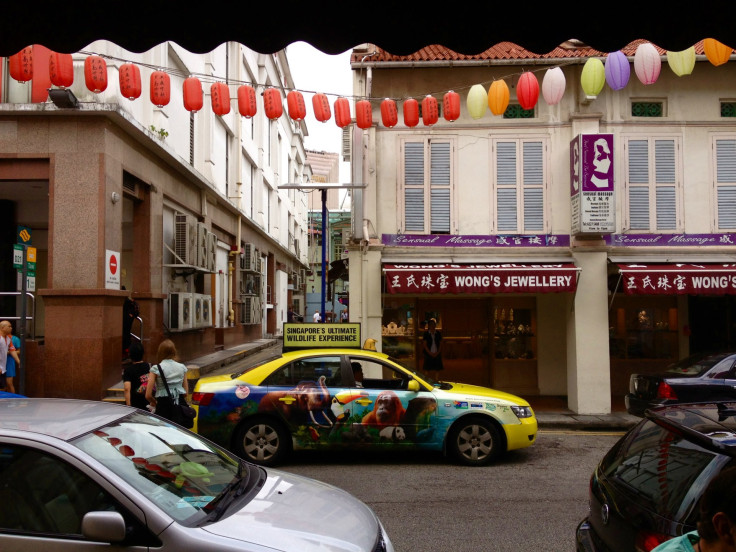 During the first two decades after its independence, Singapore's then-prime minister, Lee Kuan Yew, set out to create an orderly, environmentally green city-state with a free-market economy, which he hoped would attract international investment. The gambit paid off: By the 1990s, Singapore was a global center of banking and trade, and today has one of the highest standards of living in the world.
Yew, who at 90 still holds an official position as "minister-mentor," attributes the country's success to that free-market economy, which has no minimum wage, no public-welfare system and one of the highest rates of income inequality among developed countries, just behind Hong Kong and just ahead of the United States.
Seemingly running counter to that free-market philosophy, about 80 percent of Singaporeans live in subsidized apartment buildings. Government regulations require that companies house foreign workers in dormitories or other suitable accommodation, though those regulations are widely ignored, and sometimes the dormitories themselves are nothing more than converted shipping containers.
There are 100,000 government-approved dormitory beds, enough for about one-tenth of the foreign worker population, according to TWC2's Fordyce, and it is not unusual for shop-houses to be crowded with as many as 40 workers. Living in a shipping container is about like it sounds; though most have electricity and some kind of plumbing, they are poorly ventilated and sometimes have only a bucket for bathing and a hole in the ground for a toilet – the latter a potential problem beyond sanitation, in that standing water breeds mosquitoes and increases the risk for Dengue fever.
A former migrant worker who joins Gee, Fordyce and the journalists at the TWC2 office describes the deplorable conditions at his employer dorm, in which he says 40 people shared a single toilet. This resulted in an hour-long line each morning that was inevitably interrupted by the arrival of the truck that took them to the work site. There were similar queues at the showers at night, he says, and because workers were unable to use the toilet when they needed to, many became constipated or dehydrated after avoiding drinking water.
As elsewhere, the growing population of migrant workers has led to something of a backlash among native Singaporeans. In a report Gee recently wrote for TWC2, he noted increasing public discontent over the growth of migrant worker populations in recent years, chiefly due to the perceived effect on wages, housing and overcrowding of public transport. Such concerns found focus after the government released a white paper in January 2013 that projected Singapore's population will grow from 5.4 million to 6.9 million by 2030, including an increasing percentage of non-Singaporeans.
TWC2 takes the position that migrant workers should be better integrated into society rather than isolated from it – a controversial stance in a country that seems intent on sequestering such workers at comparatively remote locations, and one that is fiercely debated in many countries. Even the best of the existing dormitories – whether on construction sites or in new neighborhoods -- tend to be isolated from the general population and are frequently far from public transit.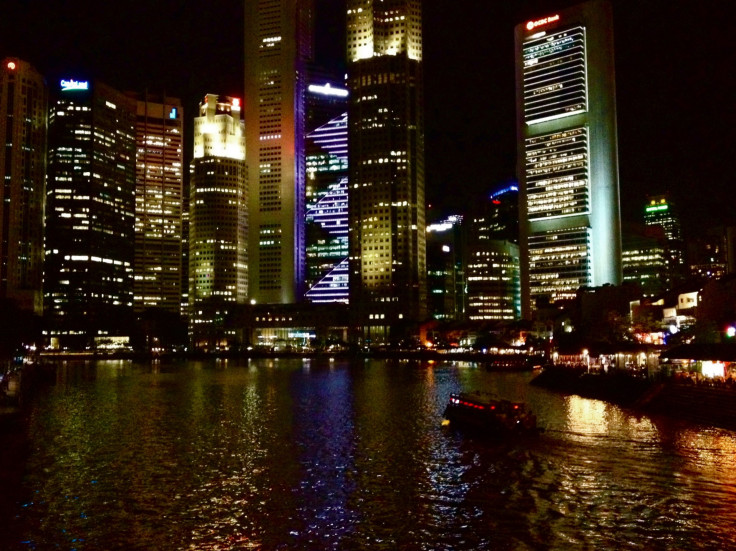 For now, the employers are largely in control, and though some recruitment agencies are legitimate and operate training centers for job applicants to prepare them for available positions, others are essentially human traffickers, taking the cash and leaving the workers to fend for themselves -- a particular challenge for those who are laid off and become stranded in a country like Singapore, which has the sixth-highest cost of living in the world.
And despite the government's insistence that it fairly represents migrant workers in employer disputes, Singapore itself been among the employers who workers allege have exploited them. In July 2013, China Labour Bulletin reported that 180 Chinese bus drivers who had paid recruiting agents for jobs with the state-controlled Singapore Mass Rapid Transit Corp were jailed and deported after staging a strike over pay and living conditions the previous November. One of the workers interviewed said he had paid agents around 30,000 Chinese yuan as an "initial investment" for his job, which he had hoped to recoup after one year's work; he soon discovered that fees, deductions and changes to his work schedule meant that just breaking even was a struggle. Ten months into his job, he was deported for going on strike.
China Labour Bulletin noted that Yeo Guat Kwang, co-chair of Singapore's National Trades Union Congress's Migrant Workers' Centre, told the newspaper in a 2010 interview that migrant worker rights would always be subordinated to the nation's economic interests.
"When we look at the migrant workers' issue, we are not looking at it from the perspective of human rights," Kwang said. Instead, he told China Labour Bulletin, "At the end of the day, whatever factors would be able to help us to sustain the growth of the economy for the benefit of our countrymen, for the benefit of our country; we will definitely go for it."
Such a mindset raises significant questions about the treatment of Singapore's migrant workers, who risk being jailed and possibly caned -- a far more violent punishment than it sounds, which often leaves permanent damage -- if they break the law, which includes taking another job without government permission.
As Fordyce considers the future for migrant workers in Singapore, she notes that they sometimes have their passports confiscated by their employers, or their pay withheld, and despite their considerable efforts to get a job, often find themselves losing ground. Fordyce, who is originally from the United States, says the migrant-worker system is reminiscent of sharecropping in the American South, in which farm laborers were held in a kind of indentured servitude. "The difference," she says, "is that with sharecropping, the landowner had an interest in making sure the worker stayed alive."
When it comes to migrant workers, she says, employers are more likely to take the attitude that if something goes wrong, there are plenty more where they came from.
Follow Alan Huffman on Twitter @Alanhuffman1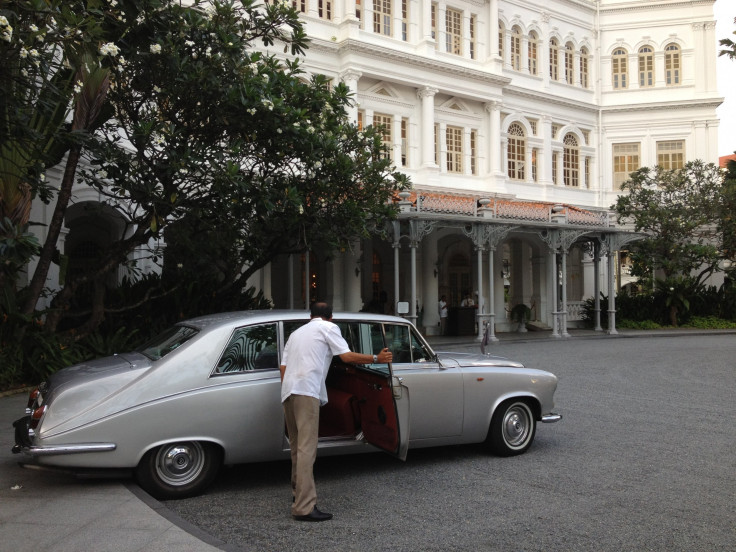 © Copyright IBTimes 2023. All rights reserved.